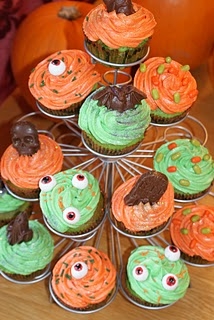 Okay then, these cupcakes are delicious (honestly) and don't just have to be for Halloween – they're otherwise known as mint choc chip cupcakes only these have been morphed into hideously horrible cakes for Halloween!
Makes 12.
Ingredients:
Cakes
280g plain flour
1 tsp baking powder
110g caster sugar
200g chocolate chips, plain
2 eggs, large
225ml milk
6tbsp oil (rapeseed or sunflower)
1tsp peppermint essence
green food colouring (optional)
Filling
1/2 can of Carnation Caramel (Dulche de Leche)
red food colouring (optional)
Frosting
125g butter
250g icing sugar, sifted
1tbsp milk
Food colouring (optional)
Preheat the oven to 180c Fan/200c/Gas Mark 5.
Sift together the flour and baking powder and then stir through the sugar.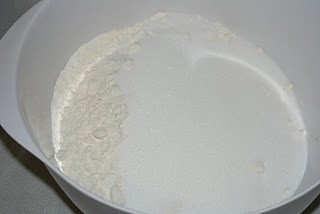 In a bowl mix together the eggs, milk oil and peppermint essence.  I like to use rapeseed oil in baking, the benefits are much like using a good butter over margarine, adds flavour and provides reliable results.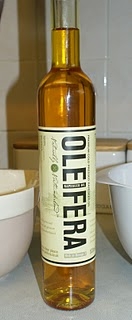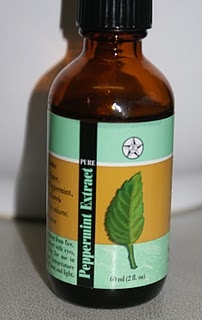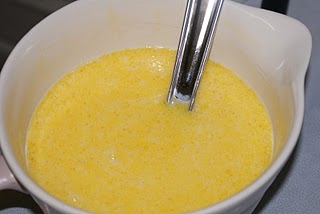 Mix together the wet and dry ingredients.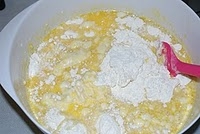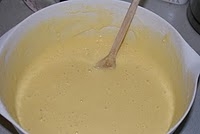 Now because it's Halloween and I'm looking for a bit of nastiness I'm turning the cake batter green with some food colouring, this is completely optional and if you try and keep your kids away from colourings you can keep it au naturel!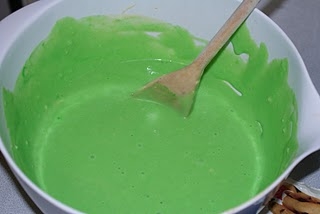 Stir through the choc chips – without eating any as you weigh them out.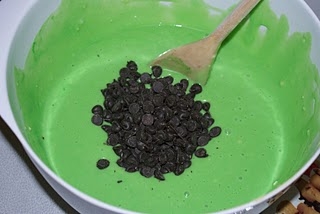 Fill paper cupcake cases 3/4′s full.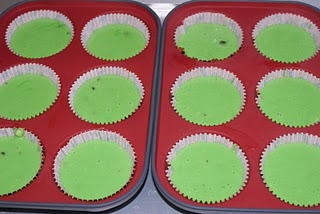 Bake in the oven for 20-22 minutes.  I can't say till golden because they're green.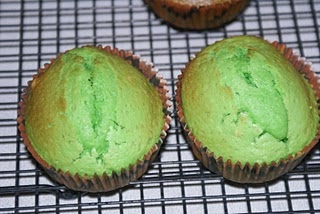 Allow to cool on a wire rack.
Prepare the filling – take half a can of Carnation Caramel and empty into a small bowl.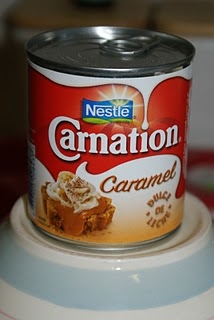 If you can't get Caramel you can make your own with a can of condensed milk but please take my instructions carefully.  Place an unopened can of condensed milk and place it in a large pan.  Cover completely with cold water, the can should be fully submerged.  You then need to bring the water to the boil and simmer for two and a half hours, regularly topping up the water so that the can remains fully submerged.  When the time is up turn off the heat and leaving the can in the water allow to cool in the pan overnight.  The following day remove the can from the water (now cold) and you will have a tin of caramel to use as you wish.
Add some red food colouring to turn it into blood, again colouring is completely optional.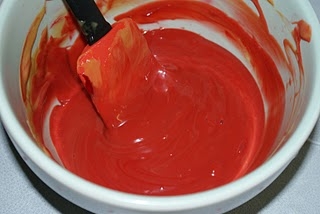 Hollow out cores from the centres of the cooled cupcakes and fill with blood, sorry caramel.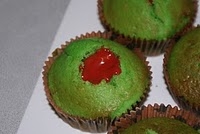 Mix up the buttercream frosting adding all ingredients together and beating well, taking care not to cover the kitchen in icing sugar.
I have coloured the buttercream half in green and then half in orange, in keeping with the theme.
Decoration-wise its entirely up to you what goes on the tops, I have used a mixture of halloween shop bought chocolates, orange and green tic tacs and made some eyeballs using Cadburys Snow Bites.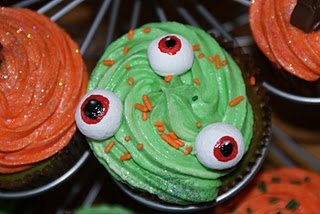 If you want to make your own eyeballs paint on a red circle and a black pupil with food colouring.  Because the Snow Bites are covered in icing sugar they need to be put on the top of the cakes just before serving.  Left overnight they will absorb the colour from the from the buttercream.  Same for the tic tacs as they absorb the moisture and go soft – not very spooktacular!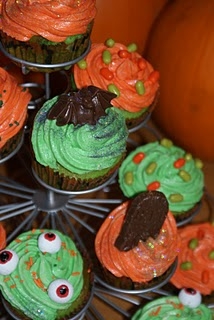 Gruesomely Vile Halloween Cupcakes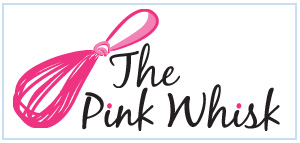 Ruth Clemens, Baker Extraordinaire
Finalist on BBC2 The Great British Bake Off