Round Three is now open, you have until 17.00pm BST to Find The Pink Whisk and submit your entry via email.
What you're looking for:



This image will be found on another website, follow the clues to work out where
The clues:
Create, make and mend
Part of the Readers Union established in 1937
Sewing, patchwork, quilting, knitting, beading the list goes on and on, add it all to your basket here.
Once you've found The Pink Whisk:
1. Make sure you are subscribed to The Pink Whisk updates via email.  If you're not subscribed your entry won't count.
2.  Email  findthepinkwhisk@gmx.co.uk with the following:
Your Name
Your Address
Your Answer – The web address where you have found The Pink Whisk
Your twitter name (if you have one – don't worry it's not compulsory)
By entering you are agreeing to the terms and conditions of the competition available here.  Your email address will not be added to any other mailing list or sold on.  Entry emails come directly to me and I take your privacy very seriously.
If you're struggling…
I'll be tweeting at @thepinkwhisk #FindTPW and on facebook/thepinkwhisk to give you a helping hand and maybe the odd extra clue x
If you still can't get it…
Don't worry there's one more round of the treasure hunt today so there's still a chance to win x
What are you waiting for?  Get out there and Find The Pink Whisk!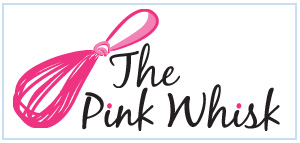 Ruth Clemens, Baker Extraordinaire Finalist on BBC2 The Great British Bake Off