Gosh this hamper's getting big!  Into the prize collection goes a bounty of products from
A fresh, exciting Baking Ingredient business based in Manchester, England. Their aim is simple – to supply fellow bakers with best quality ingredients, at the most affordable price, delivered direct to your door.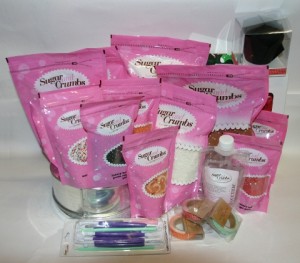 Goodies include:-

8″ Professional Tin.
Silver Cake Drum.
Luxury White Sugar Paste (1kg).
Xmas Red Sugar Paste (250g).
Holly Green Sugar Paste (250g).
Black Sugar Paste (500g)
Luxury Marzipan (1kg).
Icing Sugar (unflavoured 2kg)
Strawberry Delight Icing Sugar (2kg).
Desiccant Medium Coconut (500g).
Cocoa Powder (1kg).
Liquid Glycerine (200ml).
Non- Pareils (200g).
Orange Slices (200g).
Orange Crunch (200g).
Tylose / CMC (120g)
10pcs Modelling Tool Set.
8″ Cake Dome.
Xmas Cupcake Box (6 hole).
Acetate Cupcake Box (single hole).
Tulip Muffin Wraps (x12).
Medium Red Wafer Roses (100).
Self Adhesive Ribbon x 3 (15mts)
They're also offering everybody a  5% discount  off orders placed during December 2012 through the website using the code "WHISK"  quick go and have a look at the the goodies they have to offer – Sugar and Crumbs
Into the hamper they wrestle (it's getting fairly squished in there

) joining…
Cornishware from T.G.Green – A large 168cl and small 84cl storage jar plus a couple of mugs worth £100 –  in a choice of Cornish Blue or Cornish Red with optional personalisation.
Limited Edition Collection bakeware from Great British Bakeware.  2 of each of the following: 8" cake tin, 2lb loaf tin, 14" baking sheet and 12 cup deep muffin tray from George Wilkinson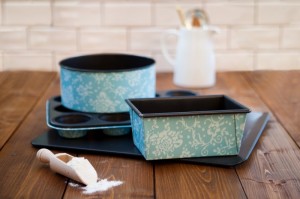 A red Christmassy k-Mix Hand Blender set worth £119.99 courtesy of Kenwood
And the hamper filled with goodies!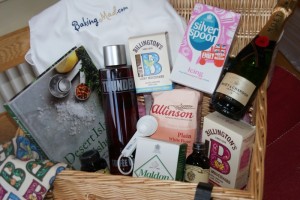 To enter: Leave a comment on each days recipe or prize post (from the 1st – 12th December 2012), it doesn't matter which, and say whatever you fancy (nothing rude mind!) and that's it you'll be in the draw.  Each individual can enter once per day, so if you comment every day you'll have 12 chances.
(If you're reading this via email your comment needs to be left on the post on the website – click on the title in the email to take you there x)
On the 13th December 2012 one winner will be chosen, at random, from all the comments received and will then win the whole lot!
Rules: Entry is by leaving a comment on either the recipe, or the hamper post (from 1st – 12th December only) and limited to 1 entry per day.  Multiple daily entries will not be valid.  Individuals may enter each day from the 1st to the 12th December 2012.  All entries must be made by Midnight on 12th December 2012 (UK Time).  There is one prize available to a single winner details of which are outlined in the Hamper Giveaway Posts from 1st – 12th December 2012.  One winner will be chosen at random from all the comments received on Thursday 13th December 2012 and notified by email directly.  The winner will also be announced on the blog the same day.  No further correspondence will be entered into.  Prize is only available for delivery to a UK address, onwards shipping to an overseas address will be the responsibility of the winner.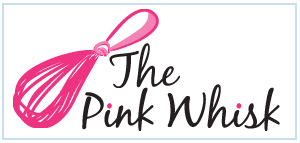 Ruth Clemens, Baker Extraordinaire