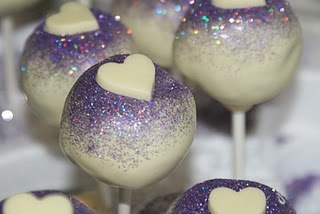 I was lucky enough recently to be invited along to the launch of a fab new instant coffee – Kenco Millicano – Kenco's first ever Wholebean Instant coffee!  It's the closest thing to 'proper' coffee you'll get in an instant.  Available in supermarkets from the 1st March 2011.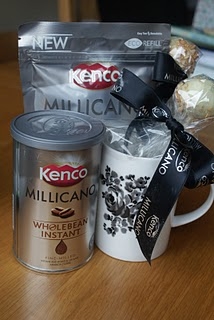 Part of the launch was a demo by super duo Eric Lanlard and Patrick Cox of Cox Cookies and Cake fame.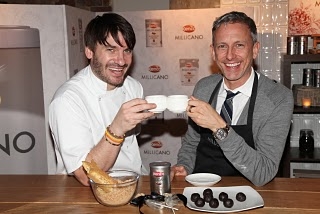 Eric and Patrick showed us how to make seriously delicious choc cherry cake pops – perfect for dipping in your cup of coffee.  The lovely folks at Kenco also sent us all home with all the ingredients needed for these little gems – heck it'd be rude not to give them a go!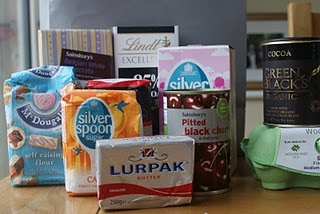 The cake pops are best made with cake that's not 'fresh from the oven' so if you can, try and make the cake bit a day in advance.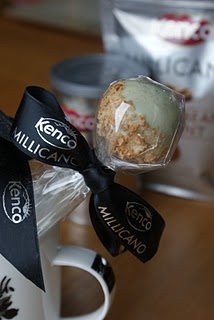 These are the Kenco cake pops – but I'm going a bit more Pink Whisky with mine.  The design is up to you – unleash your creative side!
Ingredients:
Cake
425g tin of pitted cherries (sweet) in juice
100g dark chocolate
165g unsalted butter
295g caster sugar
60ml cherry brandy (optional)
150g plain flour
2tbsps self-raising flour
2tbsp cocoa powder
1 egg, large
Coating and decoration
Lollipop sticks
75g icing sugar
100g unsalted butter
50g cocoa powder
250g melted white chocolate
Edible glitter (optional – but not in my opinion!)
Chocolate heart decorations (optional)
(I have included some links for sticks and glitter at the end of this post)
Preheat the oven to 160c Fan/180c/Gas Mark 4.
Grease and line an 8″ square tray.
Drain the cherries and set aside the juice.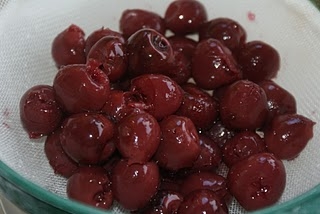 Measured 120ml of juice, add it to the cherries and blitz in a food processor or mash them down well with a fork if you don't have one.
Place the chocolate, butter, sugar, brandy (if using) and cherry puree in a pan.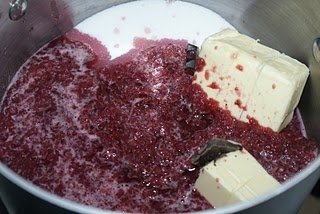 Over a low heat stir until the butter and chocolate is melted.
Pour into a large bowl and allow to cool slightly.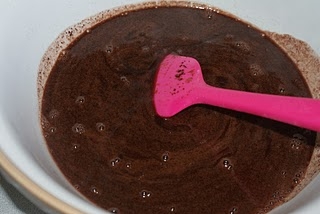 Whisk in the sifted flours, cocoa powder and egg.  Don't worry the mixture is supposed to be runny!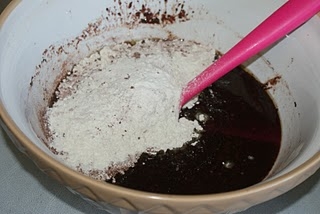 Pour the mixture into the tin (square approx 8 x 8″) and then bake for 40-45 mins until firm to the touch.
Allow to cool for a couple of minutes before transferring to a cooling rack.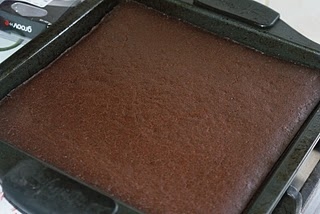 In a large bowl beat together the butter, cocoa and icing sugar until you have a lovely smooth frosting.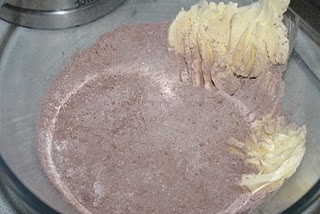 Split the cake in half.  You will only need half the cake to make 20 cake pops.  You can eat the rest whilst you work!  Crumble up the cake into nice fine crumbs.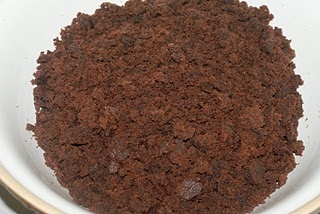 Rub in the chocolate frosting until you have the consitency of a paste.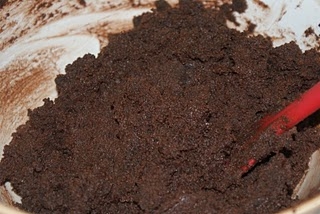 Using your hands roll the mixture into balls approx 1″ in diameter and place them on a tray.  If the mixture is sticking to your hands too much try dusting them with a little cocoa powder.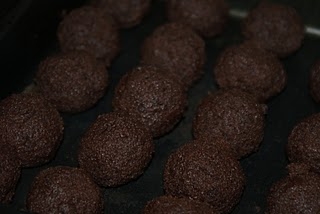 Chill the balls to firm them up in the fridge for half an hour.
Melt the white chocolate.  Take your lolly stick and dip the end into the melted chocolate.  Push the stick into a ball about halfway through.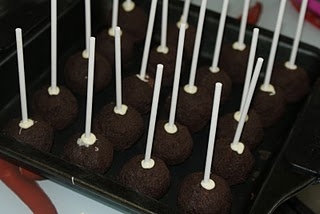 Now dip the entire ball into the chocolate to coat.  Turn the stick allowing the excess chocolate to drip off.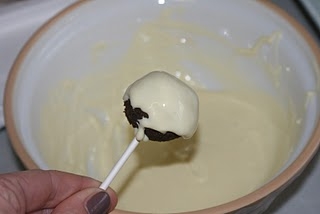 I'm using a block of polystyrene to stab the sticks into so that they can dry upright – rummage around and see what you can find to use – improvisation is the key here!  Add a good dose of glitter whilst the chocolate is still liquid.
It is important here to get the glitter all over yourself, all over any passing family members and of course all over the kitchen.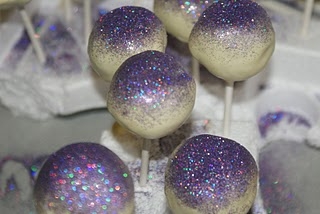 Add a small chocolate heart decoration, glueing them on with a dab of melted chocolate.  These ones here are by Dr Oetker.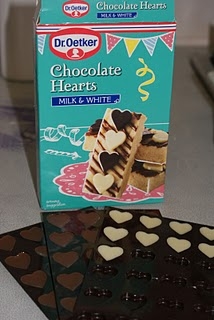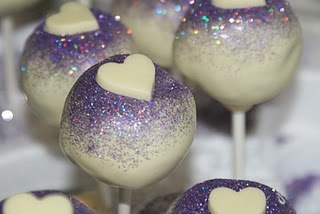 Allow the chocolate to set and then enjoy with your favourite cup of coffee.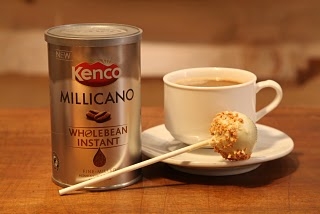 Watch out for Kenco Millicano – it hits the shops on the 1st March 2011.
If you've been inspired by the cake pops please see Bakerella's website – she's the cake pop queen!
Oh and just so's you know, this is not a sponsored post but Kenco have provided the ingredients! xx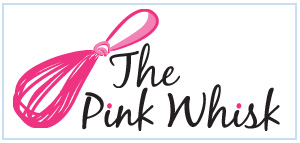 Ruth Clemens, Baker Extraordinaire
Finalist on BBC2 The Great British Bake Off 2010