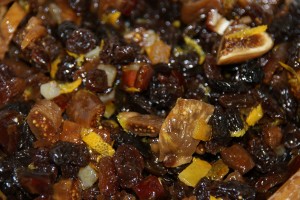 Those of you that were already with me this time last year will know that now is the time to start on your Christmas Cake (yes, really!).  Soaking the fruit for a good six weeks before we even bake the cake.  If you're Christmas crazy like I am you won't mind one bit starting early.
Forgive the duplicate post, but a year on we have 4,500+ more Pink Whiskers baking along and I really don't want anyone to miss out, plus there are a couple of extras, making your Christmas cake and boozy fruit even better!
The quantities will make you one 8″ round cake, if you make cakes for the whole family multiply the ingredients by the number of cakes you're making.  See my 'making boozy fruit en masse' notes at the end, and, if you'd like you can read the original post here.
Ingredients:
Fruit
200g raisins
200g sultanas
175g dried figs, chopped
100g dates, chopped
55g mixed peel
You should have a total of 730g dried fruit – the above is just a suggestion, if you'd like to add something else if then go for it – cherries, craisins etc.  Similarly if you don't like something change it for something you do!
Soak
55g caster sugar
55ml water
170ml brandy
Zest of 1 orange
1 cinnamon stick
Place your chosen dried fruit into a large bowl with the grated zest of the orange and the cinnamon stick.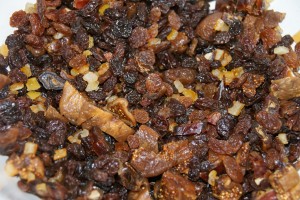 Add the sugar and water to a saucepan and heat gently until the sugar is completely dissolved but don't let it boil.  The syrup should be clear.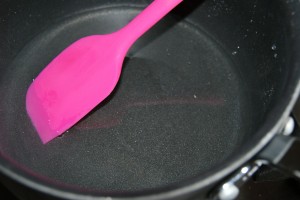 Remove from the heat and allow to cool slightly.
Add the warm sugar syrup to the brandy and stir.  Pour over the fruits in the bowl and give it a good mix.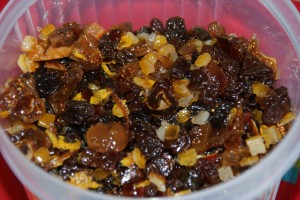 Now transfer this to an airtight storage container (a 1.5l container is big enough).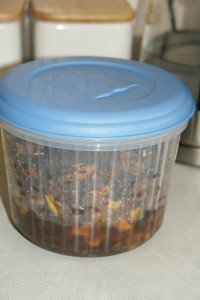 For a week you will need to stir it every day, then for a further five weeks give it a mix up just once a week.  Believe me it's worth it just for the smell of Christmas you get every time you open the lid!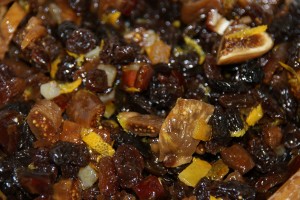 Six weeks soaking and you will have the most fab fruit to make your Christmas cake with, I'll be back of course with a reminder on how to do it but the recipe is here if you want a sneak preview.
So now to the tips bit:
If you've already set your boozy fruit in motion from last years recipe add in the grated zest of an orange and a cinnamon stick for an even lovelier tasting cake.
Store ideally in a kitchen cupboard or on the worktop as long as it's not in direct sunlight.  It doesn't need to be in the fridge, just somewhere at room temperature.
If you're not keen on Brandy try it with your preferred alternative e.g rum
If you're running late – a weeks fruit soaking is better than none and you will still come out with a lovely cake, the longer the soak the better the flavour.
If you prefer to make a cake that's alcohol free make a syrup by heating 200g caster sugar with 200ml water, once dissolved pour over the fruit and then soak and stir as above.
I make Christmas cakes for the school Christmas fair so make them in bulk,  here a few pics of making boozy fruit on masse! (a 10x quantity)
I'm going to need a big container!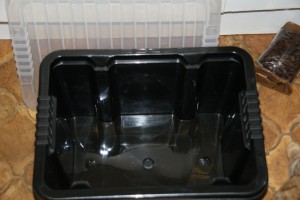 In goes the fruit, added a few craisins as I ran short on the fig front – actually the colour of them looks lovely.  Grated the zest in from 10 oranges whilst sat on the kitchen floor.  I couldn't lift it back onto the worktop.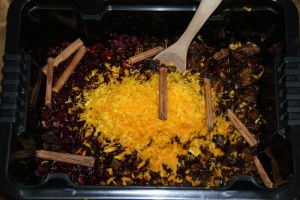 Now proceedings halted briefly when I had to run out for another bottle of brandy because I didn't have enough….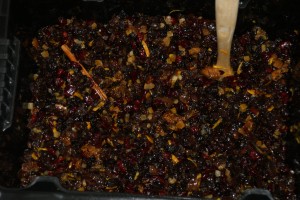 Soak in, big stir, sore arms…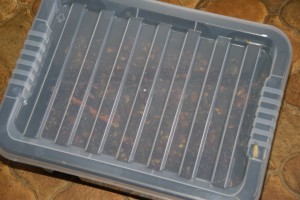 Lid on and it's now sitting the in the hallway to greet visitors/delivery men with a good waft of boozy fruit when they come a calling!
Sensibly I have weighed one single batch to I don't have to use the wheelbarrow to make the fruit into a cake.  One single fruit portion for 1 x 8″ christmas cake recipe weighs 1020g which I'll scoop out with a jug when the time comes (strange, it's not like me to be sensible and think ahead!)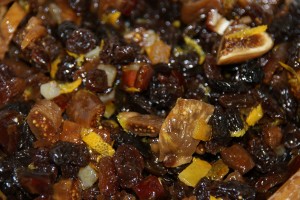 Boozy Fruit for your Christmas Cake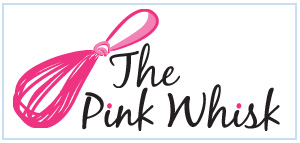 Ruth Clemens, Baker Extraordinaire