On the tenth day of Christmas The Pink Whisk sent to me…..Reindeer Cake Pops
(or Marzipan Balls if you can't be faffed with the whole cake pop malarkey!)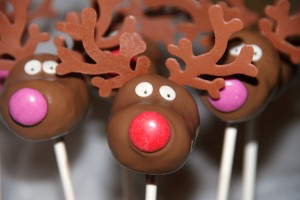 and the chance to win some lovely chocolate from Cadbury Gifts Direct too x
You will need:
Cake Pops – cake and buttercream or Marzipan
300g Milk Chocolate
Antlers – Wafer Antlers by Hollys Cupcakes here or Pretzels
Noses – Red (or Pink Whisk) Smarties
Eyes – Dr Oetker Polka Dots or white ready to roll icing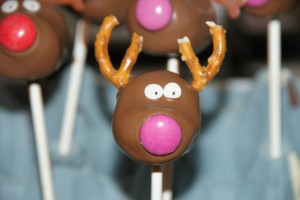 Cake pops are fiddly blighters and I thought I'd try these with both cake pop mixture and marzipan (separately not together!)  Personally I like marzipan and I'm not averse to it covered in chocolate so these were a winner for me.  The boys stuck to the cake pops, all the more for me then!
I've done cake pops a couple of times now on The Pink Whisk and I know they cause a little bit of trouble for some of you but there's lots of handy cake pop hints in this post and will help you to successful pop making!
Take your cake and make it into crumbs (cry quietly now). I'm not giving you quantities for cake and buttercream as it varies depending on how dry or moist your cake is.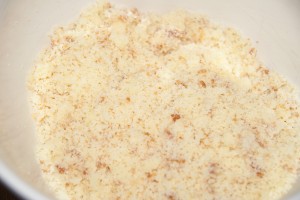 Add a couple of dollops of buttercream and mix together, start off with a small amount and mix in, adding more until you have a fairly dry paste consistency.  It should come together easily when you squeeze it and keep it's shape.  Make sure your buttercream is made with butter as opposed to a margarine/spread.  This will set them firmer when they're chilled.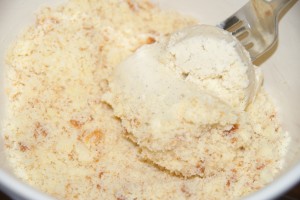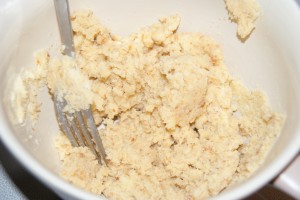 If you're using marzipan you will just obviously skip this step.
Take a small amount of pop mixture or marzipan and roll into approx 1-1.5″ round ball.  If the marzipan gets too sticky on your hands dust them lightly with icing sugar.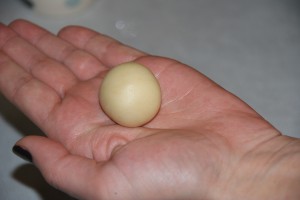 To create the reindeer face shape lay the ball in the palm of your hand and using your fore finger of the opposite hand roll it over the ball gently to indent the ball slightly and create the snout shape.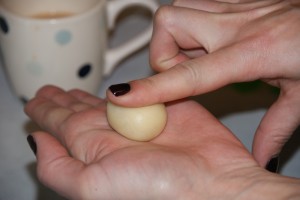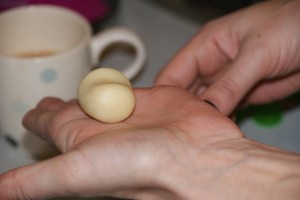 Never work without a cup of tea! Pink Whisk rule number one x
Set the reindeers onto a tray.  Once you have shaped them all the cake pop mixture heads need to go into the fridge to chill.  Chill them for about an hour.  They don't need to be rock solid but they should be firm and not sticky to the touch.  The marzipan heads don't need to be chilled (bargain!).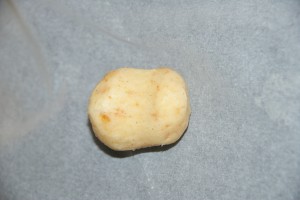 These pics give you the best idea of the shape of the heads (ignore the sticks and background for now)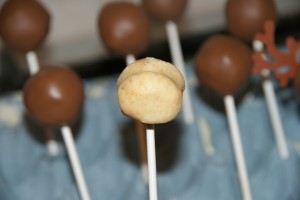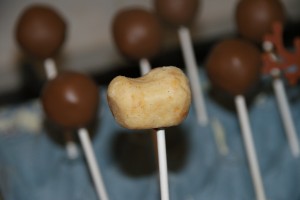 Set up some sort of cake pop stand – a piece of polystyrene, a big egg box tray with holes skewered to hold the sticks – or the most genius use of a colander I've seen to date
By Andy Pronger via Facebook – thanks Andy! x
Here's my egg box stand (devised for the Halloween Pumpkin pops – my reindeers aren't orange obviously!)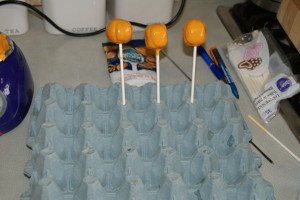 Now if you're making pretzel antlers get them prepped now.  Snap them in half and then break off a little from the curve.  I like pretzels too, I don't mind eating the bits! Set them to one side.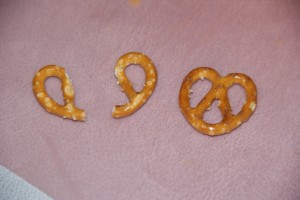 Get the milk chocolate melted.  As per Pink Whisk gadget rules I'm using a chocolate melter.  If you're using the pan and bowl method or the microwave melt it up and then allow it to cool a bit again, not till it's set obviously but cooler than roasting!  If you use it red hot it may make your balls drop off – hmmmm!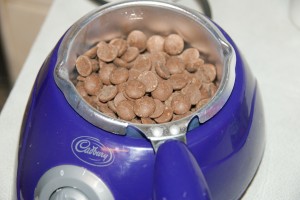 You need it in something deep for dipping, it makes it so much easier.  Bowls tend to be wide rather than deep so think a drinking glass/yoghurt pot or something similar.
Take the sticks, dip the end of one about 0.5cm into the chocolate and insert three quarters of the way into the head of the chilled reindeer cake pop or marzipan ball.  Repeat until all the reindeers are on sticks.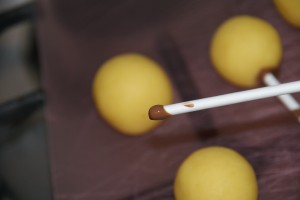 Now for the cake pops put them back in the fridge and just work with 4 or 5 at a time.  Keeping the rest in the fridge will stop them from warming up and softening too much whilst you're coating them.
Dip the reindeer head into the chocolate and twirl to coat – it should be done quickly and confidently – we're talking 3-4 seconds in the chocolate. Allow the excess to drip away back into the chocolate – takes much longer…..!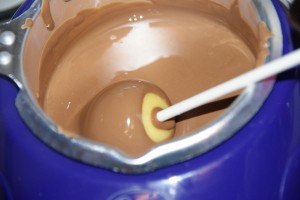 The longer the pop stays in the chocolate the more likely they are to soften too much and drop off the sticks and we don't want that to happen.
Once coated if your antlers are pretzels gently push one into either side of the top of the head, then place into your cake pop stand and allow the chocolate coating to set.  This happens much more quickly with the cake pops because they're already chilly, the marzipan will take a little longer.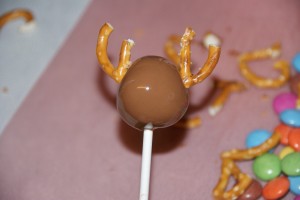 Once the chocolate is set it's onto the decoration.  Dip a spare stick into melted chocolate and dot some chocolate onto the back of the reindeer's head, stick two wafer antlers in place.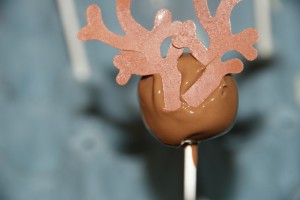 To the end of the reindeer's muzzle another dot of chocolate and stick on a red Smartie, or a Pink Whisk one!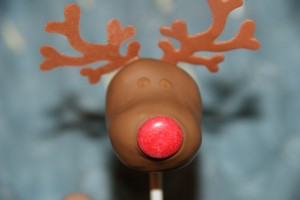 For the eyes I'm using the white circles from these Dr Oetker Polka Dot Sprinkles – they make great eyes – if you haven't got them use small balls of ready to roll icing slightly flattened.  Stick them on with, you got it, a small dot of melted chocolate.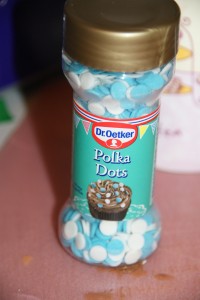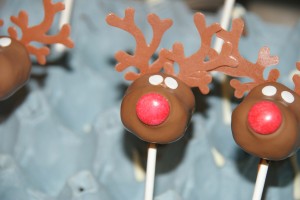 Add pupils to the eyes with a black icing tube (Dr Oetker) a cocktail stick dipped in black gel paste colouring or melted chocolate or with a black icing pen.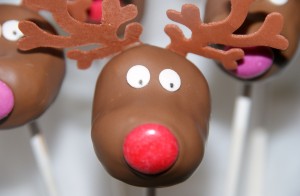 Ta Da – Cutie Pie Reindeer Cake Pops and Marzipan Balls
Now then, I have a Christmas Treasure Box and a Giant Selection Box from Cadbury Gifts Direct to give away to one lucky winner.
All you have to do to enter is leave a comment on this post! Easy Peasy.  Giveaway closes at 9pm on Tuesday 13th December 2011 and one winner will be chosen at random from all the comments received.  The winner will be contacted shortly after closing and chocs will be despatched directly from Cadbury to be with you in time for Christmas.
(If you're reading this via email you need to come to the website to leave your comment – from the email click on the Pink Title, scroll down to the end of the recipe to the 'Leave a Reply' box. Enter your name, email and comment and click post.)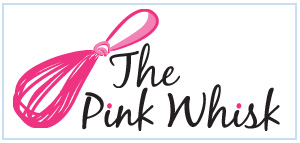 Ruth Clemens, Baker Extraordinaire