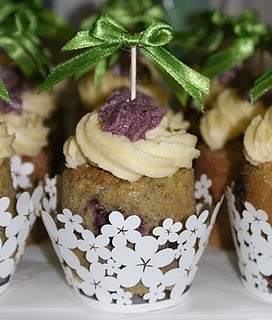 Thought I would just do a quick post on how to make your own lovely cupcake toppers.  I used these little bows on sticks for my miniature cakes in The Great British Bake Off.
I've always been a crafty kind of person, taught to me by my lovely Mum! (Some of you may know her from UKScrappers?) When I was younger she taught me how to tie bows with a single length of ribbon, and it's like riding a bike – you never forget how!
You can buy ready made off the shelf cupcake toppers in all sorts of themes but I often saw them and thought how easy it could be to make your own.  In the past I have printed off footballs onto pieces of card and attached them to cocktail sticks for my boys – the list of ideas is endless – just use your imagination to come up with something that fits your theme!
For the ribbon bow toppers you will need cocktail sticks, ribbon and glue.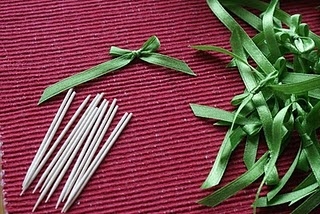 For the bows, I tied little green ones in ribbon to match the cakes.
Cut one sharp point off the cocktail sticks with scissors – careful the little pieces will fly all over!
Use a hot glue gun to attach the bows to the sticks – it dries very quickly but UHU or the like will work if you have more patience than me!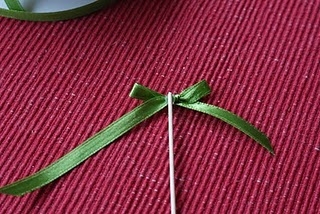 Attach a ribbon bow to each side of the stick so that they are double facing.  Remove any straggly bits of glue, trim off the tails of the bows neatly and then place on the top of your cupcakes for a really glamorous cupcake!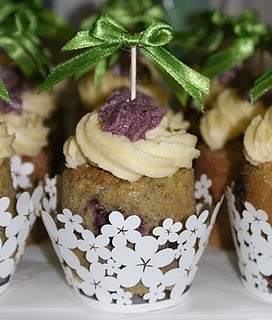 Ribbon Bow Cupcake Toppers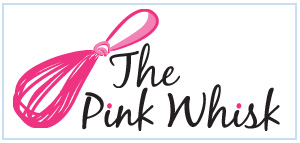 Ruth Clemens, Baker Extraordinaire
Finalist on BBC2 The Great British Bake Off