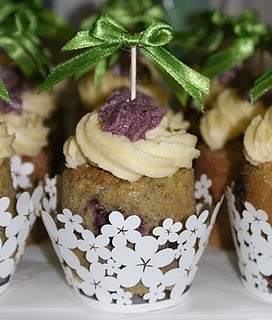 Here are the miniature cakes that I made for The Great British Bake Off Final – despite Mary not liking them I do and I'm sure you will too!
Ingredients:Cakes200g butter200g caster sugar4 eggs 200g self raising flour20g fresh mint30g fresh root ginger150g fresh blackberries
Buttercream125g softened butter250g sifted icing sugar1tbsp milk1tsp vanilla extract50g blackberries
This recipe will make you 12 buns if you make them in the large style paper cases and if you use the individual  cake pans like I did it will make 8.
Preheat the oven to 180c/160c Fan/ Gas Mark 4.
Cream together the butter and sugar using an electric mixer.  As always a wooden spoon will work just as well but you will need a good bit of elbow grease!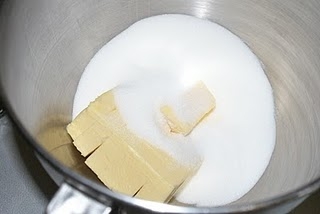 Once the butter and sugar are nicely creamed add in the eggs and the flour a little at a time and mix to a lovely cake mixture.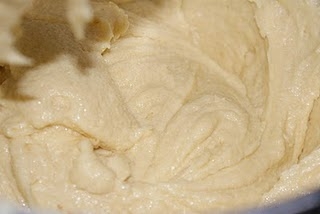 Time to prepare the maverick ingredients!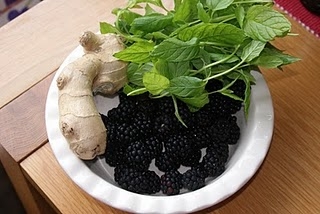 The mint needs to be washed and any manky leaves removed.  You will need to chop this finely or to blitz it up in a little chopper attachment like the one I have for my stick blender.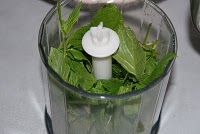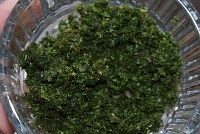 I use the stalks as well as the leaves as long as they are young and tender, if the stalks are woody you will need more leaves.  To ensure that it is all blitzed up nice and finely you have to keep poking the mixture down or shake it about well.  Please make sure your fingers are well away from any blades!  Set this to one side and on to the ginger root.
You will need about a 2" piece of ginger root but I find the best thing to do is cut off a chunk and weigh it.  I weigh an amount a couple of grams more than the recipe calls for and then peel it.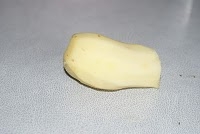 Grate the ginger and add it to the cake mixture with the finely chopped mint.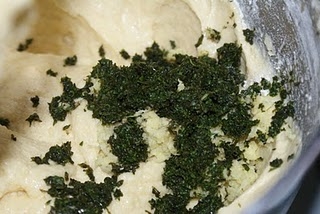 Mix gently so that it is evenly combined.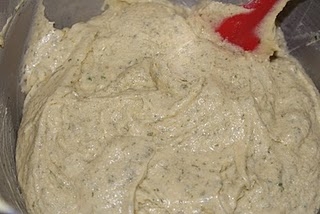 Now prepare the blackberries,  as they come in all shapes and sizes you will need to decide what to do with them.  If they are small in size you won't need to do anything to them but for the really big ones I like to chop them in half.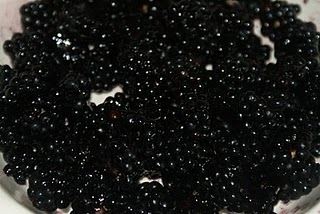 Add these to the cake mixture but don't use the electric mixer at this stage it will just pulverise the lovely blackberries to nothing!  Fold them in gently with a spatula or spoon.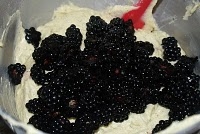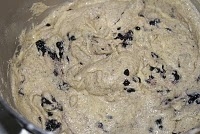 The mixture looks a little bit curdly at this stage – this is due to the acidity of the blackberries but don't worry it will turn out just fine!
Add the cake mixture to the miniature cake pans or your muffin cases and fill till 2/3rds full.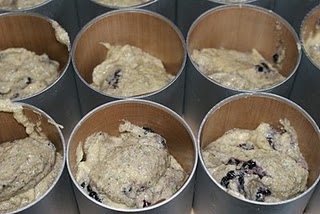 The miniature cake pans do seem expensive to buy, but if you're serious about caking they are a brilliant investment.  I buy a lot of my caking equipment from a fabulous shop online called Blue Ribbons Sugarcraft Centre, they are very helpful and send orders out very quickly too.  You can find the Silverwood Miniature Cake Pans here – Blue Ribbons – Miniature Cake Pans
(I should just add a quick note here to say I am not sponsored by them, the recommendation purely comes from me to you,  I have also never actually been inside the shop but find them the absolute best place to order online from.)
Bake time depends on the size of your cakes,  muffin paper cases will take approx 18 minutes, the larger individual moulds take approx 26-30 minutes.  Keep your eye on them, when they are done they will be golden brown on top and when inserted into the cake a skewer will come out clean (bar any blackberry juice you've hit on the way in!)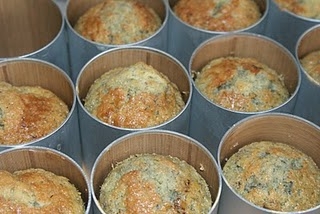 Allow to cool in the tin for five minutes before transferring to a cooling rack to cool completely.
When cooled it's time for the buttercream topping.
Using an electric mixer combine 125g softened butter, 250g icing sugar, one tablespoon of milk and 1 tsp vanilla extract.  Beat until lovely and smooth.  Remove 1/3rd of the buttercream into a small bowl and set to one side.
Add the vanilla buttercream to a piping bag filled with a star shaped nozzle – you can see my perfect piping tutorial here – How to pipe beautiful buttercream swirls
With the 1/3rd of buttercream we're going to turn it into a blackberry buttercream.  Take 50g blackberries and mash into a puree or blitz in the little blender.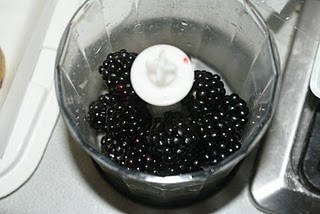 Add this to the buttercream you set aside and mix well.

Add this to another piping bag with a star nozzle – you're now ready to decorate (I love this bit!)
Pipe one swirl of vanilla buttercream on top of the cakes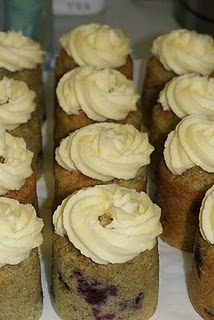 Top with a quick dot of blackberry buttercream – beautiful!  If you don't want to pipe on the buttercream or don't have the equipment for it you can just spread on a layer with a small palette knife.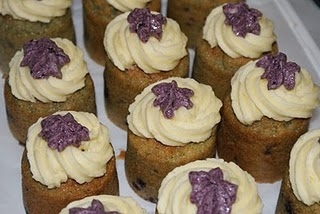 In the programme I then sprayed the little cakes with PME Edible Pearl Lustre Spray for a bit of shimmer and sparkle – who doesn't love a bit of girly pizzazz on their cakes?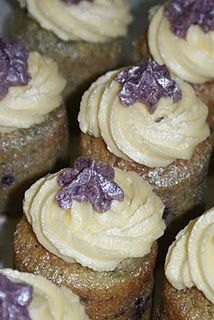 The Lustre spray can be bought in many cake decorating shops, hobby craft and also here from Blue Ribbons
Last few steps now to exquisite miniature cakes – add in the bow toppers from this little tutorial – Ribbon Bow Cupcake Toppers – A How To, add them to cup cake wrappers and serve – delicious!
I bought the cupcake wrappers in Hobbycraft but I can't find a link to them in their shop – these are the ones I used but any cupcake wrappers you like will fit the bill.  The Blossom ones pictured can be bought here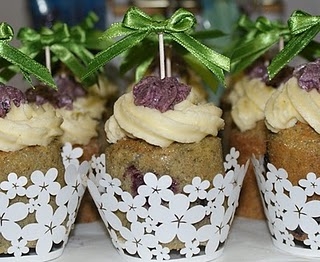 Mint Ginger and Blackberry Cakes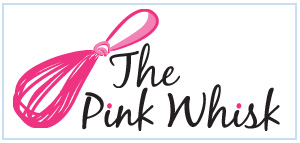 Ruth Clemens, Baker Extraordinaire
Finalist on BBC2 The Great British Bake Off