Monthly Archives:
October 2010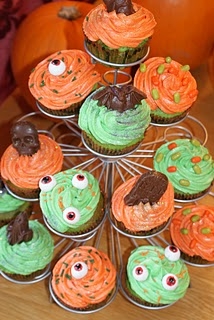 Okay then, these cupcakes are delicious (honestly) and don't just have to be for Halloween – they're otherwise known as mint choc chip cupcakes only these have been morphed into hideously horrible cakes for Halloween!
Makes 12.
Ingredients:
Cakes
280g plain flour
1 tsp baking powder
110g caster sugar
200g chocolate chips, plain
2 eggs, large
225ml milk
6tbsp oil (rapeseed or sunflower)
1tsp peppermint essence
green food colouring (optional)
Filling
1/2 can of Carnation Caramel (Dulche de Leche)
red food colouring (optional)
Frosting
125g butter
250g icing sugar, sifted
1tbsp milk
Food colouring (optional)
Preheat the oven to 180c Fan/200c/Gas Mark 5.
…
Read more...