Monthly Archives:
September 2011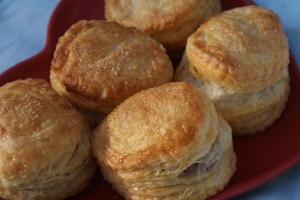 Buttery, Puffety Pastry mini fruit pies (yes I know that's not a real word….)
Eat them warm, eat them cold, pour with cream, with custard, just don't eat them all yourself!
Makes 12.
Ingredients:
1 x Block of Puff Pastry (recipe here)
450g Black Forest Berries, frozen
100g caster sugar
A little milk and caster sugar for glazing.
…
Read more...