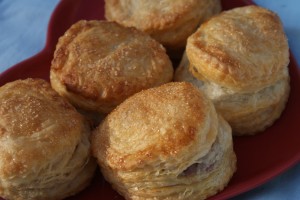 Buttery, Puffety Pastry mini fruit pies (yes I know that's not a real word….)
Eat them warm, eat them cold, pour with cream, with custard, just don't eat them all yourself!
Makes 12.
Ingredients:
1 x Block of Puff Pastry (recipe here)
450g Black Forest Berries, frozen
100g caster sugar
A little milk and caster sugar for glazing.
Start by making the pie filling.  I'm using frozen berries but you could use fresh, a tin of pie filling (skip straight to the assembly stage) and in whatever variety you choose.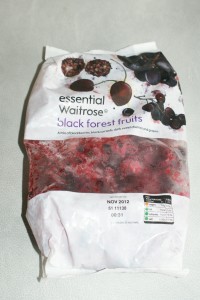 Add the frozen berries to a pan and add in the caster sugar.  Heat over a low heat, stirring occassionally until the sugar dissolves and the liquid starts to exude from the berries.
Turn up the heat to medium and again stirring occassionally bring the fruit to a bubble.  Continue to cook for a further 5- 10 minutes until the fruit thickens and becomes more jam like.  Carefully test the fruit to taste, adding a little more caster sugar if it is very tart.
Remove from the heat and allow to cool to room temperature.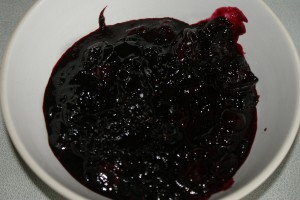 Preheat the oven to 180c (fan)/200c/Gas Mark 5.
Take your block of puff pastry and cut into two halves.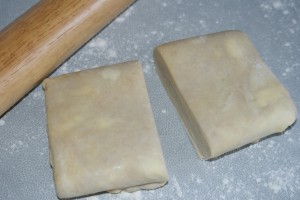 Roll out one half on a lightly floured worksurface to approx 40cm x 25 cm.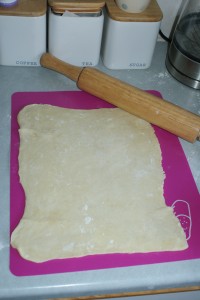 Now this is where I'm doing a bit of juggling around on boards, as I only have one 50cm square piece of worktop in the kitchen to work on, and I share that with the kettle, tea, coffee and sugar pots!
Roll out the second half to a rectangle just ever so slightly bigger than the first.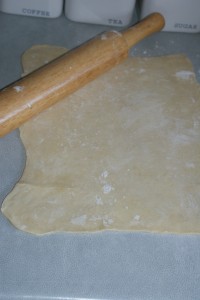 Take the cooled fruit filling and place heaped teaspoonfuls onto the first sheet.  See pic.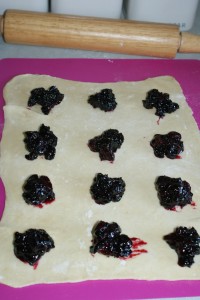 Brush around the fruit filling with a little milk.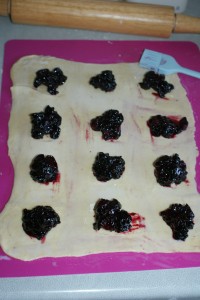 Lift the second rolled sheet and lay it over the top.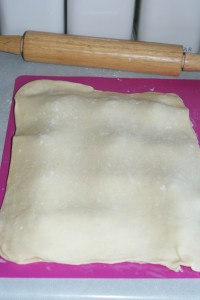 Press down with the side of your hand across ways to seal between the pies.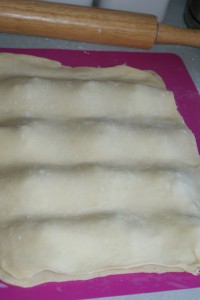 Then lengthways.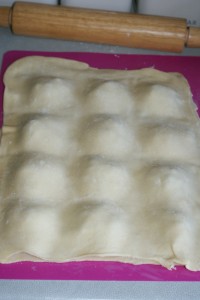 Take a fluted circular cutter (2.5″ diameter)  and stamp out each puff pie.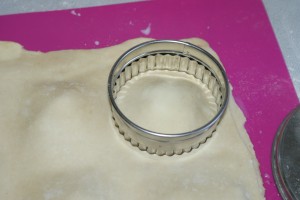 Pick each one up in turn and squeeze together the outside rim. Make sure they are sealed all the way around otherwise the filling may escape.  If your pastry has softened too much bob the little pies in the fridge to firm up a little before squeezing to seal again.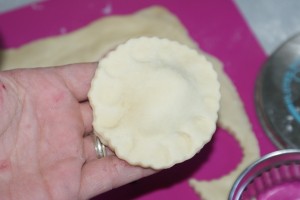 Space on a well greased or lined baking sheet.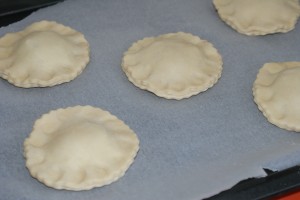 Brush the tops with a little milk, sprinkle with caster sugar and bake in the oven for 18-20 minutes until risen and beautifully golden.
Black Forest Fruits Puff Pies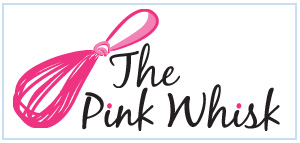 Ruth Clemens, Baker Extraordinaire
Finalist on BBC2 The Great British Bake Off 2010