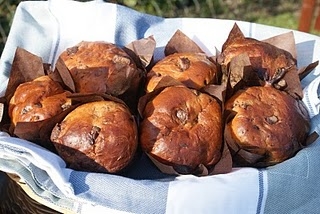 Panettone isn't difficult to make but it does take a while – not actual work mind just a lot of waiting about!  I find it's best to do it at the weekend when you've nothing planned but pottering around the house.
I should add a little note here that I did these for The Great British Bake Off – I was nervous about doing them because my cousins other half is Italian and I didn't want to let the side down – fortunately she was very proud of me – phew!
Ingredients:
Base Batter
20g fresh yeast/10g fast action dried yeast
115ml water
4tsp sugar
140g strong flour
30g butter
1 beaten egg
Fruit mixture
55g butter melted
55g caster sugar
1 egg
2 egg yolks
1 tsp vanilla essence
2tsp clear honey
Pinch salt
Zest of 1 orange
1 small packet of Orange Fruit Flakes
200g Bournville
115g strong flour
Take all the ingredients for the base batter and whack them in the mixer, mix with an electric hand mixer or beat the living daylights out of it with a wooden spoon.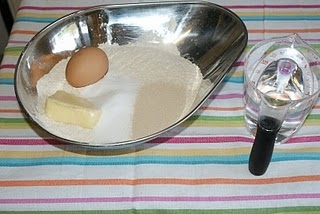 It will make you a lovely thick batter.  Set this to one side covered with a tea towel and leave to rise for 45minutes.
In the meantime you can mix up your fruit mixture.
Secrets here are:-     1.  A really good quality vanilla extract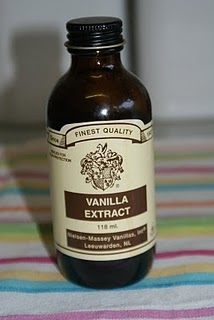 2. My secret ingredient – Fruit flakes!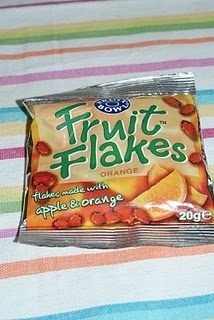 In developing this recipe I tried loads of different ways to get the orange flavour injection and then I came across these – (I must admit they were in my cupboard for the children's lunch boxes)  Somehow these little gems stay a little bit liquid when the panettone is baked – yum!
Place all the fruit mix ingredients into a large bowl and mix it all together by hand – the smell will be delicious! Leave this to one side.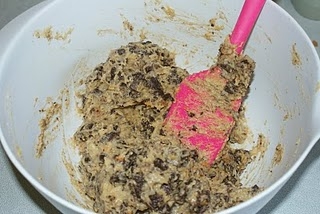 See see!  I have a new pink spatula!
After the rising time is up on the batter incorporate the fruit mixture using a wooden spoon.  Keep going this stage is a bit tough on the old arm muscles if you're a weakling like me!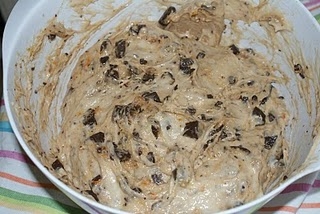 Once nice and thoroughly mixed cover it with the tea towel again, pop it somewhere draught free and leave it to rise again for another 45 minutes.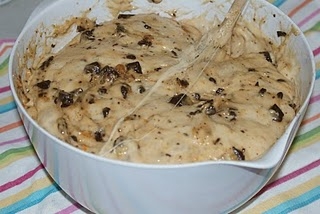 After the mixture has risen you need to put it into paper cases.  Trying to track down real panettone cases at a reasonable price was nigh on impossible.  You can use regular cupcake cases but I like to use these tulip cases.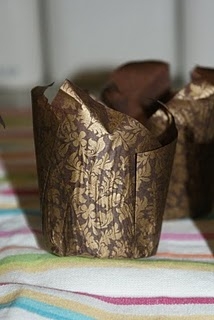 You can get them online in loads of places including Funky Muffin here
I put them in silicone muffin trays to make them stand up.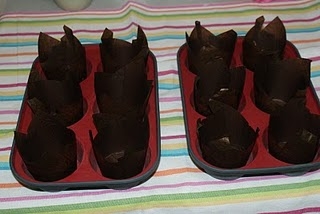 Now comes the tricky bit – getting the batter into the tulip cases – it's a bit like wrestling ferrets.  Fill the cases 2/3rd full, adding the batter a spoonful at a time.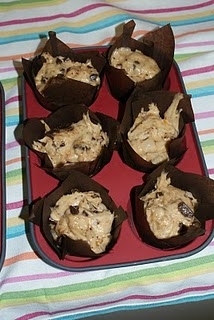 Once you've got them all filled up set them aside to rise again – another 45mins.  Turn the oven on now to preheat 190c/170c Fan/ 375F/Gas Mark 5.
When they have puffed up and the tops are much smoother they are ready for the oven.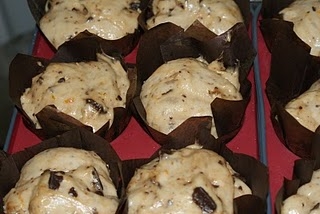 Bake in the oven for 18-25 minutes until golden brown on top and when inserted a skewer comes out clean (save for any melted choc).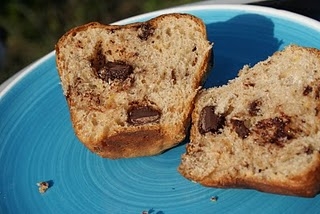 Chocolate and Orange Panettone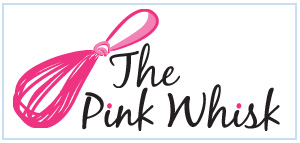 Ruth Clemens, Baker Extraordinaire