Monthly Archives:
March 2011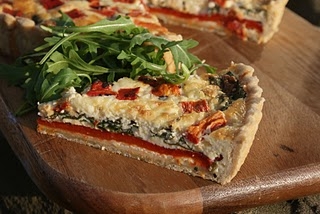 So it finally feels like spring has sprung and with Mother's Day just around the corner this Roasted Red Pepper Tart is perfect for a special lunch!
Makes 1 x 9" Tart or 4 x 4" Tartlets
Ingredients:
Pastry225g plain flour, sifted50g lard50g butter, salted1 egg yolk2-3 tbsp cold water
Filling1 x jar of whole Roasted Red Peppers (320g drained weight)80g spinach1 tbsp olive oil120ml milk120ml double cream2 egg yolks2 eggsSalt and pepper60g Lancashire or mature cheddar cheese
Method
To make the pastry rub the lard and butter into the flour in a large bowl until the mixture resembles fine breadcrumbs.  
…
Read more...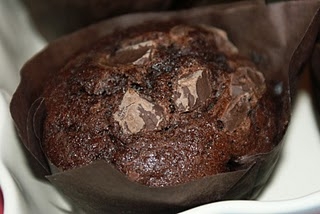 So here is my recipe for huge chocolate muffins with a surprise chocolate sauce filling – you know the kind you can buy in coffee shops and bakery chains up and down the country.  They are twice the size of your average cupcake but take some beating!  
…
Read more...

It's very nearly Shrove Tuesday and with it comes the necessity to make pancakes!  It's always good to have a fool proof batter recipe and instructions and here it is…
Ingredients:
200g plain flour
pinch of salt
2 eggs, large
600ml milk
The batter will make approx 12 x 20cm pancakes depending on the thickness you prefer them.
…
Read more...