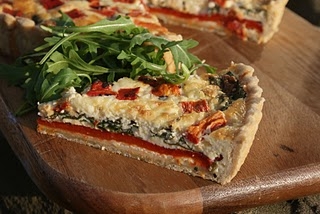 So it finally feels like spring has sprung and with Mother's Day just around the corner this Roasted Red Pepper Tart is perfect for a special lunch!
Makes 1 x 9" Tart or 4 x 4" Tartlets
Ingredients:
Pastry225g plain flour, sifted50g lard50g butter, salted1 egg yolk2-3 tbsp cold water
Filling1 x jar of whole Roasted Red Peppers (320g drained weight)80g spinach1 tbsp olive oil120ml milk120ml double cream2 egg yolks2 eggsSalt and pepper60g Lancashire or mature cheddar cheese
Method
To make the pastry rub the lard and butter into the flour in a large bowl until the mixture resembles fine breadcrumbs.  Alternatively you can make it in the food processor – blitz together the flour, butter and lard.  If you struggle making pastry then the food processor method is your best bet as it doesn't overwork the dough.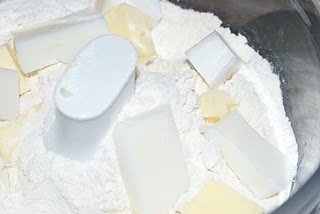 Add the egg yolk and enough water to bring the pastry together.
Knead lightly till smooth, wrap in clingfilm and chill for half an hour.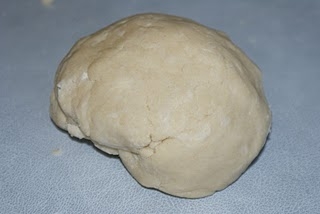 Grease the base and sides of a 9" tart pan with a removable base.
Roll the pastry out onto a well floured surface.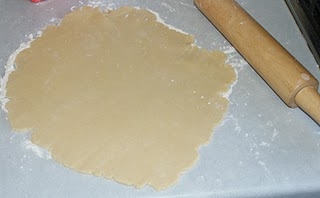 Line the tart pan and trim any excess.  I just roll the rolling pin across the top and it will trim it perfectly for you.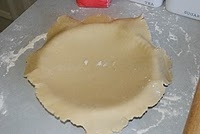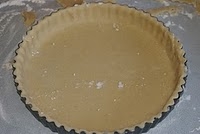 Place in the fridge to chill until firm, approx 30 minutes.
Preheat the oven to 160c Fan/180c/Gas Mark 4.
Line the chilled tart with greaseproof paper and fill with baking beans.  If you have no ceramic baking beans then you can use dried rice or beans.  Ceramic beans distribute the heat evenly and have a good weight to them to stop the pastry bubbling up.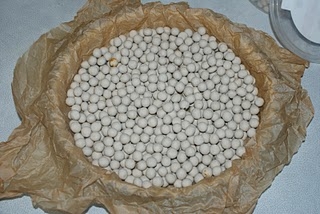 Bake in the oven for 15 minutes.  Remove the baking beans and greaseproof paper and bake for a further 5 minutes.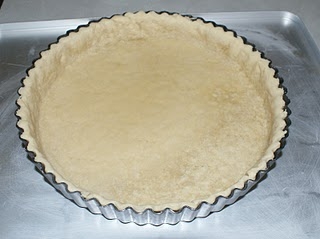 Drain the jar of red peppers and cut each in half to open them out flat.  Set one pepper aside for later.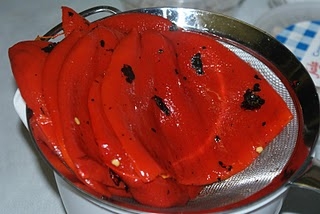 Line the base of the pastry case with a complete layer of red peppers.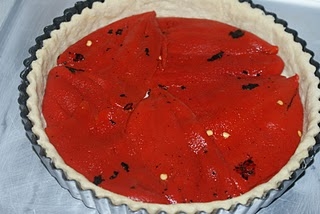 Place the spinach in a pan with a tablespoon of olive oil, season well with salt and pepper, cover and allow the spinach to cook until just wilted (about 3-4 mins).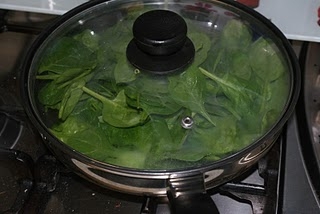 Add the wilted spinach to the tart spreading it over the red pepper layer.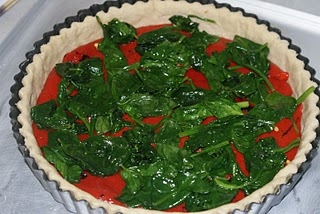 Whisk together the eggs, egg yolks, milk and cream.  Season well with salt and pepper.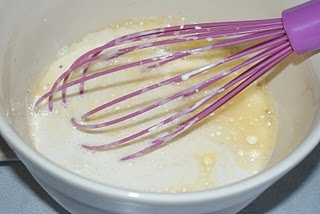 Pour into the tart carefully.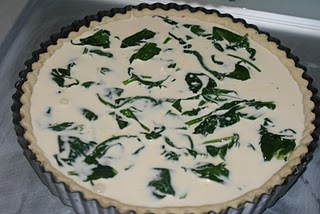 Roughly chop the pepper set aside earlier and crumble the cheese into small pieces.
Sprinkle the pepper and cheese evenly over the tart.  I prefer to do it this way round so that each portion gets and even spread of ingredients.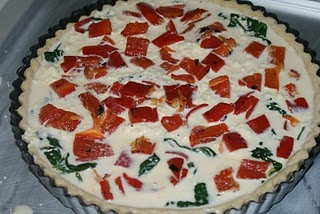 Increase the heat of the oven to 180c Fan/200c/Gas Mark 5.
Bake the tart for 40 minutes until puffy and golden.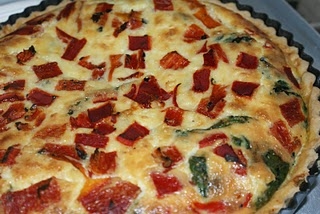 Serve hot or cold.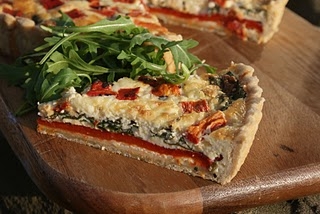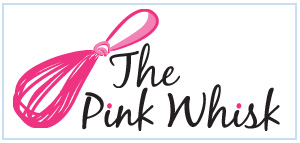 Ruth Clemens, Baker Extraordinaire
Finalist on BBC2 The Great British Bake Off