Monthly Archives:
May 2011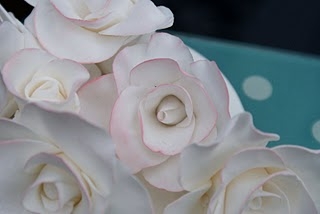 I know a fair few of you wanted me to blog how to make the blush roses I used on my traditional cake in The Great British Wedding cake, so here it it….. how to make sugar roses.
You will need:
White  Sugar Florist Paste (SFP)
White fat such as Trex
Small rolling pin
Rose petal cutters or a small round cutter
Ball tool
Foam pad
Water and paintbrush
Empty egg box
Sugarflair blossom tint powder – Rose
Large powder brush
Here are some handy product links:
Sugar Florist Paste (SFP) is the key to really great sugar roses.  
…
Read more...