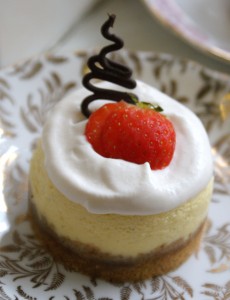 Vanilla Cheesecakes with Rosé Syllabub
I have to admit I don't get on well with baked cheesecakes – that is until I cracked it with this one.  Perfect for my Afternoon Tea served individually on vintage saucers but makes an equally fabulous large 8″ cheesecake.
Ingredients:
Base
300g digestive biscuits, crushed
100g butter, melted
Cheesecake
500g full fat soft cheese
200ml soured cream
3 eggs, large
175g caster sugar
1 tbsp vanilla bean paste (1 tsp of vanilla extract if not available)
Syllabub
75ml rosé wine (you get to drink the rest of course!)
35g caster sugar
150ml double cream
Strawberries and Chocolate Squiggles to decorate
Makes 12 x 2½" individual cheesecakes or 1 x 8″ cheesecake
I'm making individual cheesecakes in these cake moulds but they work just as well in cupcake cases.  Alternatively make one large cheesecake in an 8″ springform tin.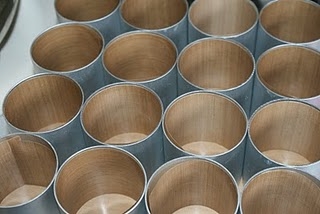 Crush up the digestives in a plastic bag with a rolling pin or in the food processor.  Keep blitzing and bashing until they're in tiny crumbs.  Eat a digestive or two as you go along for sustenance.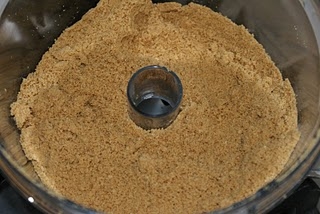 Melt the butter, in the microwave or a pan and then add to the crushed biscuits.  Mix well – you're looking for the consistency of wet sand.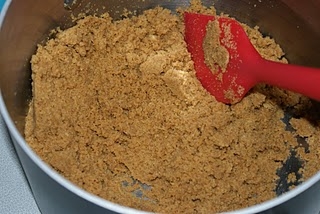 Add a tablespoon of the mixture to the base of the cake moulds, cupcake cases or tip it all into the base of a large tin.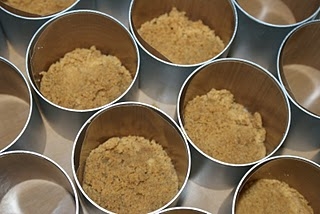 Flatten it down with the back of a spoon.  If you can't get a spoon in the cake moulds, use the flat lid of a bottle.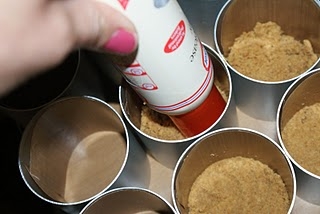 Place in the fridge to chill whilst we do the cheesecake bit.
Preheat the oven to 150c Fan/170c/Gas Mark 3.
In the food processor blitz together the cream cheese, soured cream, eggs, sugar and vanilla bean paste.  It should be a nice smooth liquid.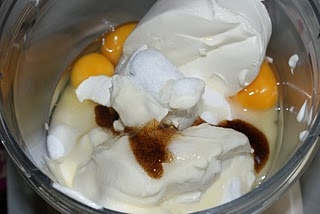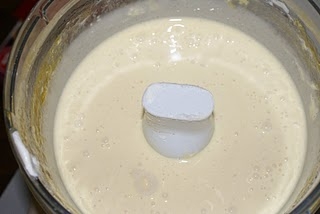 For the individual cheesecakes transfer this mixture into a jug, makes it a whole lot easier.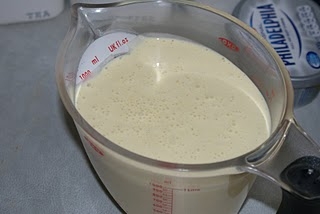 Divide the mixture between the 12 cheesecakes.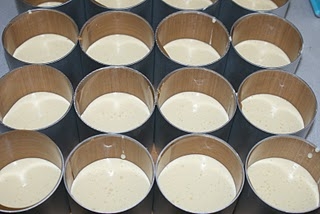 Bake in the oven for 20 minutes.  Once baking time is up they should still have a slight wobble in the centre. (For one large cheese cake bake for 45-50 minutes).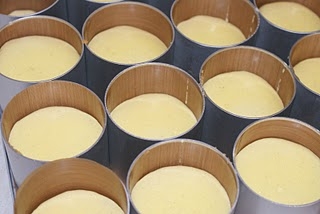 Allow to cool, cover with foil and chill in the fridge for 4 hours or overnight if you have time.
Prepare the wine and sugar now for the syllabub so it has time to combine.  Add the rosé and caster sugar to a small bowl, stir, cover with clingfilm and leave to one side.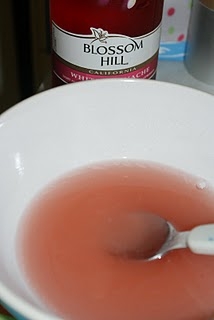 Once the cheesecakes have been chilled and the wine and sugar infused we're ready to go.
In a large bowl add the double cream, wine and sugar mixture.  Whip the cream to a softly whipped stage.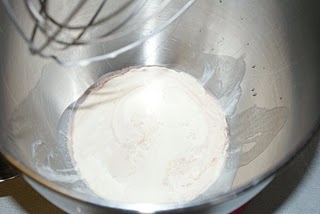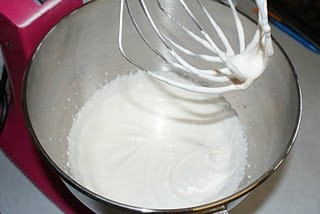 Remove the cheesecakes from the moulds if using by wrapping each in turn in a hot damp cloth.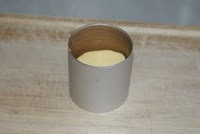 Tap them firmly on the work surface and they should drop straight out.
Add a couple of teaspoons of syllabub to the top of each and spread using the back of the spoon.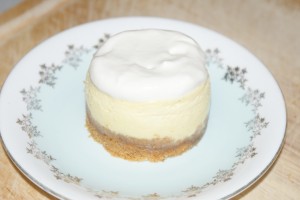 Top each cheesecake with half a sliced strawberry and a chocolate squiggle – yes that's the technical name for it.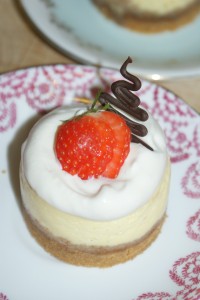 To make choccie squiggles you just need to melt a small amount of chocolate and then squiggle onto greaseproof paper using a small piping bag or a squeezy bottle and then leave to set.
My top tip for getting set chocolate out of a squeezy bottle once finished is to drop it in the freezer to freeze the chocolate.  Squeeze the bottle and it should just crack off the sides and out the neck of the bottle then it's easy to wash out.
And just before you go….The Pink Whisk blog is now available to download to your Kindle (if you're lucky enough to have one!)  Still working on ipad/iphone/epub versions and will keep you posted in due course.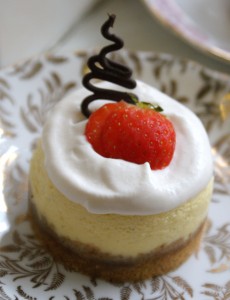 Vanilla Cheesecakes with Rosé Syllabub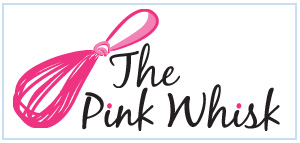 Ruth Clemens, Baker Extraordinaire
Finalist on BBC2 The Great British Bake Off