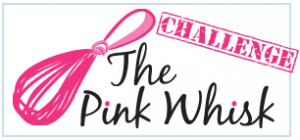 The Pink Whisk Challenge is a new monthly baking competition!
At the beginning of each month the challenge will be set by The Pink Whisk based around a seasonal ingredient.  With so many lovely recipes out there I thought it was time we shared your favourites too.
To enter, and be in with a chance of winning yourself a fantastic prize (detailed in each month's launch post), all you have to do is bake up your favourite recipe using my chosen ingredient – this will usually be something seasonal but I reserve the right to throw something random in there now and again!
Be it a recipe you've devised yourself or an old favourite (just make sure you credit the Baker or book it's from and write the method in your own words).
Feature the recipe on your blog and add your name/blog name, recipe title and link to the comments section of the launch post. Posts mustn't be historic and must be published after the challenge launch post.  Please also include a link to The Pink Whisk Challenge.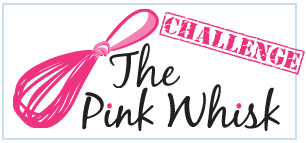 Grab the button
and link to the challenge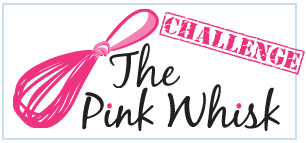 Don't worry if you don't blog, I'd still love you to enter the challenge and share your recipe!
I have set up a Pink Whisk Challenge group on Flickr.  Upload a photo to the Flickr group, post the recipe in the comments section below your pic and Bobs your Uncle, that's your entry into the Challenge done!  (You will need to create a Flickr account)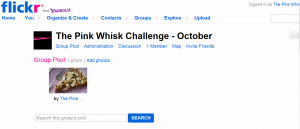 The group is open for all to join but will be moderated (to stop any spam) so don't worry if your entry doesn't show up right away.  Please make sure your email address is added to your Flickr account so I can contact you if you win!
Each month will see a new challenge with a different seasonal ingredient, the closing date for entry will be clearly detailed in each month's launch post.
The winner of the challenge will be chosen at random from all the entries received shortly after the closing date and will be announced on The Pink Whisk.  Apologies to overseas Pink Whiskers but prizes will only be available to entrants from the UK.  For full terms and conditions please see here.
So, time to bake!  Dig out your best recipe and enter The Pink Whisk Challenge!
Ruth
xx