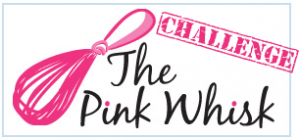 October sees the start of a new monthly Pink Whisk baking challenge – there's so many lovely recipes and lots of great baking out there I thought it was time you shared it with me (you could win yourself a great prize too – but more on that in a minute!)
At the start of each month I will set a baking challenge based around a seasonal ingredient, and also reserve the right to throw in something random occasionally too (probably glitter!)
October's challenge is Apples – still bountiful at this time of year and I'm always looking for great recipes to use them up.
October's Prize:
How fitting that October's challenge is sponsored by Pink Lady Apples!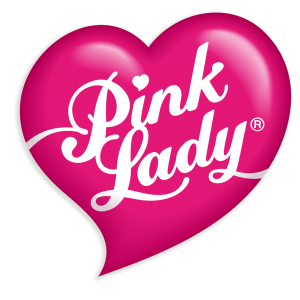 Pink Lady apples are an ideal baking ingredient as they are naturally sweet, meaning you don't need to add sugar, and are firm and crisp so they also keep their texture very well when cooked. Plus, if you leave the skin on in dishes like crumbles and pies they give it a beautiful pink blush.  What more could a Pink Whisker ask for?!  And now, ta da, the prize….
The winner of the Pink Whisk October challenge will receive: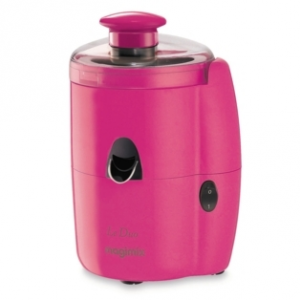 A pink Magimix 2-in-1 Le Duo Juicer (worth £149.00) –  a two in one fruit juicer with a citrus press with large and small cones and a centrifugal juicer for all other vegetables.  Suitable for all fruit and vegetable juices, all parts are dishwasher safe and removable for easier cleaning, and come with 12 years motor guarantee and 3 years for parts.
 For full spec please see here – John Lewis
A Pink Lady eco-shopper bag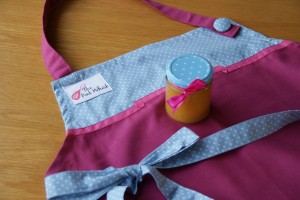 An exclusive Pink Whisk apron  – you can't buy these for love nor money (handmade for me, and you, by my Mum x) and a jar of my super zingy lemon curd!
To enter,  all you have to do is bake up your favourite recipe using apples, from your garden, from a neighbour or just from the shops (and don't forget you can't go far wrong with a Pink Lady apple) 😉 then share the photo and the recipe!
It can be one you've devised yourself or an old favourite (just make sure you credit the baker or book it's from and write the method in your own words).
If you blog – feature the recipe on your site, comment on this post making sure to include your name/blog name, URL and title of your recipe. Posts mustn't be historic and must be published after the challenge launch post.  Please also include a link to The Pink Whisk Challenge.
If you don't blog, I'd still love you to enter the challenge and share your recipe.  Upload your photo to the Pink Whisk Challenge group on Flickr and post the recipe in the comments section below your pic and Bobs your Uncle, that's your entry into the Challenge done!  (You will need to create a Flickr account)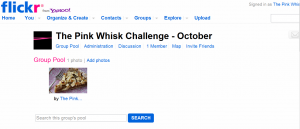 You have until the 28th October 2011 to bake and post your recipe.  The winner of the challenge will be chosen at random from all the blog and flickr entries received shortly after and will be announced on The Pink Whisk.  Apologies to overseas Pink Whiskers but prizes will only be available to entrants from the UK unless otherwise stated.  For full terms and conditions please see here.  For more details on entering –  The Pink Whisk Challenge page will help you.
If you tweet:
Then tweet me (@thepinkwhisk) a link to your recipe/entry and I will retweet it to the baking mad masses – if you also include @pinkladyappleuk they might just too!
This is the first time I've set up something like this so if you have any problems it means the gremlins have messed things up!  Please email me at
ruth (at)thepinkwhisk(dot)co(dot)uk and I will try and fix it!
So, time to bake!  Get your apples together, dig out your best recipe and enter The Pink Whisk Challenge!  
I'll be kicking you off with my apple recipe tomorrow xx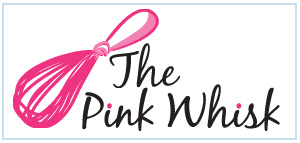 Ruth Clemens, Baker Extraordinaire