Monthly Archives:
August 2010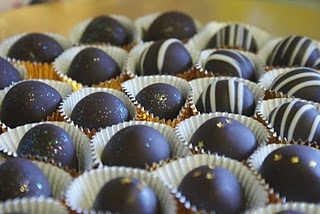 I love making truffles and love giving them to everyone too, they're a great crowd pleaser and they disappear as fast as lightening!
After a lot of trial and error I think I can give you the lowdown on the easiest way to make truffles
Ingredients:
300g plain or milk chocolate
200ml double cream
2 tbsp liqueur
To decorate:
200g plain or milk chocolate
plus white chocolate for drizzling, edible glitter or edible stars (these are optional but give the truffles a bit of pizzazz!)
Start off by chopping up your 300g chocolate into small pieces. You can use any plain or milk chocolate you like but my advice is to avoid Green & Black's 70% cocoa solids bars. I used these on The Great British Bake Off in episode one and no word of a lie I had to make the ganache for the truffles six times before I finally switched to Lindt. The G&B's seized my ganache time after time. Equally I like using Sainsbury's Basics chocolate, at around 25p a bar it's a bargain.If I had to advise you on what to use I would say go for Bournville, at 49% cocoa solids it's a good middle of the range chocolate to use.
…
Read more...