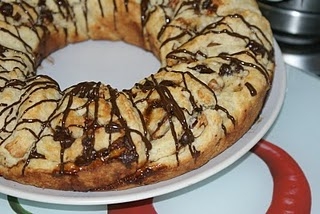 This recipe comes from Amy Lane's August Bake It! Club. Since filming for The Great British Bake Off finished I have really missed baking with a whole bunch of great people. This is the next best thing – Amy Lane's Bake It! Club – you can check out her fab blog Cooking, Cakes & Children here and join the Bake It! Club gang.
Ingredients:
For the dough
75g butter diced
450g self raising flour
50g caster sugar
2 eggs
150ml milk
For the filling
25g butter, melted
75g pecans, chopped
2tbsp brown sugar
50g dark chocolate chips
1 packet of Rolos
1tbsp milk to glaze
Additional 20g dark chocolate melted to drizzle
Preheat the oven to 180c/160c Fan/350F/Gas Mark 5.
Prepare a 10″ round baking tin by greasing well.
Put the self raising flour into a bowl and add the diced butter. Rub the butter into the flour until the mix resembles fine breadcrumbs either with your fingertips or a pastry blender.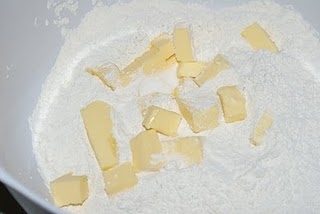 Stir through the sugar.
Beat the two eggs well and combine with the milk.
Make a well in the centre of the flour mixture and pour in the eggs/milk cautiously mix to a dough – you make not need all the liquid.
Mix well to form a soft but not too sticky dough. It is best to mix it with a knife until it just comes together.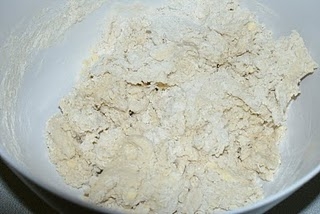 Tip it out onto your work surface and knead lightly until it comes together into a soft but not sticky dough.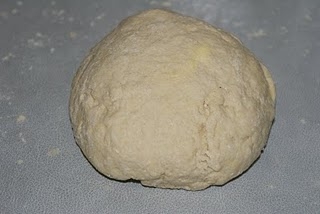 Lightly flour your work surface and roll out into a large rectangle approx 40cm x 30cm.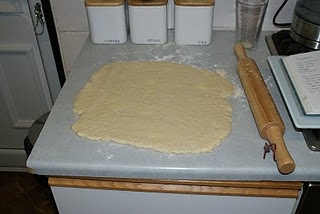 Brush the top of the dough with the melted butter and then scatter on the chocolate chips.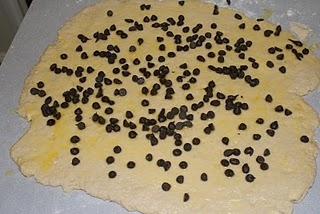 Followed by the chopped pecans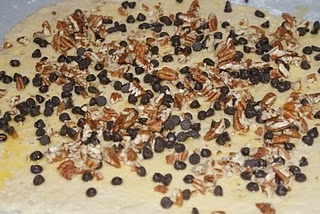 Cut all the Rolos into quarters, it helps if your Rolos are cold from the fridge.
Sprinkle on the Rolo quarters and brown sugar.
Now start to roll up the long edge of the dough, keep rolling until you have a big fat sausage of dough.
Chop the dough sausage into 12-14 slices about 2cm each thick.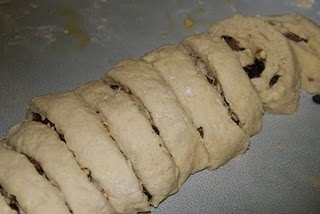 Lay the slices in a circle around the edge of the baking tin, overlapping them as you go. I am using my Monkey Bread pan (you can see the recipe for Monkey Bread here) but a round cake pan works just as well.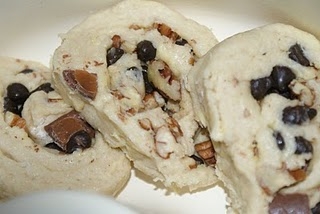 Brush the top with milk to glaze and bob it into the oven for 20 -25 minutes until lovely and golden.
When cooked remove from the oven and allow to cool for a couple of minutes. Invert onto a dinner plate and then flip it over again onto another plate and then allow to cool.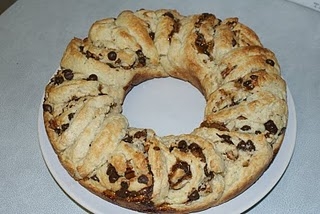 Melt the 20g of dark chocolate and then add to a piping bag or sandwich bag, snip a tiny piece off the corner and drizzle the melted chocolate all over the ring. Allow the chocolate to set and then serve.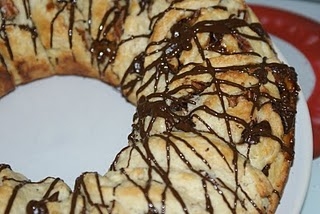 Toffee Pecan Ring – Amy Lane's August Bake It! Club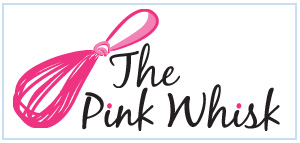 Ruth Clemens, Baker ExtraordinaireContestant on BBC2's The Great British Bake Off