I will make this short and sweet as I'm sure you've all really had enough about me banging on about exciting adverts and things but I promise I will bring you some more baking tomorrow to repent!
I managed to get my hands on The Great British Book of Baking today by Linda Collister and Penguin

…..and I'm in it! I have two of my recipes in the book both with photos of me! (Granted in one of them I look like a bag lady who has just been dragged through a hedge backwards but we'll glance over that quickly)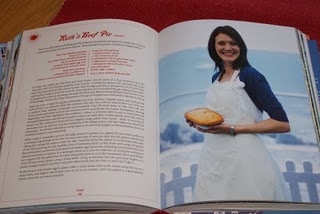 Look look it's ME!
You can get the book from Waterstones here – not only does it have a couple of my great recipes in it also features recipes from the other contestants and plenty more loveliness besides.
Okay enough giddiness and exclamation marks now, cease and desist. Off to type you up some bakey treaty post for tomorrow in recompense.