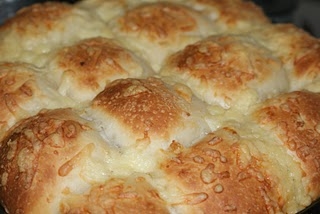 There's nothing more my boys love than a steaming bowl of hearty homemade soup with a good helping of bread for dipping in it.  This cheese and onion bread is delicious dunked, on it's own or made into a butty!
Ingredients:
1 onion, diced
25g butter (1 knob)
450g strong white plain flour
200g mature cheese, grated
1tsp salt
1tsp caster sugar
1tsp fast acting dried yeast
200ml  milk
100ml water
25g butter, melted
Sautee the chopped onion gently in the pan with the butter until soft.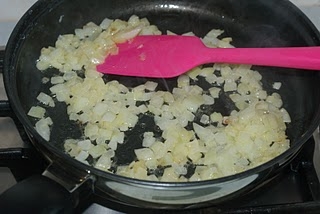 Place the  cooked onion in a bowl to cool to room temperature.
Grate the cheese and split in half.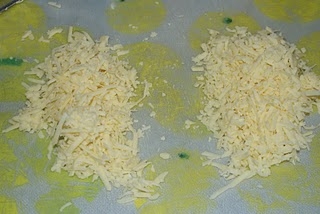 To a large bowl add the flour, salt, and sugar.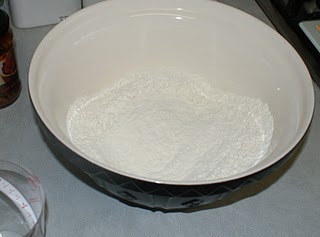 Measure out the liquids, it needs to be tepid so I use milk straight from the fridge and then top up with water from the boiled kettle.  It's always just boiled the amount of cups of tea I drink.
In a small bowl place the dried yeast,  add a couple of tablespoons of liquid from the jug and mix them together.  This gets the yeast activated and helps you along the way to success.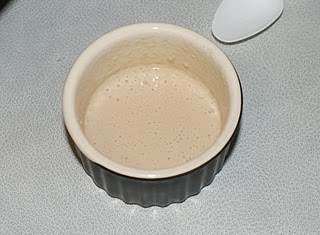 To the flour mixture add 100g of the cheese and the cooled onion.
Give it a good stir.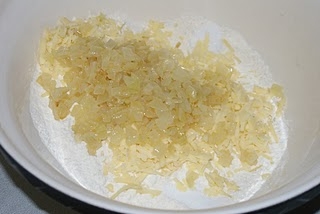 Make a well in the centre and add the liquid and the yeast.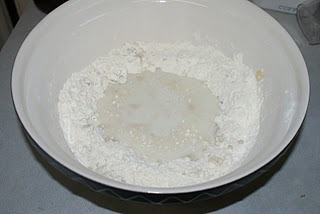 Now's where it gets messy.  Get your hands in and work it all together until it forms a rough dough.  As per usual you can do this in the breadmaker on the dough setting just adding everything in or in a stand mixer with the dough hook attached.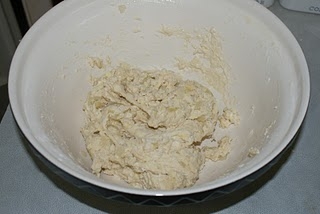 Something funny has come over me recently and I have been doing a lot of things by hand (must have had a blow to the head).  So I am very proud to say that I kneaded my dough by hand for a full ten minutes.  Alternatively I would have given it 5 minutes in the mixer.  Like I say, I don't know what's come over me!
You shouldn't need any extra flour on the work surface,  the dough may seem a little sticky to begin with but as you work it together it will stop sticking to you and form a smooth dough.
After kneading the dough will be much smoother and elastic.
Place the dough in a lightly oiled bowl, cover with clingfilm and leave to rise for an hour or until doubled in size.  It will need to be somewhere fairly warm otherwise it will take longer than an hour.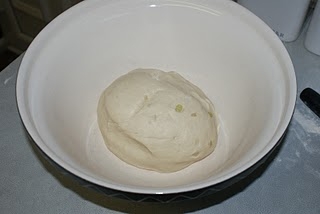 After it has doubled nicely in size tip the dough out onto your worksurface and knock it back.  A quick pummel with your fists and fingers does the job nicely and you will feel the air puff out of it.  Knead the bread for a couple of minutes.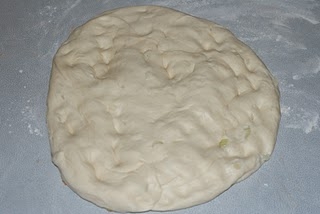 Split the dough into 16 equal pieces.  Roll each piece into a smooth ball.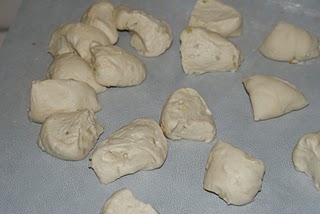 Once in a ball place the dough on the worksurface and your hand over it like a cage.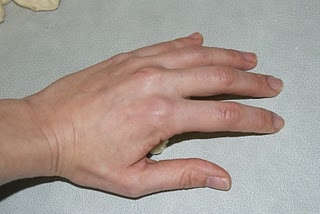 Work your hand in a circular motion keeping your fingertips stuck to the worksurface and use your fingers to keep the ball of dough inside them.  This will make you perfect balls of dough.
Take a square shallow baking tray,  approx 9″ square is ideal, and grease well.
Place all the balls of dough into the tray.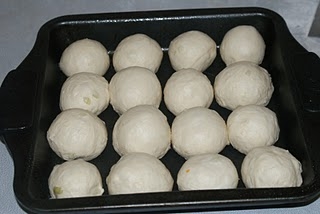 Cover with a tea towel and leave to rise again somewhere warm for an hour or until the balls are nice and puffed up.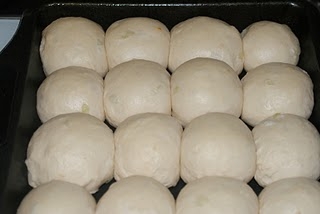 Preheat the oven to 200c Fan/220c/Gas Mark 7.
Melt 25g of butter and brush liberally over the dough.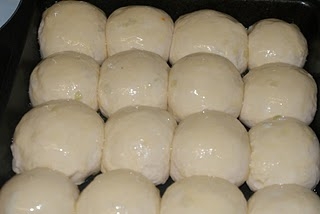 Sprinkle with the remaining 100g of grated cheese.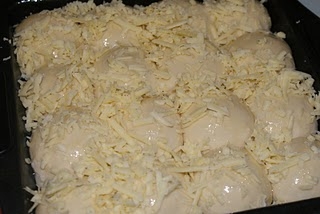 Bake in the oven for 25-30 minutes until beautifully golden and cooked through.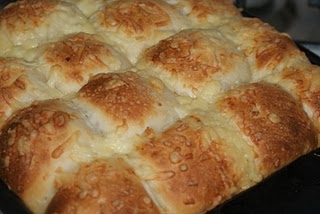 Cheese & Onion Bread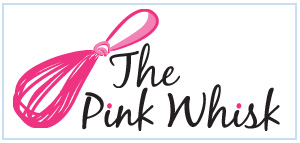 Ruth Clemens, Baker Extraordinaire
Finalist on BBC2 The Great British Bake Off