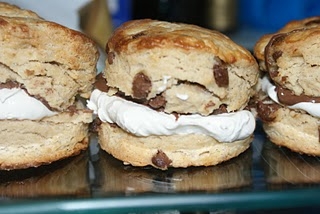 This lovely idea came from a chance discussion on Facebook and is courtesy of my gorgeous friend Kate.  They work brilliantly and if you're a Baileys lover then these are for you! – Thanks Kate xx
Ingredients:

225g self raising flour
Pinch of salt
50g butter
25g caster sugar
120ml Baileys or other cream liquer
75g milk chocolate chips
2 tbsps milk to glaze
To serve:
Whipped Cream
Chocolate Spread
Preheat the oven to 220c/200c Fan/425F/Gas Mark 7.
Place the flour and salt in a large bowl.  Cube the butter and work into the flour using a pastry blender or your fingertips until the mixture resembles fine breadcrumbs.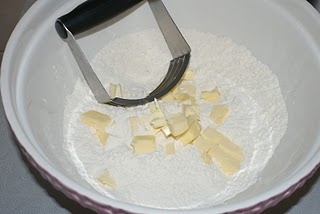 Add in the sugar and chocolate chips and mix well.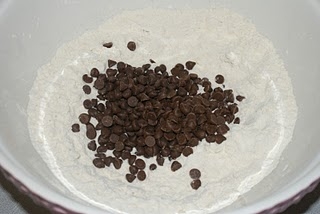 Measure out the Baileys (no cheeky tasting!).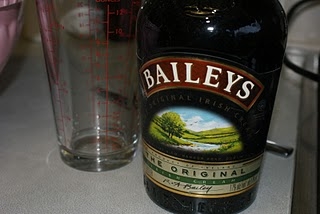 Make a well in the centre and add all of the Baileys.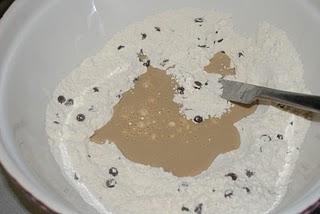 Mix together roughly to a dough using a table knife.  If the mixture appears too dry add a further tablespoon or two of milk to bring it together.
Tip out this rough dough onto your work surface and using your hands bring together lightly into a more consistent dough.
Don't use a rolling pin on your dough just pat it down into a rectangular shape about 1″ thick.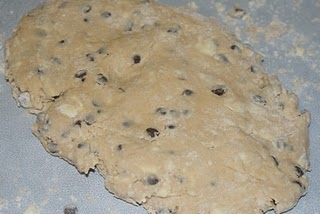 Prepare a baking tray by greasing or use a non-stick liner.
Cut out your scones using a sharp metal cutter, remembering not to twist just press straight down.  The size of cutter you are using will decide how many scones you can get from the dough. 6 x 2″ Scones, 9 x 1 1/2″ Scones.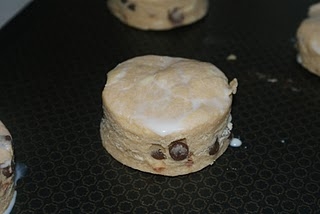 Add 2 tablespoons of milk to the jug you used to measure the liqueur in  and use it to brush the tops of the scones.
Bake them in the oven for 12-14 minutes.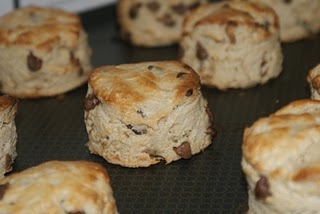 .
Remove from the oven and allow to cool on a wire rack.
Serve with whipped cream (you can add a splash of Baileys to this too!) and Chocolate Spread.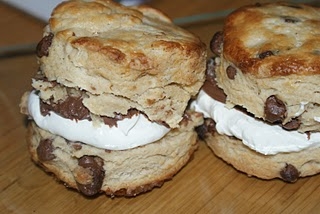 Baileys & Milk Chocolate Chip Scones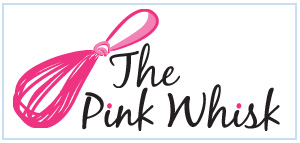 Ruth Clemens, Baker Extraordinaire
Finalist on BBC2 The Great British Bake Off