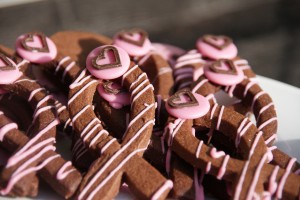 If you bake then I'm sure at some point you'll have baked for a good cause!  Whatever the charity, baking is a great way to raise some well needed funds – and we all love a bake sale or coffee morning.
 October is Breast Cancer Awareness Month – there are lots of products you can buy to support the cause but I came across this set from Avon.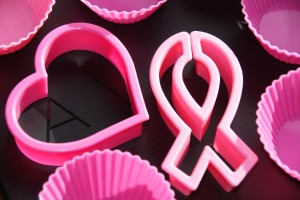 A ribbon and a heart cutter and 6 pink silicone cupcake cases – £5.00 with £1.25 from each sale going directly to Breakthrough Breast Cancer  – not to mention the amount you can add to that by baking and selling these biscuits.  Available from your local independent Avon Representative or online at www.avonshop.co.uk .  For more info about hosting your own bake sale see avonpinkpamper.org.uk
If you don't fancy baking but do want to help out you could always donate to Breakthrough Breast Cancer here.
So let's make some chocolate biscuits – this is the sister recipe to Sugar Cookies here – they taste great and bake well without losing their shape – a perfect recipe to have in your repertoire!
Ingredients:
220g butter, softened
200g caster sugar
1 egg, large
1 tsp vanilla extract
60g cocoa powder
310g plain flour
This recipe will make you two sheets of biscuit dough.  If you don't want to bake them all in one go, once rolled and chilled you can save one in the fridge for upto a week or freeze for upto 3 months.  Then you'll have biscuits whenever you just feel like it!
Cream together the butter and sugar until light and fluffy.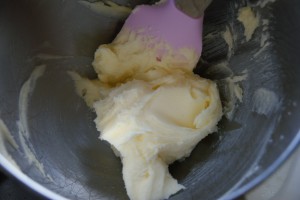 Beat in the egg and vanilla extract.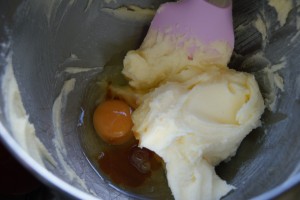 Add the flour and cocoa powder and mix well to form a thick soft dough.  It will be fairly stickyish at this stage.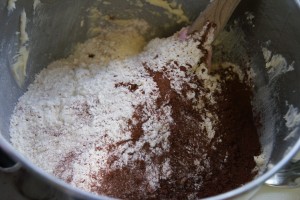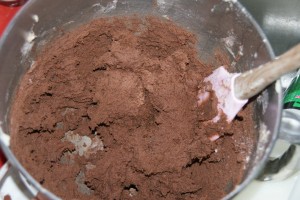 Take two sheets of baking paper.  Lay one on your worksurface and add half of the biscuit dough to the middle.  Place the second sheet over the top of the dough.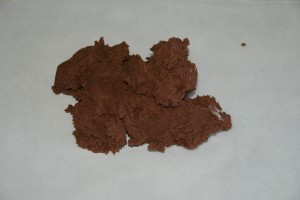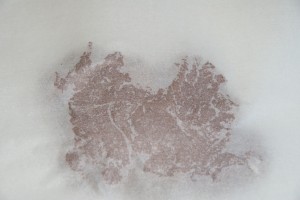 Roll the mixture out into a sheet approx 4mm thick.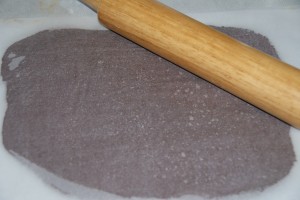 Repeat the process with the second half of the dough and then place the rolled out sheets in the fridge to chill until completely firm.  Chilling the dough before cutting and baking will give you cleanly cut out biscuits and prevents them from spreading out of shape in the oven.
Once nicely firm cut out your biscuits.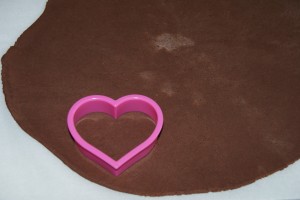 Thin cutters such as the ribbon can be difficult to work with because the biscuit is very narrow.  Instead of cutting out whilst chilled, allow to soften a little before cutting them out. Dust the cutter with a little cocoa powder to stop them sticking and if they still don't drop from the cutter freely encourage them out gently with the handle end of a spoon.
Place them on a well greased or baking paper lined tray, evenly spaced with a little room between.  If the biscuits are still very firm you are okay to go ahead and bake right away.  If they have softened whilst working on them place the trays back in the fridge until they are firm again.
Preheat the oven to 160c (fan)/180c/Gas Mark 4 and bake for 8-10 minutes in the oven, allow to firm up a little on the tray before transferring to a cooling rack to cool completely.
So for Breast Cancer fund raising my biscuits need a little pink injection!  I'm using these lovely strawberry flavoured buttons by Silverspoon Create (available in Sainsburys and more supermarkets)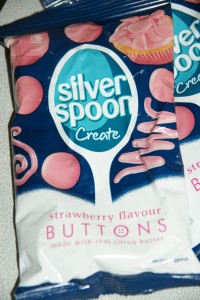 I've melted a packet down, added to a little piping bag, snipped the end off and drizzled over the biscuits – they're then treated to an extra strawberry button and a little chocolate heart (also by Silverspoon Create).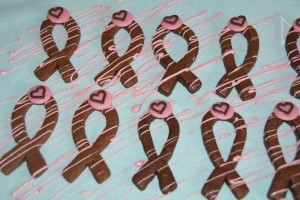 The heart shaped biscuits are just half dipped in the melted buttons.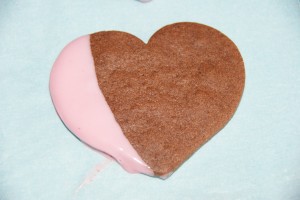 I have a handy little chocolate melter that I bought from a Cadbury outlet shop (at The Lowry) it's actually very good – brilliant for cake pops and I tend to use it for most melty chocolate jobs now!  A quick look on Amazon and here it is – Cadbury – Chocolatier Melting Pot  £15.99 (is there anything you can't get on Amazon these days?)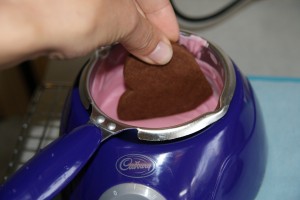 In the buttons go, turn it on…. ten minutes after a lovely brew perfectly melted chocolate that stays melted whilst you work with it, the advantage is also that the pot is small and deep so it's easy to dip things in without having to use ten tons of chocolate!  It also comes with some little chocolate moulds so any excess when I've finished goes into the moulds and in the fridge for the boys as a treat.
Allow the chocolate to set and then serve up your chocolate biscuits at a Breast Cancer Bake Sale!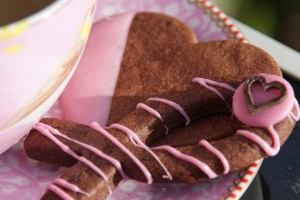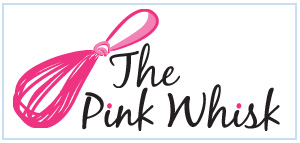 Ruth Clemens, Baker Extraordinaire