Monthly Archives:
January 2011
Another fab flavour Mac for you – Chocolate Orange they're not Terry's they're mine!
You will need:
1 batch of Macaroons dyed bright orange (recipe here)
Dust them lightly with cocoa powder as soon as they have been piped.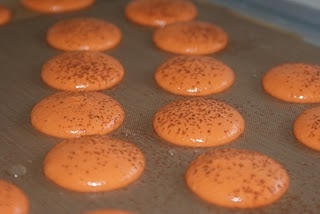 Orange Ganache
100g milk chocolate
100ml double cream
1 tsp orange extract
Make up the ganache by placing the cream in a pan.
…
Read more...