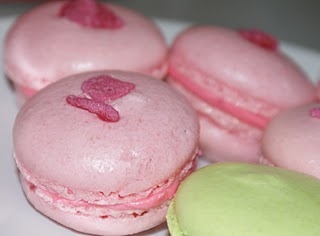 Macaroons – The French type, (said with a French accent of course) are notoriously tricky little blighters and reduce lots of us to tears.
You might have seen me make them on The Great British Bake Off for the Petit Four Tower.  That week practising at home will go down in history, and not in a good way.  Meet fraught Manic Mummy Baker Extraordinaire – tears tantrums you name it the boys saw it all.  I made enough Macaroons that week with the majority of them ending up in the bin!
So I'm going to save you from all that – follow the instructions to the letter and you'll be well on the way to perfect macaroons. Prepare yourself to practise though, there are a lot of things that can go wrong and will given half the chance, practise practise practise.
Ingredients:
110g egg whites (whites from approx 3 large eggs)
75g caster sugar
125g ground almonds
175g icing sugar
First off you will need one of these: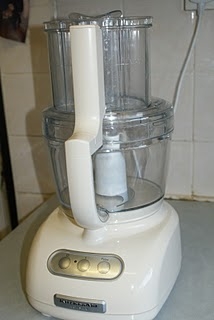 Trusty food processor – I will not make macaroons without it.  Like I mentioned follow the instructions!  You will also need, a large bowl, spatula, sieve and whisk.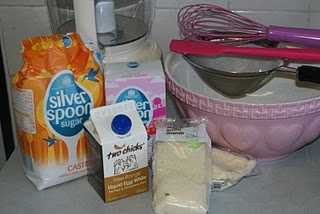 Okay so I'm not going to whisk egg whites by hand you know me better than that, but it looks pretty!
Measure out the ground almonds and icing sugar and put them into the food processor.  Turn it on and leave it on…..have I gone mad?  Nope, do as I say and it'll be fine.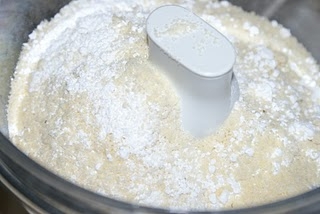 Okay so now I'm going to have to shout so you can hear me over the racket of the food processor.
Measure out the egg whites.  I hate saying this, I am determined never to become an egg-weigher, life's to short, but macaroons need special measures.  Egg whites are measured in grams seems a bit silly to me as surely you measure them in ml's as a liquid but hey ho 110g egg whites = 110ml egg whites.
I've tried out these egg whites from Two Chicks and they are really good, it also means I don't end up with 100 egg yolks and have to make a gallon of custard to use them up!  The egg whites can be bought in Waitrose, Sainsburys, Tescos. (These would also be great to bake my Angel Food Cake – virtually fat free).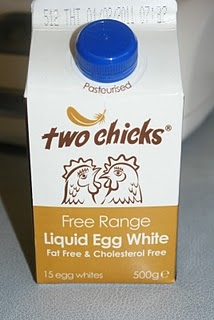 Place them into a large bowl and whisk like you would a meringue.  As the mixture comes to soft peaks begin adding the caster sugar a third at a time until it's all worked in and smooth and glossy.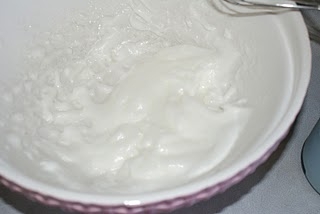 You don't need to whisk the egg whites to stiff peaks but they should be thick and glossy.
One of the wonderful things about macaroons are their fab colours – whatever takes your fancy.  Using gel paste colours is the best way to colour the mixture without changing the consistency.
Add a small amount of colouring to the meringue and mix in well.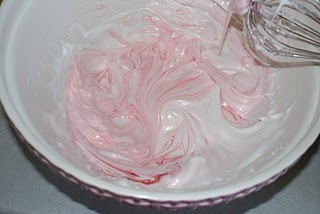 Now you can turn off the Food Processor (and take your ear defenders off).
Sift into the meringue mixture half of the almond/icing sugar from the food processor.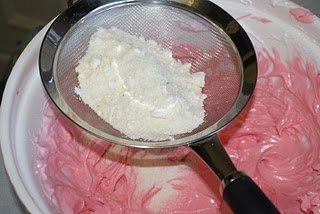 Fold into the mixture using a spatula or metal spoon until it's fully mixed in.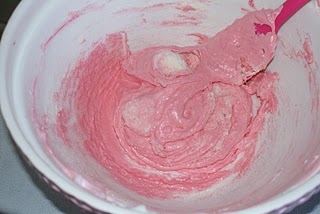 Sift in the final half.
The residue left in the sieve can be very grainy and hard so don't force it through the sieve just discard it.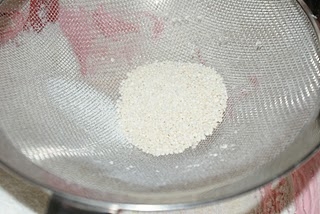 Fold in as before.
Now comes the tricky part,  you need to keep folding the mixture until it goes smooth and glossy.  By my reckoning this takes 1-2 minutes folding in a figure of 8.  This loosens the mixture until it is the right consistency.  You really don't want to knock ten tons of air out of it but achieveing the right point is important.
Hold your spatula above the bowl.  The mixture should run from it in a ribbon.  If it's jerky and breaking then it isn't right yet.  Just watch out though you want to stop right at this point and go no further, otherwise you'll have hugely spreading macaroons.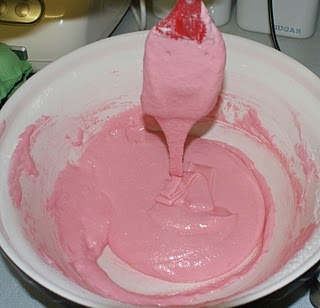 Now we're ready to go.
Add the mixture to a piping bag fitted with a plain wide round nozzle (1cm)
Prepare two baking sheets lined with Bake-o-glide.  It is so disappointing making perfect looking macaroons and then not being able to get them off greaseproof paper.  Believe me, it happens a lot.  Sure fire method – stick with the bake-o-glide!
Pipe the macaroons onto the tray in small circles.  To begin with they will have a small peak on the top.  If you have the correct consistency that will soon flatten and you will have a tray full of perfectly smooth macaroons.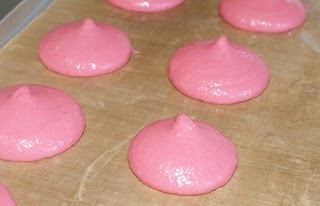 If you are adding crystallised rose petals or violets for decoration then now's the time to pop them on the top.
Now you need to set the trays aside for 30 minutes.  After this time they should have formed a slight 'skin' and you should be able to touch them with your fingertip.
Preheat the oven to 130c Fan/150c/Gas Mark 2.
Place the trays in the oven for 13 minutes.
Remove from the oven and allow to cool, still on the tray.  Good macaroons should be smooth and glossy with a good foot and not flat.  I have added some trouble shooting tips at the end of the post.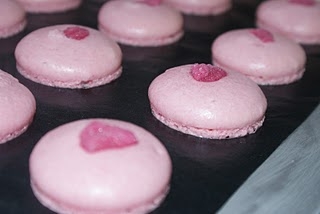 Sandwich together with a buttercream or ganache of your choice.  I'm not giving recipes here in this how to but more macaroon recipes will follow this week.
For the violet macaroons I made in The Great British Bake Off I took a large packet of Parma Violets and ground them to dust in the food processor.  I combined these will icing sugar to make buttercream.
Parma Violet Buttercream
1 large pkt of Parma Violets, ground plus icing sugar to weigh a total of 125g
250g butter, softened
1 tbsp milk
Troubleshooting:
Macaroons are lumpy and grainy – mixture not loosened to correct consistencyMacaroons have cracked in the oven – oven temperature is too hotMacaroons are flat – mixture was overworked and too much air knocked out of the meringue when folding.
Equipment:
John Lewis – Bake O Glide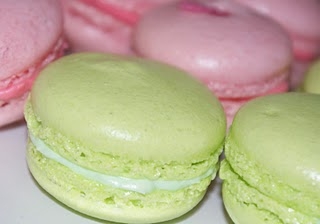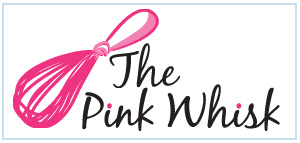 Ruth Clemens, Baker Extraordinaire
Finalist on BBC2 The Great British Bake Off