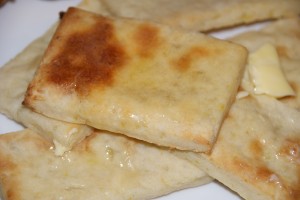 Keeping up the wintery baking, potato cakes are a real trip down memory lane for me.  Tastes of my childhood, tubs and tubs of potato cakes – toasted and slathered with butter.  I always wondered where my love of the buttery stuff came from.
These are great for making a big batch and then whacking them in the freezer to have at your leisure!
Ingredients:
350g cooked potatoes, good firm mashing potatoes are needed here
(if I knew anything about potatoes I would tell you which, but I don't – I head for the red skinned ones, they haven't let me down yet.  It is becoming very obvious I'm not a foodie!)
50g butter
80g flour
Boil the potatoes, drain and allow to cool fully.  You can't make potato cakes with hot potatoes, you end up with glue.  I know, I tried.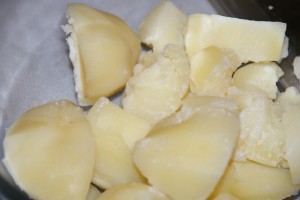 Preheat the oven to 180c (fan)/200c/Gas Mark 5.
Mash the potatoes with the butter.  I don't like mashing, it's boredom inducing and it hurts my arm. (Just in case you were wondering!)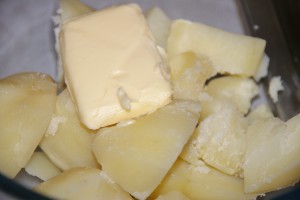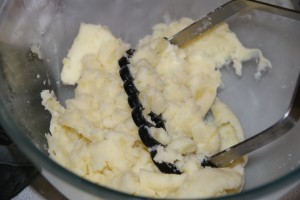 Add the flour and mix together well. (Now you realise there's lumps in it – refer to comment above)
With your hands, gather the dough together into a ball.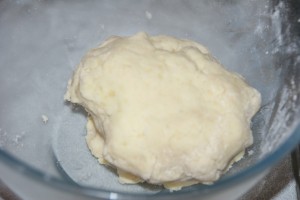 On a lightly floured surface roll out the potato dough to a 0.5 cm thickness.  What do you mean you can see lumps in it – I can't disguise them, I think I should invest in a potato ricer.  You won't have that problem – I'm sure you're good at mashing with no lumps!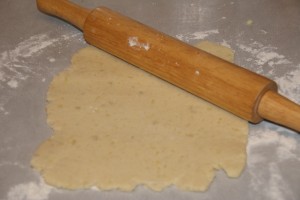 I like them rectangular (that's how Mum makes them) so I'm trimming off the scraggy edges.  The trimmings can be gathered together and re-rolled.  At this stage it's too late to do anything about lumps – let's call it rustic charm.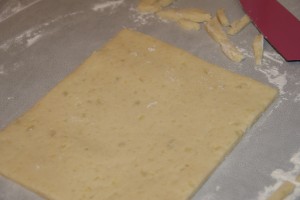 Cut into individual cakes and place on a lined baking tray.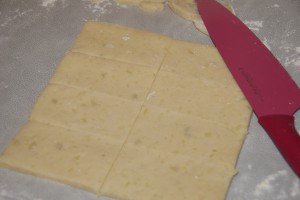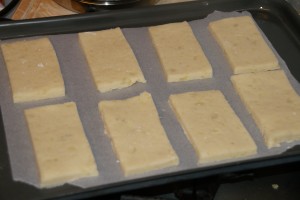 Re roll any trimmings until it's all used up.  I end up with ten good sized cakes but I am not known for skimpy measures.
Bake in the oven for 18-20 minutes until lightly golden brown on the top and underneath.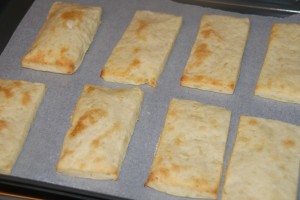 Allow to cool slightly on the tray before transferring to a wire rack to cool completely, that's if you don't scoff them straight away with a slather of butter, lumps and all!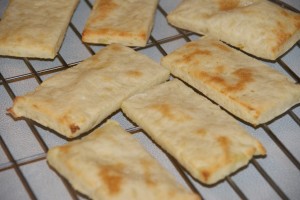 Potato cakes can be reheated later, either in the toaster or under the grill.  For me a knob of butter is essential.  The boys like them with baked beans piled on top.  Serve them with a fry up – they go with all sorts of everything.  Remember if you can, get some in the freezer in an airtight container and then defrost as you want them!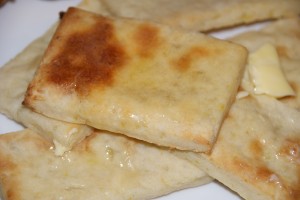 Homemade Potato Cakes
Apologies for the running commentary through this recipe!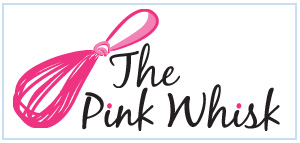 Ruth Clemens, Baker Extraordinaire