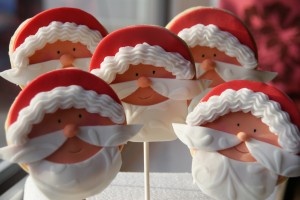 On the second day of Christmas The Pink Whisk sent to me…..Father Christmas Cookie Lollies (and if you're not singing – why not?)
You will need:
1 batch of Vanilla Sugar Cookie Dough
Lolly sticks
Sugarpaste in peach or pink, red and black (or a black icing pen)
White edible ribbon (Renshaws) or white sugarpaste
Royal icing
Pink lustre dust for the cheeks (optional)
Make up the cookie dough as per the instructions here Sugar Cookies and roll out slightly thicker this time to about 7mm thick and chill the sheets of dough.
Using circular cutters cut out the  cookies using a variety of sizes – use whatever you prefer, size wise.
When you have them all cut out insert a lollipop stick through the dough about half way up the cookie.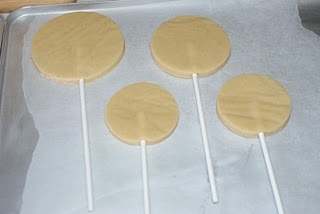 Preheat the oven to 160c Fan/180c/Gas Mark 4.
Place on a baking sheet lined with greaseproof paper or Bake-O-Glide and chill again in the fridge for half an hour.
Bake in the oven for 8-10 minutes for the little rounds and 12-15 for the large ones.
Remove from the oven when baked and light golden brown around the edges.
Allow to cool for five minutes on the tray before transferring to a wire rack to cool completely.
Once all your lollies are baked and completely cooled it's time to get going with the roll out icing.
Using a pink or peach (sugarpaste can be coloured using gel paste colours) roll out fairly thinly and using the same circular cutter that you used for the cookies cut out circles for the faces.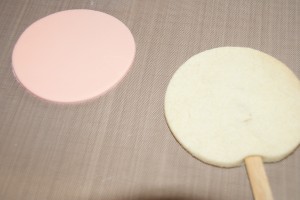 A light brush of water on the top of the cookie will stick the sugarpaste circle in place.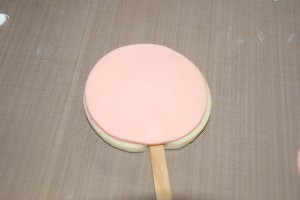 Roll out some red sugarpaste and cut out again with the same round cutter.  This time cut away the bottom 2/3rds.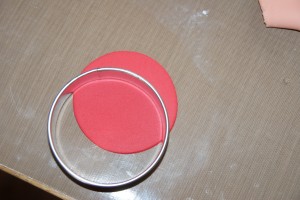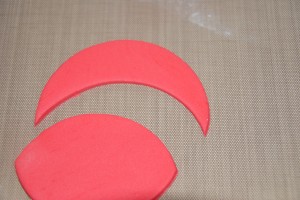 A dab of water the back of the hat and position in place.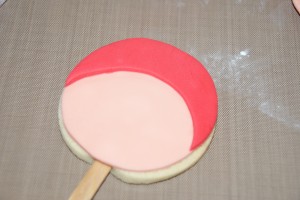 If you have a pink lustre dust, dust on Father Christmas' rosy cheeks with a dry brush.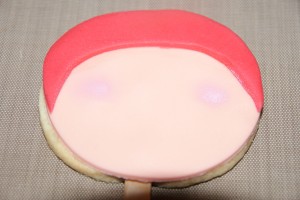 Take a small metal piping tip and using the wrong end mark a smile onto the face.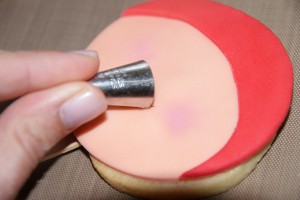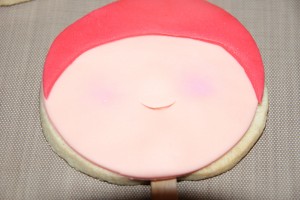 Now for the beard and moustache.  I'm using Renshaw's edible ribbon because it has swirls embossed onto it (and I like it!)  You could just as easily use white sugarpaste.
This is how I've cut the strip – you need two moustache pieces and one beard.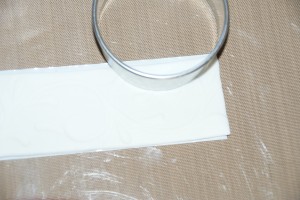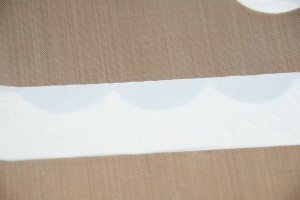 Sorry – it's really difficult to take photos of white things!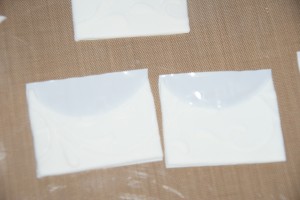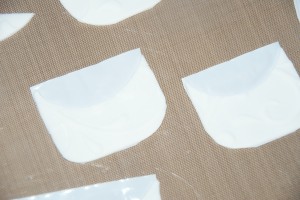 The corners of the beard I rounded with a pair of scissors.
Now mix up some royal icing and use small dots to fix the beard and moustache in place.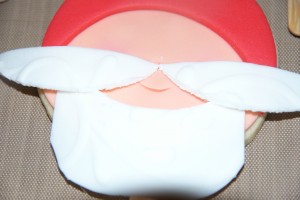 Make a small ball of the peach/pink sugarpaste for a nose and secure in place with a dab of water.
Place some of your royal icing in a piping bag fitted with an open star type nozzle.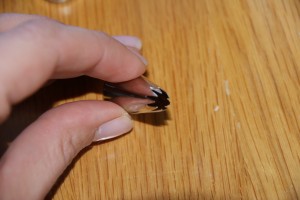 Pipe on the royal icing in a wiggly line to create the fur of Father Christmas' hat.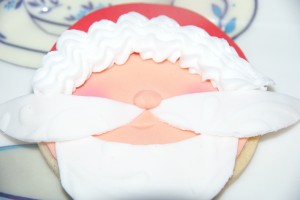 If the royal icing has a peak at the end just dab it down with a damp paintbrush.
Add in small balls of black sugarpaste for the eyes or add them in with a black icing pen.
Equipment:
Renshaws Edible Icing Ribbon is available in Lakeland, along with a variety of coloured sugarpastes which are ready to use.  Sugarpaste can be coloured yourself using a gel paste colouring.
Here are some links to the kit on Amazon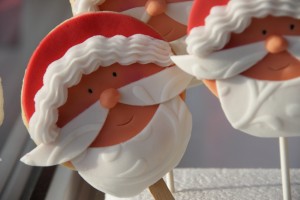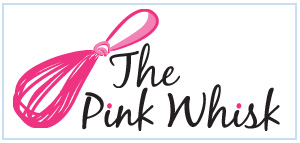 Ruth Clemens, Baker Extraordinaire