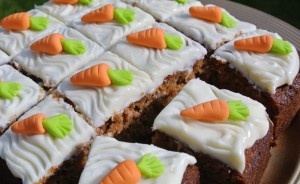 A traditional cake but still one of my favourites, it's good for feeding the masses too!
Ingredients:
225ml sunflower oil
3 eggs, large
120g golden syrup
150g soft light brown sugar
240g self-raising flour
1½ tsp cinnamon
½ tsp allspice (if you don't have allspice you can just leave it out!)
½tsp ground ginger
1tsp bicarbonate of soda
300g grated carrots
½ Quantity of Cream Cheese Frosting – recipe here
Orange and green sugarpaste for carrot decorations (optional)
Makes 1 x 8″ Square cake.
Prepare your tin lining the base and sides with baking paper.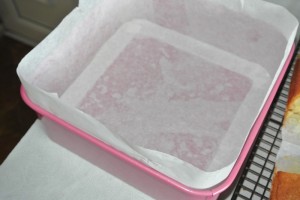 No, I didn't buy this tin because it's pink.
Okay, I did.
(but it was reduced 😉 )
Preheat the oven to 160c (fan)/180c/Gas Mark 4.
Measure out the sunflower oil in a jug and add the eggs.  Whisk them together to break up the eggs.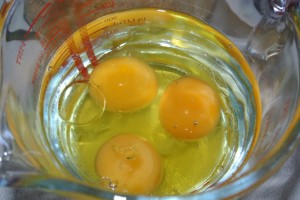 Now weigh out the golden syrup and set to one side.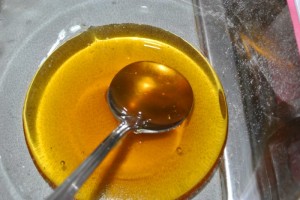 In a large bowl combine all the dry ingredients – flour, spices, sugar and bicarbonate of soda.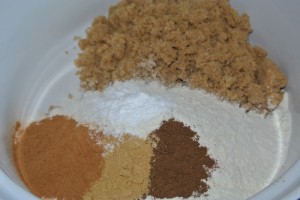 Yes, I'm using a casserole dish, I couldn't lay my hands on a mixing bowl…..don't tell me you don't do that….?!
Add the oil, eggs and syrup and give it a good old mix up.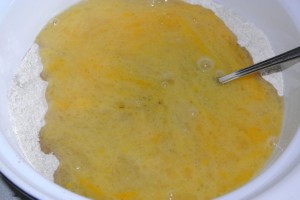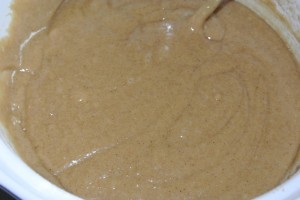 Now grate the carrots, it's about this many… (if they're piddly little ones like mine).  Peel them first but keep the tops on – something to hold whilst you're grating.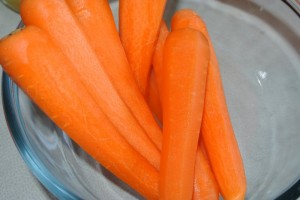 Officially I hate grating carrots but I hate hunting for the food processor attachments even more.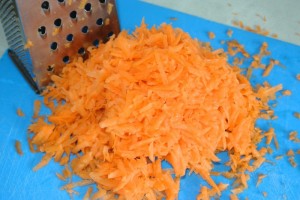 I've seen this which looks kind of nifty, and I reckon it wouldn't take up any more room in the cupboard than the grater – what do you reckon?  If you have one, let me know if they're any good! (Tefal Fresh Express)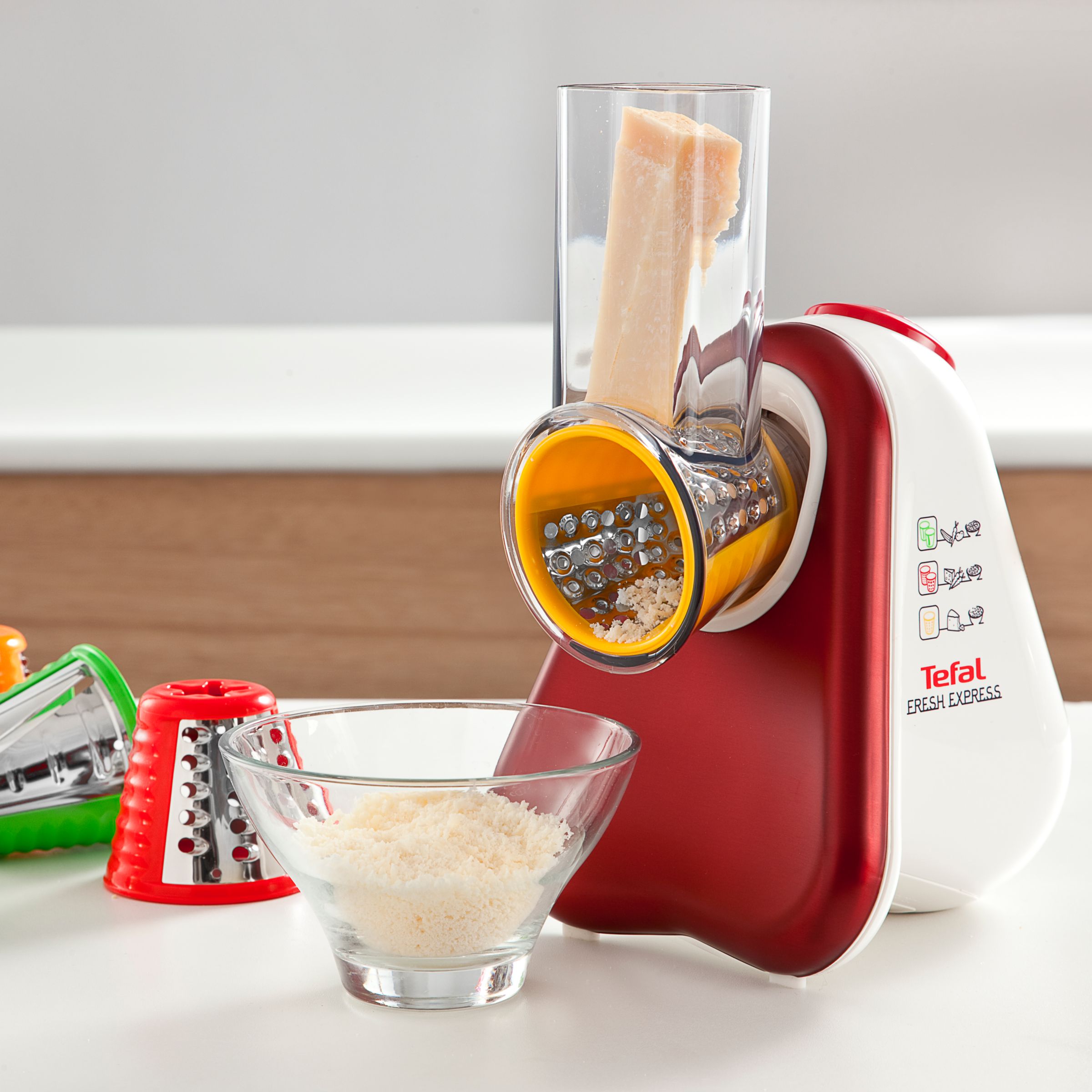 Add the carrots and stir it up, pour it all into the tin.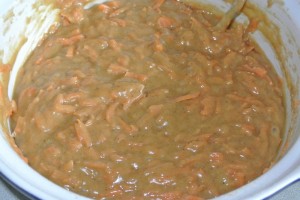 Bake it in the oven for 45-50 minutes, check its done inserting a skewer and making sure it comes out clean.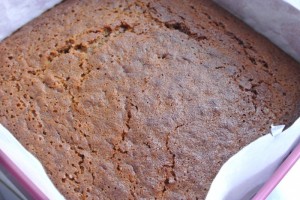 Transfer it to a wire rack to cool completely.
Mix up the frosting, you only need a ½ quantity of this recipe – so 35g butter, softened 100g cream cheese and 200g icing sugar following the instructions.
Spread over the top of the carrot cake and squiggle with a fork.  Cut into 16 pieces, more if you're feeling stingy.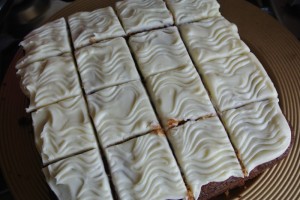 To make the carrots take the sugarpastes and roll them into fat sausages.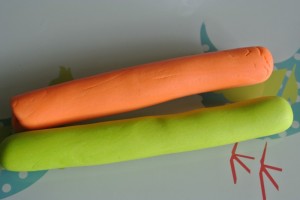 Cut each sausage into even slices – that way all your carrots will be the same sizes.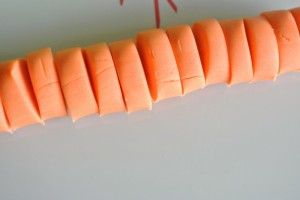 For the carrot body roll each piece into a ball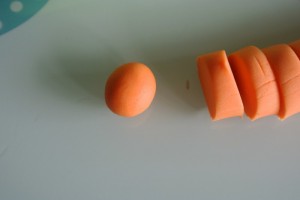 then taper the end to a point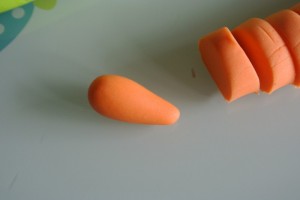 Using the end of a paintbrush poke a hole in the top.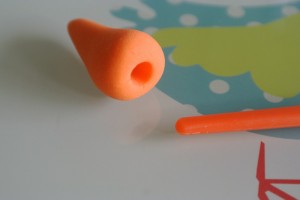 Carrot tops – roll a small ball of green, taper the end and then flatten the ball part with your fingertip.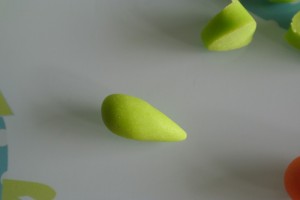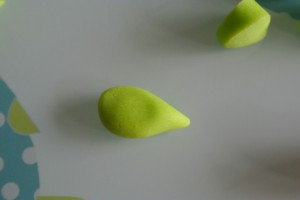 Using a sharp knife make three or four cuts to separate it into leafy bits.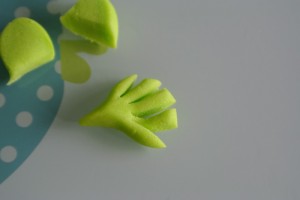 Poke the pointy bit of the carrot top into the paintbrush hole in the top of the carrot.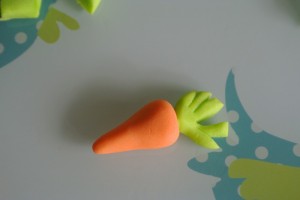 Using the knife score some lines gently down the body of the carrot.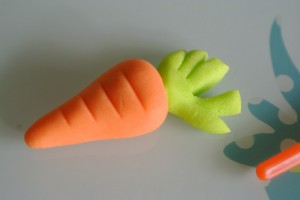 Add a cute little carrot to each piece of cake (and then cry when the children pick them off before eating the cake – all that hard work!)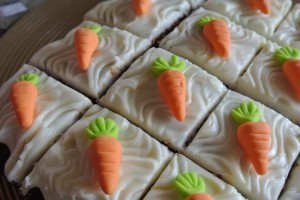 Because of the frosting this cake should be kept in the fridge but allow it to come back to room temperature before serving.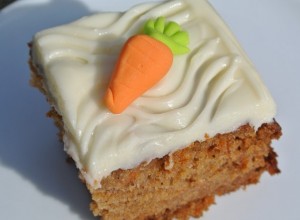 Carrot Cake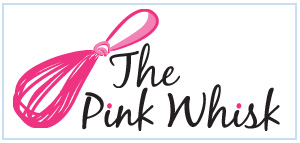 Ruth Clemens, Baker Extraordinaire