So I've given you two basic recipes for using in your Giant Cupcake Tins but I thought I'd also cover a few quick tips on  working with it now.
Split it and fill it!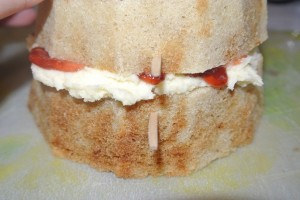 This photo is showing a cupcake base trimmed down, so it will fit in a chocolate shell.  If you're covering with buttercream or sugarpaste (fondant) then there's no need to trim away the sides.
Cake is much easier to trim and split when it's cold.  Wrap your cake well in clingfilm and then chill in the fridge for a couple of hours.  A sharp serrated knife is the best to use and always cut in towards the centre of the cake, never letting the knife burst out of the cake through the crust as that pulls away the clean shape of your cake.
Have you ever split a cake in two, lifted off the top feeling sure you'll remember exactly which way it goes back on…..and then instantly forget?
Insert two cocktail sticks one directly above the other one on the base portion, one on the top and then lift it off.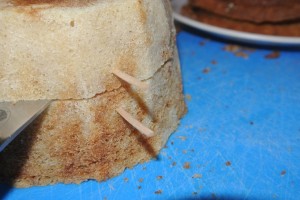 Once you've put your filling in the middle line them up again and you have a perfectly matched top and bottom!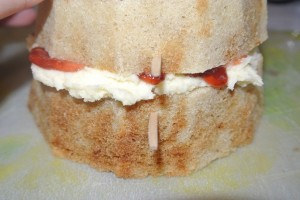 Cover it in Sugarpaste (fondant)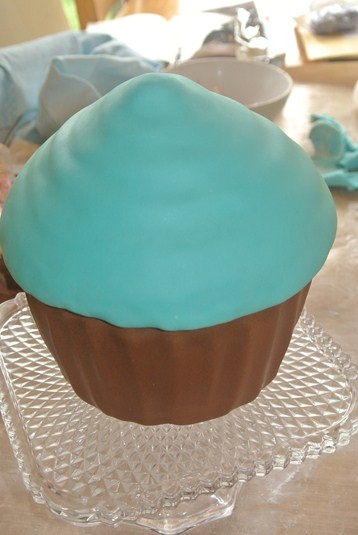 Trim both pieces flat and cover the cake in ganache or buttercream, depending on your preference.  Set it onto an upturned side plate or bowl.  This gives you room to trim off sugarpaste at the base neatly with scissors, tucking a little sugarpaste under the edge giving you a completely covered shape.
Cover the base upside down.  It's much easier.
Make it a Chocolate Shell!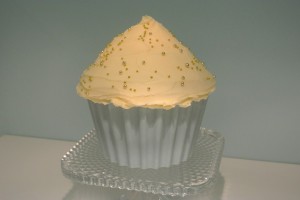 Full instructions for the shell are here,  you will need to trim down the cake to fit it inside!
There really is lots you can do with Giant Cupcakes  once your imagination gets hold, not to mention using the tin for something completely different – these are just a few tips to help you along the way x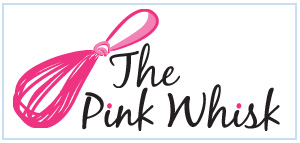 Ruth Clemens, Baker Extraordinaire
Meet me down the aisles of The Pink Whisk Shop – for all sorts of cake decorating and baking delights!