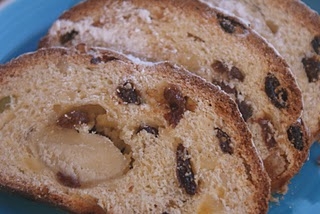 Another traditional Christmas baking treat – candied peel and almond paste- mmmmmmmm!
Ingredients:
450g strong plain flour
15g dried yeast
40g caster sugar
zest of one lemon
200ml milk, lukewarm
1 egg large, beaten
115g melted butter
115g sultanas
55g currants
70g mixed candied peel
90g blanched almonds, chopped
250g marzipan
50g butter melted to brush on before baking
icing sugar for sifting onto finished loaves
Makes 2 x small loaves.
In a large bowl mix together the flour, yeast, sugar and lemon zest.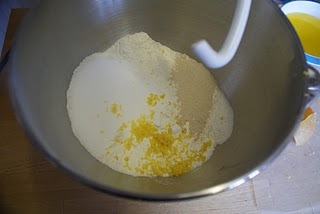 Add in the beaten egg, milk and 115g melted butter and mix to a soft but not sticky dough.  You can use your breadmachine on the dough setting to take the hardwork out for you.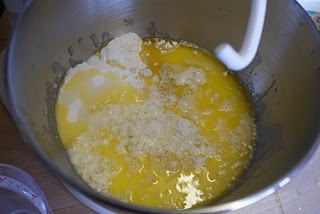 Knead for ten minutes by hand or cheat like me and make the machine do it for 6 mins.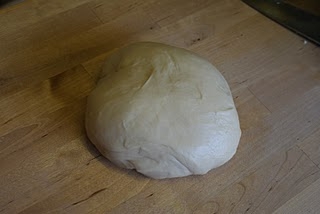 Place in a lightly oiled bowl and cover with clingfilm or a clean tea towel.  Pop it in a warm spot and allow the dough to rise for one hour until doubled in size.
Time to prepare the lovely Stollen additions, first up is candied peel- I like to buy it in whole pieces, the taste is so much better.  If you have a Julian Graves store near you then they sell it there.  Also Waitrose sell it in a box on the baking aisle – picture included so you know what to look for!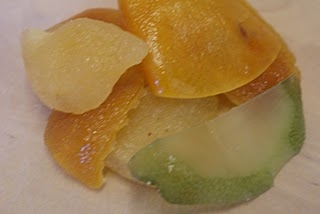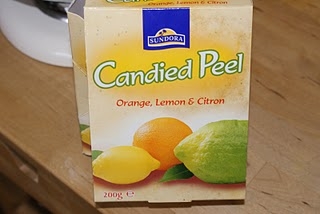 Chop the candied peel into quite large pieces, chop the blanched almonds and measure out the sultanas and currants.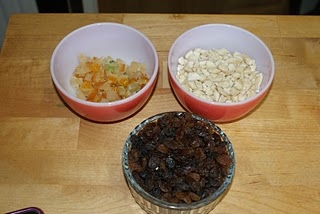 Once the dough is risen, knock it back on the worktop into a large flat piece.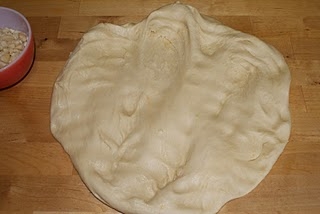 Add the Stollen additions on top.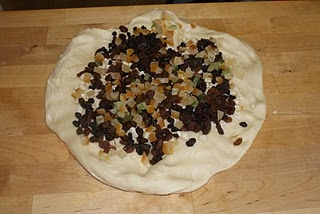 Gather up the edges to seal the fruit and nuts in.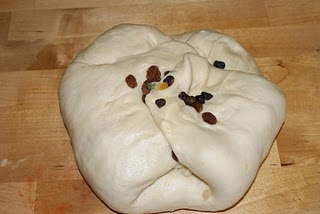 Now knead, going slowly and catching the bits that try to escape!  Keep working until the fruit and nuts are evenly distributed.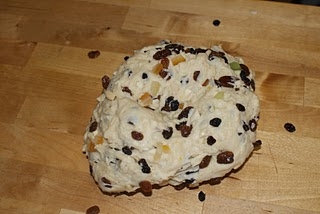 Split the dough into two.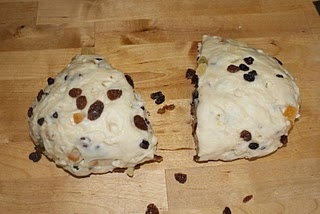 Shape each piece into a flat.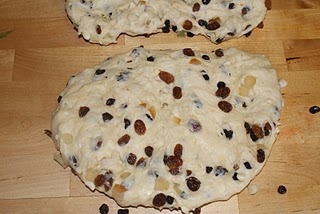 Take the marzipan and split into two, shape into sausages to fit the middle of the dough.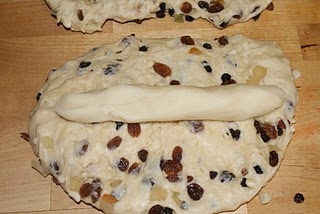 Gather the dough around the marzipan sealing along the length and the ends by pressing the dough together.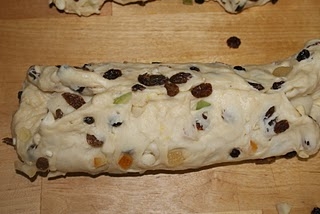 Flip the dough over so that the seal is underneath.  Place onto a well greased baking tray and cover with a tea towel again.  Bob it back in a warm spot to rise again for a further hour.Preheat the oven to 160c Fan/180c/Gas Mark 4.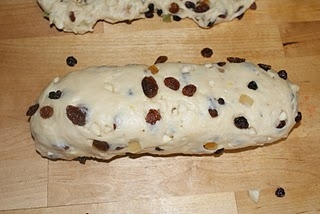 After the loaves have risen for the second time, brush them both liberally with the 55g melted butter and then put them straight into the oven.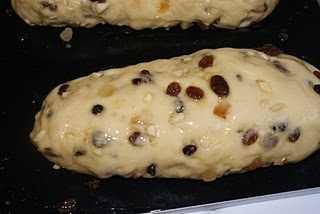 Bake for 45-50 minutes until the loaves sound hollow when tapped underneath.  Remove from the oven and generously sift with icing sugar whilst still warm.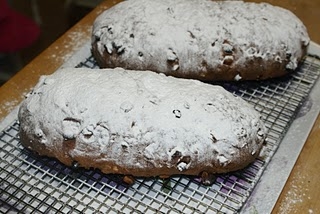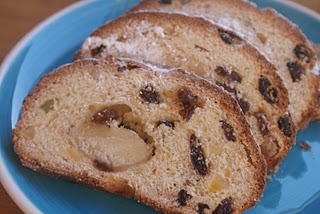 Stollen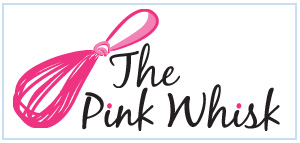 Ruth Clemens, Baker Extraordinaire
Finalist on BBC2 The Great British Bake Off