The last in the 12 Days of Baking Christmas from The Pink Whisk.  I hope you've enjoyed the recipes, I'm off to put up my Christmas tree, I'll be back with more baking madness once the big red man has been to visit – I'll still be on Facebook if you fancy popping over for a chat www.facebook.com/ThePinkWhisk
Wishing all you Pink Whiskers a Very Merry Christmas Lots of Love Ruth xx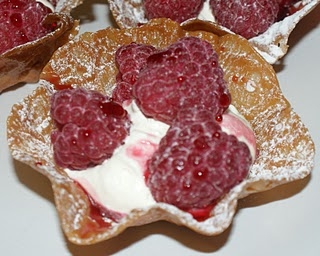 A retro bit of baking for you – brandy snaps!  Make baskets now to save for an impromptu desert over Christmas.
Ingredients:
50g butter
2 tablespoons of syrup
50g caster sugar
50g plain flour
1/2 tsp ground ginger
1 tbsp brandy or lemon juice
Makes 12 baskets.
Preheat oven to 170c fan/190c/Gas Mark 5.
In a pan place the butter and sugar.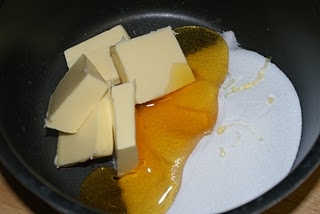 This is one recipe where it's really important to measure out your ingredients really carefully – especially the syrup.  This is where a set of metal measuring spoons comes in really handy.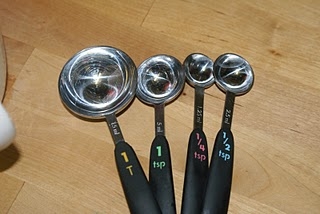 Fill a mug with hot water and sit the spoon in it to warm up.  Once warmed use it to measure out two tablespoons of syrup and add to the pan.  Make sure the spoonful is level and the warmth of the spoon will mean the syrup slides straight off.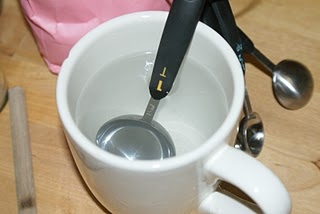 If you're making little baskets you will need something to mould them over,  I'm using little brioche moulds but ramekins work really well as do oranges and upturned tea mugs! Add a little oil to a piece of kitchen roll and use to grease the outside of whatever it is you choose to use.  Just a little oil will stop the snaps from sticking.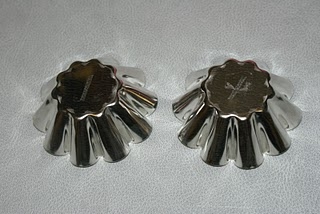 Prepare yourself two baking trays.  Line with baking paper and then cut into four.  This will make life much easier whilst shaping each brandy snap.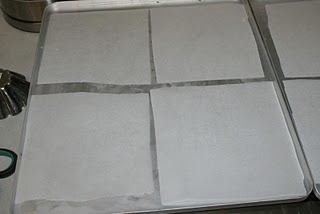 Heat the pan over a gentle heat until the butter and sugar are melted.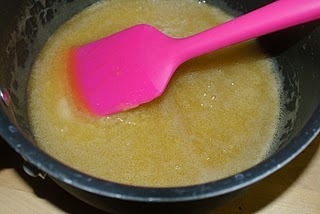 Remove from the heat and stir in first the brandy and then the flour and ginger.  You may need to use a whisk to get rid of any lumps.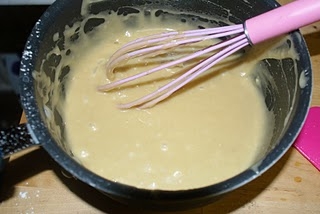 When the mixture is fully combined drop a teaspoonful of the mixture on each square of baking paper.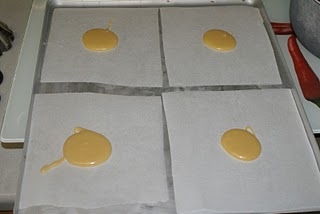 Bake in the oven for 8-10 minutes until golden brown.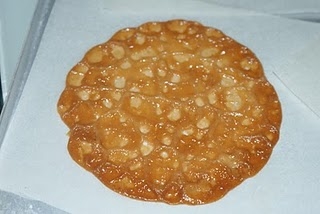 Allow to cool still on the tray just for a couple of minutes.  Carefully pick up the baking paper, the brandy snap will still be soft and malleable.  Place it on the item you are using to shape your basket and encourage it into shape with your fingers.  Be careful they will still be hot!
The brandy snaps harden as they cool and can soon be placed on a wire rack whilst you shape some more.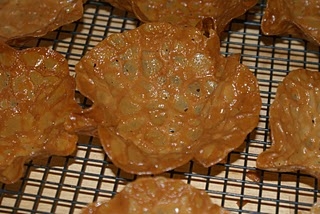 Bake in batches until you've used up all your mixture.
If you prefer you can make brandy snap tubes – these can be filled with cream!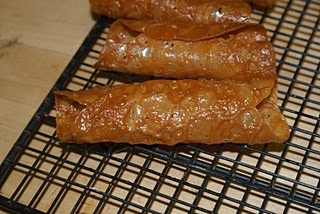 Allow the discs to cool for a couple of minutes after taking from the oven.  Curl up one edge with your fingers, carefully it's quite warm!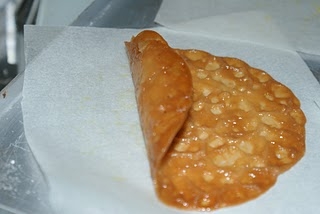 Then curl up the other edge and press together with your fingers.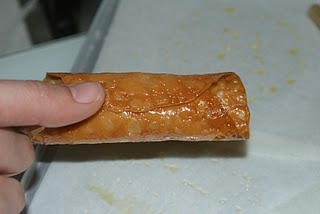 You will feel the tube harden as you shape it.  You could also use the handle of a wooden spoon to help you shape the tubes.  You will soon get a feel for shaping the discs but don't worry if they harden too quickly for you, pop them back in the oven for a couple of seconds to soften them again. Allow to cool on a wire rack.
Brandy snap rolls and baskets will keep in an airtight container for a couple of weeks.  If storing the baskets inside one another place a square of baking paper between them.  They are perfect for improptu puds – fill them with cream or icecream fruits and berries and dust with icing sugar.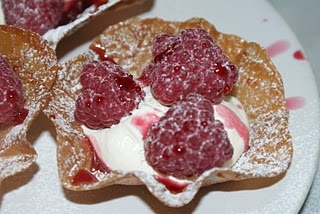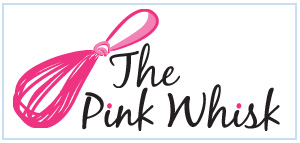 Ruth Clemens, Baker Extraordinaire
Finalist on BBC2 The Great British Bake Off