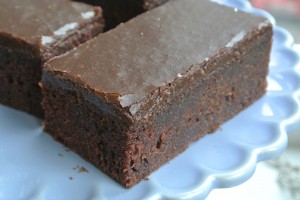 Super quick, make it faster than you can say Jack Robinson, no mixer required chocolate traybake.  Tastes blooming lovely which is a shame – I promise it will be gone in next to no time too!
I suppose this is a strange one for me to be posting, I'll hold my hands up, it's not my recipe, it's an old American classic that I converted many moons ago.  But, it's a Clemens' family favourite and a slice of this went with me to my very first Bake Off audition, so it must be half alright!
Ingredients:
Cake
110g butter
120ml boiling water
2 heaped tablespoons of cocoa powder
190g caster sugar
130g plain flour
1/2 tsp bicarbonate of soda
60ml milk
1 egg, medium
Frosting
100g butter
2 heaped tablespoons cocoa powder
2 tbsps milk
200g icing sugar, sifted
Easy peasy, let's get going.  You'll need a pan and an 8″ square tin (or thereabouts) lined with baking paper.  No prizes here for superneat, squish in the paper and let's go!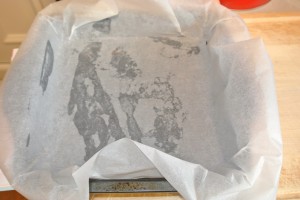 Preheat the oven to 160c (fan)/180c/Gas Mark 4.
In the pan place the butter, boiling water and cocoa powder.  Heat it over a medium heat until the butter melts and it begins to bubble.  Bubble the mixture for 30 seconds and then take it off the heat.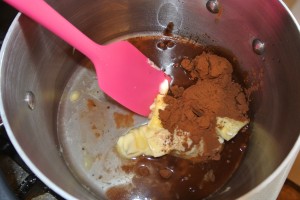 Mix together the flour, caster sugar and bicarbonate of soda, mixing them now should stop you getting any lumps of flour.  Add this dry mixture to the pan and give it a good stir .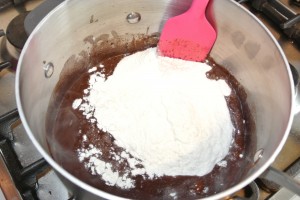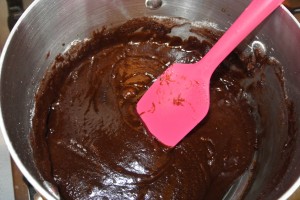 Add the milk and egg to the pan and mix it well again.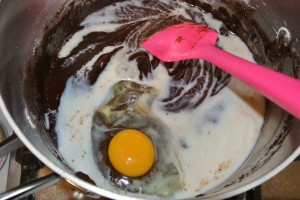 Cake mixture done.  Pour it into the lined tin.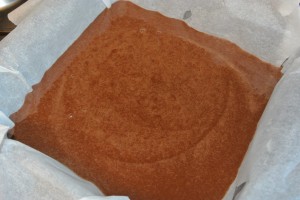 Into the oven, that's if it's managed to preheat in that short time, and bake for 20 minutes. Wash out your pan, you'll need it for the frosting in a bit.
Remove from the oven and set aside to cool in the tin.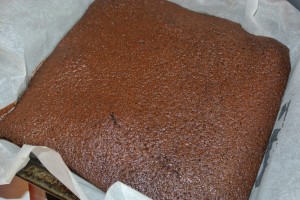 Once cooled it's time for the frosting.  Into the pan put the butter and cocoa powder.  Heat gently to melt the butter, and then allow the mixture to bubble gently for 30 seconds to zap off any extra moisture, you don't want to be boiling it hell for leather, if it get's too hot the butter will split, give it a good stir and remove from the heat.
(If you do split the butter, allow it to cool slightly off the heat and then whisk it as boldly as you can – you should be able to rescue it)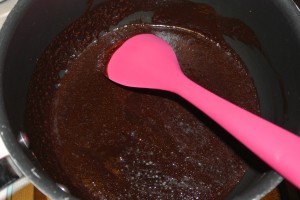 Stir in the milk and then add the sifted icing sugar.
Mix until smooth and then pour over the cake still in the pan.
Leave the frosting to set, cut into slices and then hide it for yourself serve.
A few are have trouble getting the frosting to set, so I have reduced the milk in the frosting to 2tbsps and do make sure you gently bubble the butter and cocoa mixture for 30 seconds before taking off the heat which will remove any excess moisture before adding the milk and icing sugar – hopefully you'll all set well then! R x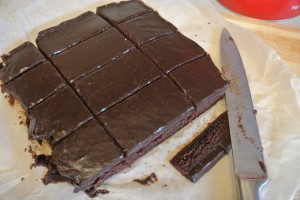 (Middle slices for grown-ups, smaller ones for children of course)
Easiest (and probably loveliest) chocolate traybake ever.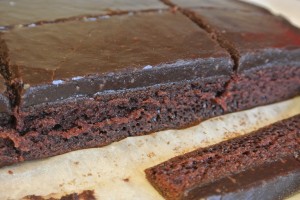 If I told you I doubled the quantities and baked this in a roasting tin would you think badly of me?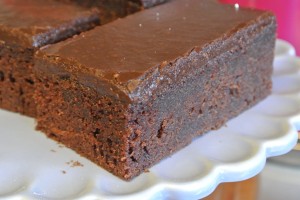 Chocolate Frosted Traybake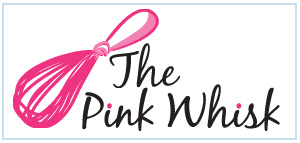 Ruth Clemens, Baker Extraordinaire