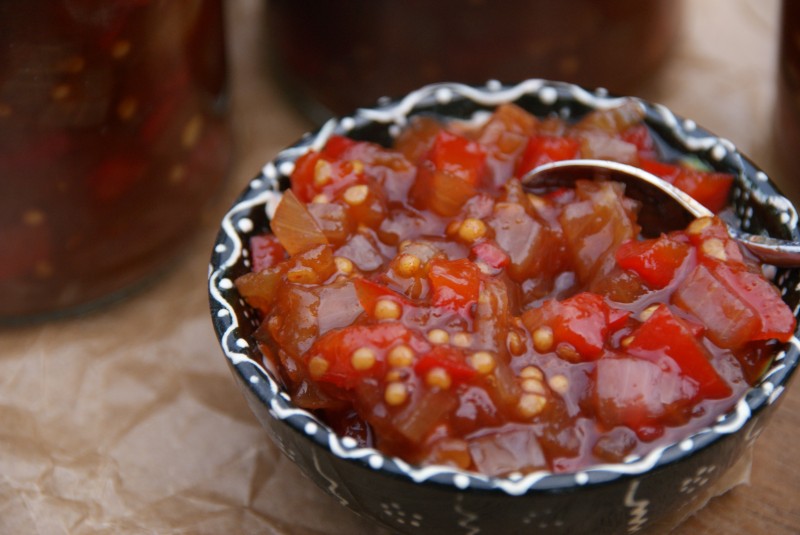 I seem to be making a whole lot of chutney at the moment, probably because it's so easy to do – chuck it all in a pan and off you go.  Jars of chutney make a lovely gift at Christmas especially if you're putting together some gift hampers.
Ingredients:
750g red tomatoes, peeled and diced
2 red peppers, deseeded and diced
2 medium onions, diced
2 cloves of garlic, crushed
2 red chillis
300g demerara sugar
400ml malt vinegar
1 tsp celery salt
1/2 tsp paprika
1/2 tsp cayenne pepper
2 tsp mustard seeds
Makes 750ml.
First up, sterilise your jars and lids – in a hot cycle through the dishwasher, sealing the lids onto the jars as soon as they come out or place the jars and lids onto a baking tray and place in a cold oven.  Putting them into a cold oven allows the jars to heat up slowly rather than shocking them from cold to hot which can cause them to smash.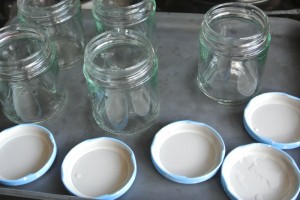 Turn the oven on to 150c and let it preheat with the jars inside.
Once preheated, keep them there for 45 minutes.  They can be in there whilst you make the chutney
Start off with the tomatoes.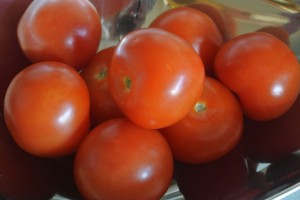 They need they're skins off.
Score a cross in the base of each tomato and put them in a large bowl or pan.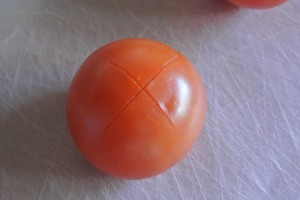 Cover them with boiling water and let them sit for a couple of minutes until the skin starts to lift.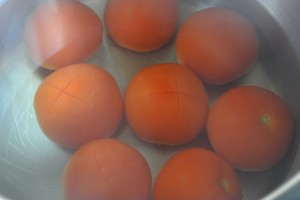 Drain off the water and peel away the skins.  Careful they'll be hot!  (You can run them under cold water to cool them down if you need to.)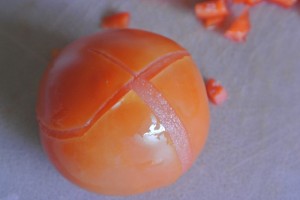 Now dice them up and add them to a big pan or stock pot.
Chop the rest of the ingredients – dice them up nicely.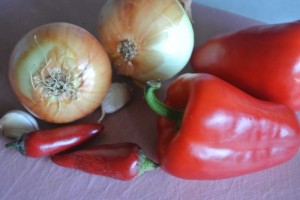 Into the pan with the tomatoes.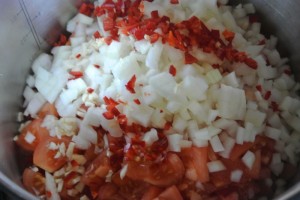 In goes the vinegar and demerara sugar and now for the spice.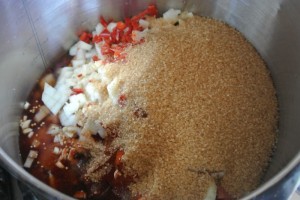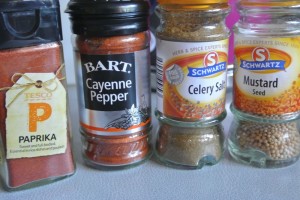 Add the cayenne pepper, paprika, mustard seeds and celery salt.  (If you don't have celery salt don't go out and buy it especially, sea salt will do just fine.)
Now give it a good stir up and get it on the heat.  Bring the mixture up to the boil, dissolving the sugar.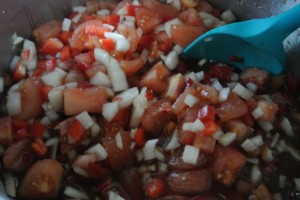 Turn the heat down so that the mixture is simmering.  You need to simmer it for an hour and a half, stirring occasionally.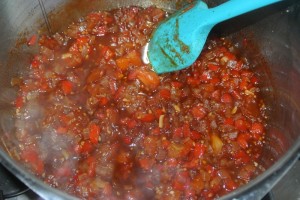 Don't put your face in the steam from the pan – it's extremely vinegary and will make your eyes sting!  Sounds stupid me pointing it out, but I spent the day with my eyes watering like mad – stupid fool!
The chutney is ready when the mixture has thickened and there isn't much liquid left – don't boil it away to nothing, it needs to keep a bit of the liquid so that it's chutney and not jam.
Now to fill the jars, best weapon in my armory is a jam funnel, I'm a bit cack handed with just a spoon but I'm sure you won't have that problem.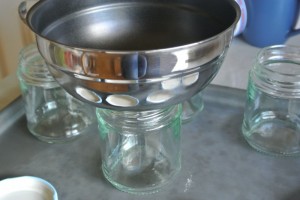 Fill the jars right to the top and screw on the lids – careful now, the jars and lids get hot quickly from the chutney.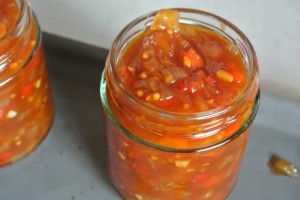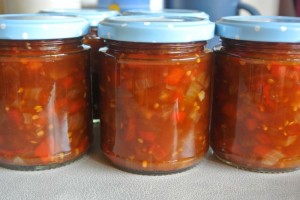 Share it out or stash it away in a cupboard all to yourself.  Whatever you do I have a nifty little recipe coming up shortly!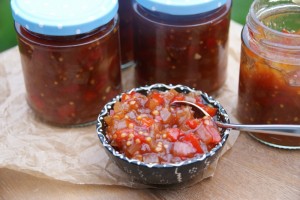 Sweet Chilli & Tomato Chutney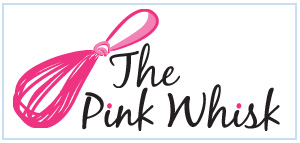 Ruth Clemens, Baker Extraordinaire