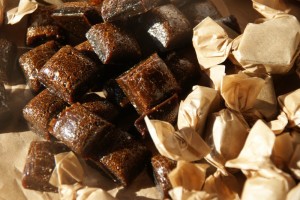 Another Bonfire Night How To – Treacle Toffee this time
What I can't tell you is how to eat it without ending up at the dentist!
Ingredients:
450g demerara sugar
450g black treacle
150g butter
Makes: Approx 70 pieces – feel free to halve the quantities for a smaller batch but you'll also need a smaller tin to set it in.
Very easy to make, just like the honeycomb.  Line an 8″ square tray (or similar) with baking paper.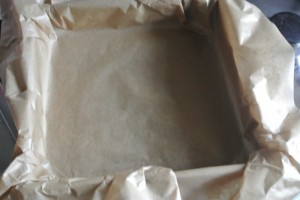 Chuck all the ingredients in a pan and heat it over a gentle heat until the sugar melts stirring occasionally.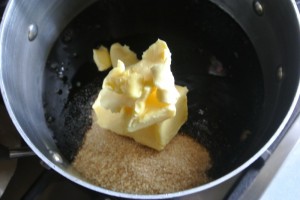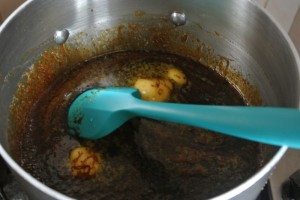 No stirring now, turn up the heat a little and bring the mixture to the boil.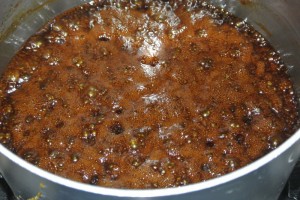 A sugar thermometer is super handy if you're bothered about how hard you want it to set.
For a soft set ie you can still just snip it with scissors (kinder on the fillings!) you want to heat the mixture to 120c.
For a firm set  ie. smash it up with a hammer (it still melts to chewy treacle toffee in your mouth) you want to heat it to 130c.
This mixture comes up to temperature very quickly – 120c in 4 minutes from boiling and 130c in 5 minutes.  Set a timer if you're not using a thermometer.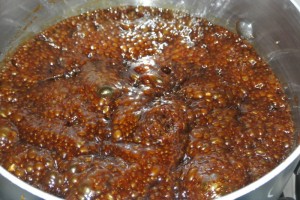 Take it off the heat and pour it into the prepared tin.  As always please please don't burn yourselves.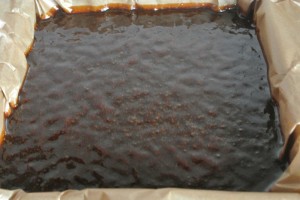 Now let it set,  keep an eye on it though we still need to break it up into pieces.
After about 1 hour for the firmer set toffee test it by poking it carefully with a finger, if the imprint remains indented you're good to go, it may take a little longer and takes a couple more hours for the softer set to be ready to chop up.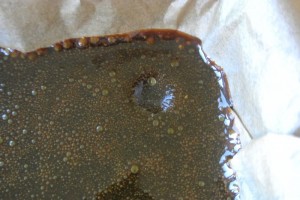 Lift the paper out of the tin and fold it out.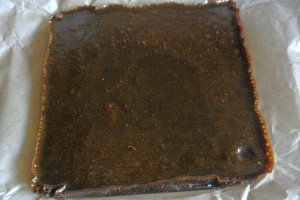 Take a long knife and grease the blade with a little sunflower or vegetable oil.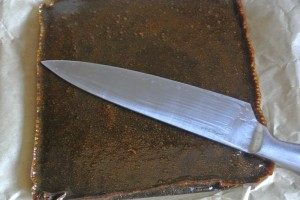 Mark the slab into strips pressing right down to the paper at the base, you'll need to grease the blade after each strip.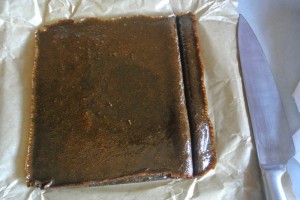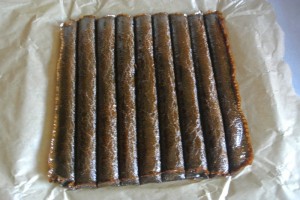 Now mark it in the same way widthways.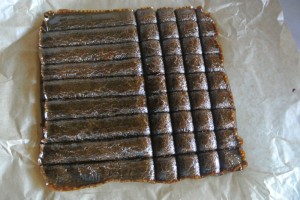 The slab will still be holding together.
Using the knife, break away one strip at a time.  Then split it into the individual chunks.  The toffee is still cooling all the while you're marking and shaping the pieces so you may find you can simply snap it into the individual pieces by hand.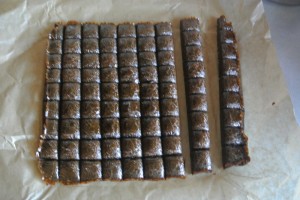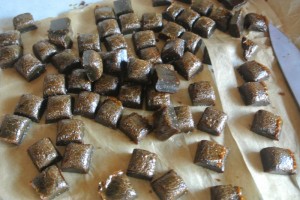 For the softer set toffee you'll need plenty plenty of greasing and after marking its easier to use scissors to break up the individual pieces.
So disaster has struck and your toffee is too hard to mark out and cut into pieces – you have two options.  Shatter it up into irregular pieces or put the whole lot back into a pan, melt it on a gentle heat until its all liquid again and pour it back into the lined tin and go again.
If the toffee is too soft and will not set up, heat it up again in the pan, boil it for two minutes and on you go!
Treacle toffee travels best when individually wrapped but it is time consuming cutting up bits of non-stick baking paper or waxed paper and wrapping them by hand,  after searching online I couldn't find anywhere selling individual waxed paper squares – I swear I've seen them in a shop but can't for the life of me remember where it was.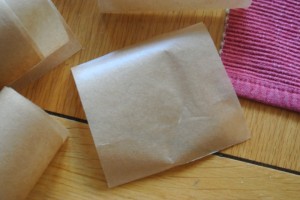 It keeps well if unwrapped in an air tight container between layers of baking paper.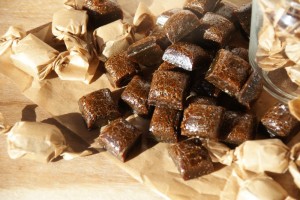 How to Make Treacle Toffee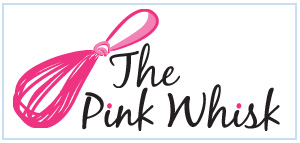 Ruth Clemens, Baker Extraordinaire