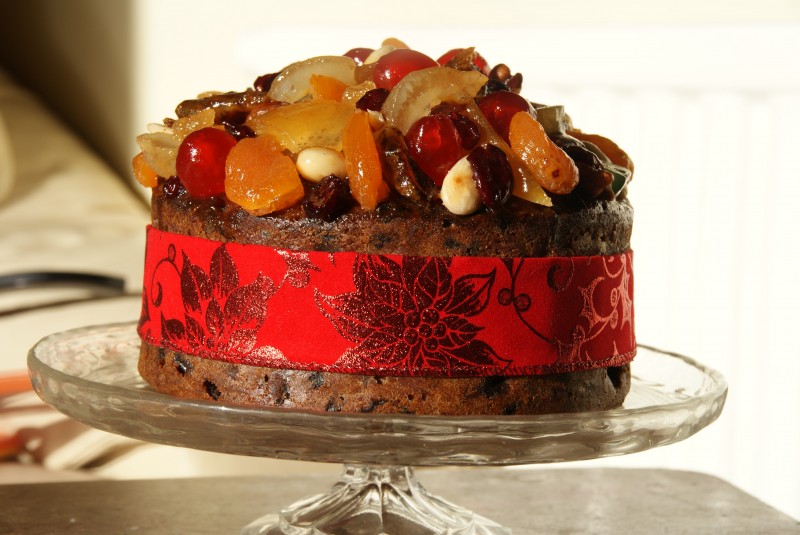 A much simpler affair for your Christmas Cake – great if you're not mad on marzipan and icing!
The glaze contains brandy which means you can prep your cake well in advance and nothing untoward will happen to the fruits.  If you're making an alcohol free cake then just use the warmed apricot jam on it's own.  You will though have to top your cake at the last minute (upto a week before) as it won't keep as well.
Ingredients:
40g whole blanched almonds
25g pecans
60g dried apricots
55g glace cherries
90g candied peel – use the whole large pieces, not the diced stuff in a tub, it tastes brilliant (Waitrose sell Sundora in boxes)
35g dates
25g dried cranberries
20g crystallised ginger
3 tbsps apricot jam
2 tbsps brandy
1 x 8″ Christmas Cake
First up place the nuts in a dry frying pan, heat them over a gentle heat, tossing them around regularly to toast them lightly.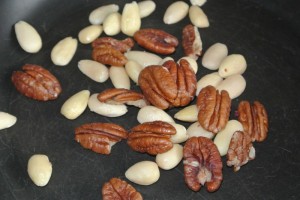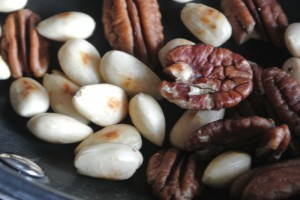 Place them in a bowl with the whole glace cherries and dried cranberries.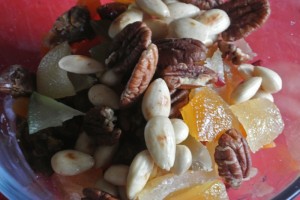 Chop up the apricots, dates and mixed peel into still fairly large sized pieces and the ginger into small squares.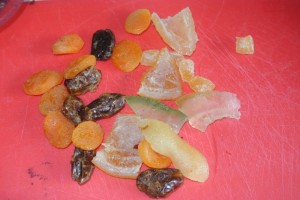 Add them to the rest of the fruits and toss them up together so they are well mixed.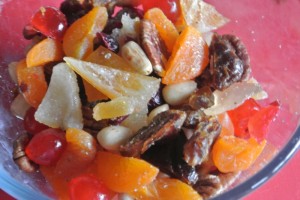 In a small bowl place the apricot jam and warm it up slightly in the microwave.  Add the brandy to it and stir it all up.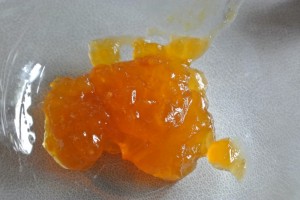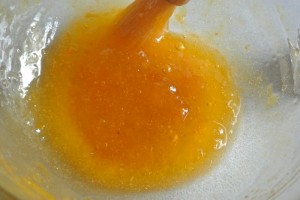 Place your christmas cake on a cake card or board, even a chopping board will do.
With a pastry brush coat the top in a layer of the apricot glaze.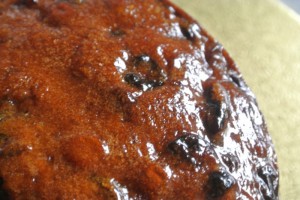 Take a  good handful of the fruity nut mix and transfer (that's a glamorous word for it) to the top of the cake trying to keep as much of it on the top of the cake as possible!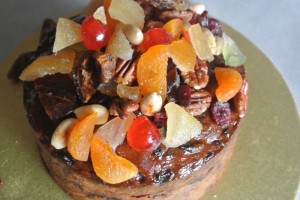 Now use the remaining fruit to fill in the gaps, the smaller pieces like the nuts and cranberries are best for right around the edge as they stay put easily.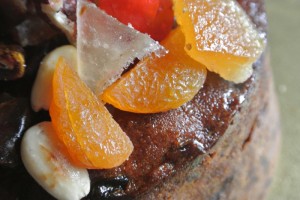 Fill in all the nooks and crannies, sticking back on pieces that keep jumping off by adding a dab more glaze where it's needed.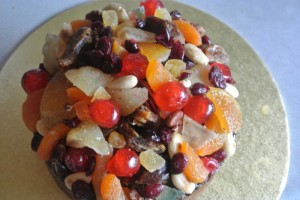 Once you're happy with the look gently dab the glaze all over the fruits and nuts using the brush.  Just remember dab and dot not brush or you'll knock the whole lot off again!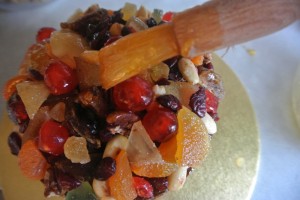 Make sure it's all covered with glaze, turning the cake round so you can see every little bit.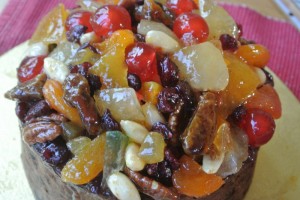 Wrap the cake in two pieces of clingfilm to stop the outside edge of the cake from drying out and store in a tin or tub large enough to accommodate it.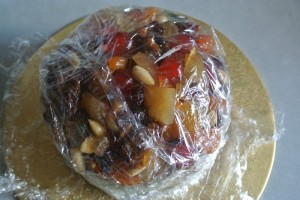 When it comes to serving time, transfer it to a plate or clean cake card and wrap a ribbon around the side.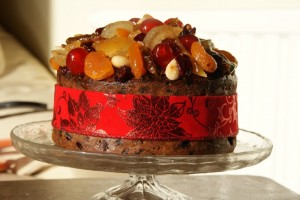 Glazed Fruit Christmas Cake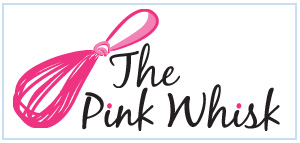 Ruth Clemens, Baker Extraordinaire