and how to make custard….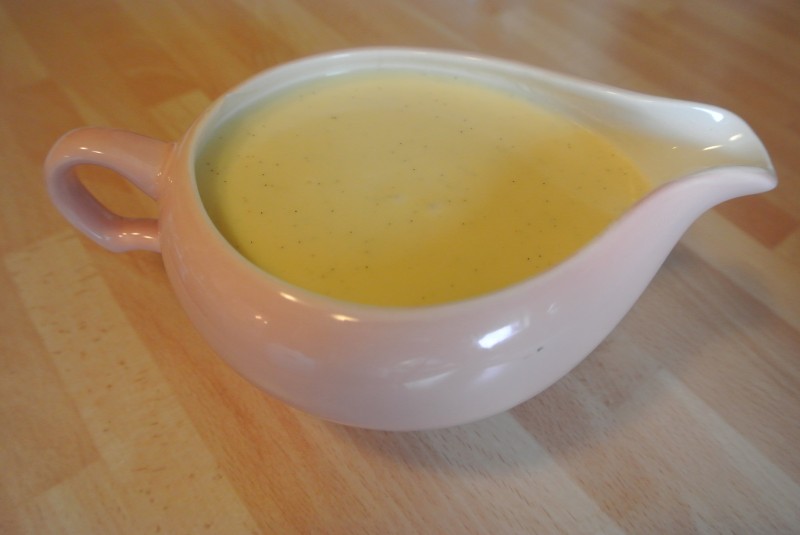 Thought I'd post this useful table I put together some time ago,   you know how it is…you're baking something, you've 7 random egg yolks left over.
Of course there's lots of things you can do with egg yolks but my all time favourite has to be a great big panful of custard –  but then you have to get the calculator out, or engage the brain cells with pen and paper calculations.  Well no more – here's my handy table for whipping up a jugful of custard without taxing any brain cells!
| | | | |
| --- | --- | --- | --- |
| Yolks | Milk (ml) | Cream (ml) | Sugar (grams) |
| 1 | 30 | 40 | 15 |
| 2 | 60 | 80 | 30 |
| 3 | 90 | 115 | 45 |
| 4 | 125 | 150 | 60 |
| 5 | 155 | 190 | 75 |
| 6 | 185 | 230 | 90 |
| 7 | 215 | 265 | 105 |
| 8 | 250 | 305 | 120 |
| 9 | 280 | 340 | 135 |
| 10 | 310 | 380 | 150 |
Of course it doesn't have to be a split of milk/cream all milk, or all cream (if you're pushing the boat out), use what's in your fridge.
Now telling you how to make custard might just seem like teaching your granny to suck egg (yolks) but a number of you have asked, and I'm also dedicating this post to Mrs Bottrill, my son Dylan's teacher.  Dylan comes home with tales of what exciting things they've done in school and a progress report on Mrs Bottrill's custard making skills.
So Mrs Bottrill and all you custard curdlers it's time to crack a beautiful jug of the good stuff!
Milk and cream in a pan.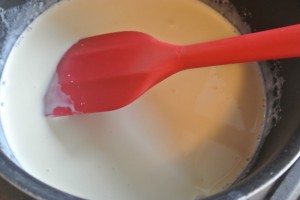 Add a teaspoon or 2 of vanilla bean paste if you fancy posh custard with vanilla seeds flecked through it, or a dash of vanilla extract – at the moment I'm using some lovely stuff from Taylor & Colledge that they sent me in a vanilla parcel!
On the heat gently, just warming it up to just below the boil.
In the meantime put the egg yolks and the sugar in a large batter type jug – something big enough to hold all the liquid and ideally with a pouring spout.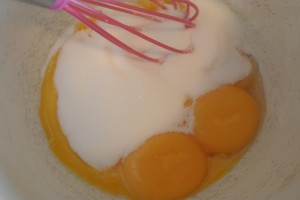 Whisk them together, by hand until they're well combined.  Make sure you do this straight away otherwise the sugar will pull the moisture out of the yolks and leave you with yellow flecks in the custard.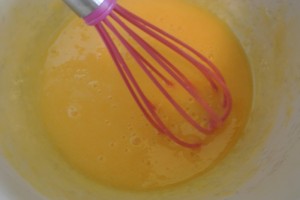 Milk/cream warmed up, pour a little into the egg yolk mixture whilst whisking it.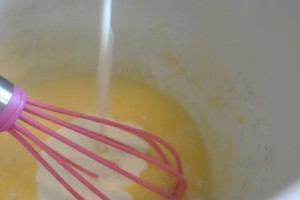 Keep whisking whilst you add in all the liquid.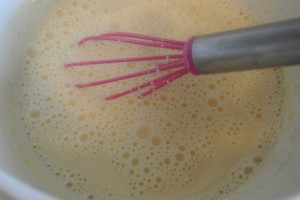 Make sure all the egg yolk mixture is worked in and then pour the whole lot back into the pan.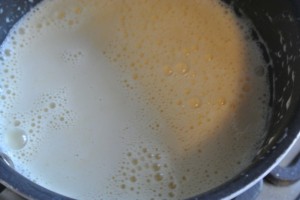 Spatula needed this time,  back on a gentle heat and stir it the whole time, no wandering off or just doing something else, keep that custard moving.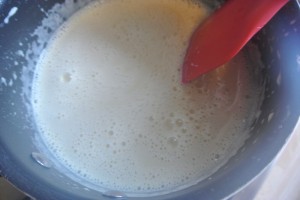 Heat it gently until the custard starts to thicken, just enough so that you can draw a finger through the custard on the spatula and it leaves a clear line without joining up again.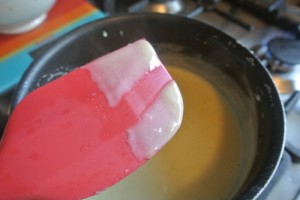 Now straight off the heat and pour it right away into a serving jug or other container to stop it from cooking any further.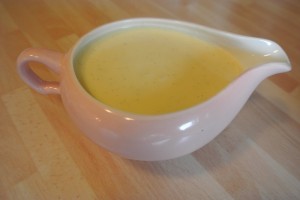 Serve it right away or let it cool – remember to contact clingfilm the custard otherwise it'll form a skin.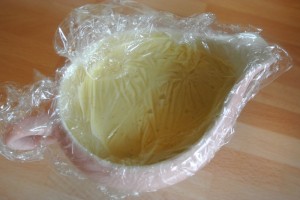 Once cooled it can be stored in the fridge for 24 hours if you're not using it right away.
To reheat warm it gently gently stirring again the whole time.
Custard doesn't freeze well and is likely to separate on defrosting.  If you've used cream for the full amount of liquid it will fare slightly better but can still be hit and miss so eat up your homemade custard as soon as you can!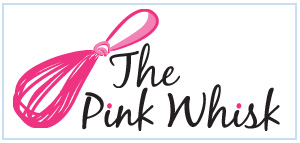 Ruth Clemens, Baker Extraordinaire