Lets talk margarine and spreads – are you in the butter camp or do you swear by a spread or margarine?
Hands up, I'm not a huge fan of the latter.  Depending on the brand I can taste it in baking.  I know how butter behaves and what it will do in a recipe when I'm planning it, not to mention that I love the taste!
When I was asked to do some recipe development for Flora I thought it would be a great challenge for me and perhaps chance to change my mind?  Of course I don't use butter for everything,  Flora Buttery is what we spread on our sandwiches here and is our go to for everyday in the fridge.  I'm aware I don't want to be completely responsible for clogging my children's arteries before they reach their teenage years, give me some credit!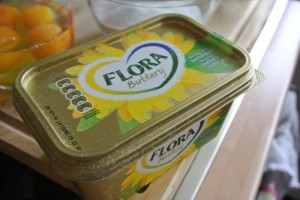 So what better place to start than with the very same Flora Buttery.  A sponge cake had to top my list for giving it a run for it's money.  Of course, I couldn't leave out a Pink Whisk twist and this one turned into a Raspberry Ripple Cake (recipe in the next post)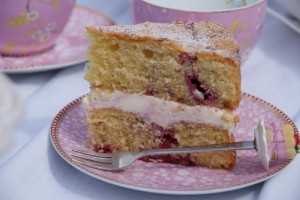 Time to report on the success (or not as the case may be) of the Flora Buttery test.
I made the sponge with a handheld electric mixer in a mixing bowl,  it's always a more controlled way of making a cake and I wanted to keep my eye on that Flora Buttery!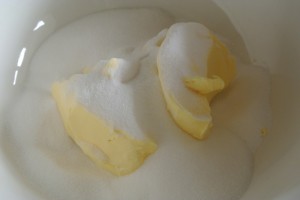 The first obvious advantage is that it's ready to use straight from the fridge, no need to remember to get it out to soften in advance.
Weighed out and ready to go the creaming of the butter and sugar was extremely easy, incorporating the eggs all very straightforward and actually I have to admit not a single sign of curdling.
When finished the cake mixture is smooth and silky.  If anything slightly more soft and loose than a butter mixture.  It doesn't need any milk stirring through to loosen the texture as sometimes recommended in cake recipes.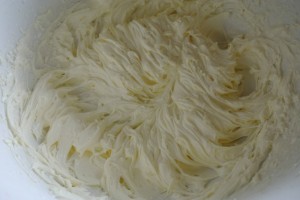 The test will be in the baking, the rise and of course the taste.
Levelled in the tins and into the oven.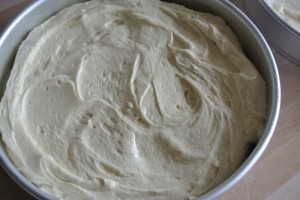 Well that's a turn up for the books, a truly fantastic rise.  Well done Flora Buttery,  and interestingly nice and level too.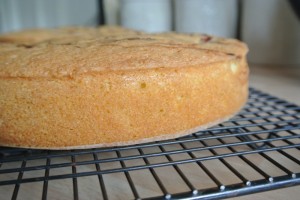 Just as a side note, I've tried it with cupcakes too and they are the most evenly levelled batch I've made.  If you're in search of a baked flat topped cupcake then I'd suggest you head for the Flora.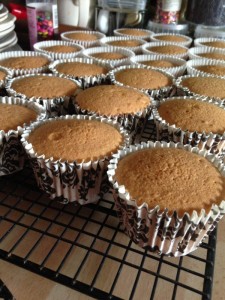 The cake is soft and tender with a huge rise on it.  So can I tell it's not made with butter when I taste it?  I have to admit I'd never have guessed it wasn't made with butter and neither would anyone else either.  Darn it I was sure I'd have you there Flora!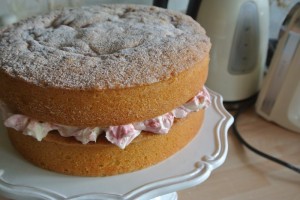 Something else I've noticed between a butter made cake and a Flora one, the cake stays tender and fresher for longer, much longer.  It retained the freshly baked softness for days,  its streets ahead of butter in that respect. Not that cake ever hangs around for too long here of course but that's got to be a bonus.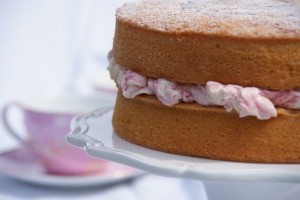 I have to admit that I've had to rethink my butter addiction, the results speak for themselves as far as cake making goes it's ready to use straight from the fridge, gives great results and keeps the cakes tender for longer and that's not even mentioning the price or the benefits of slightly less calories and saturated fats.
If you fancy giving my Raspberry Ripple cake a whirl with Flora Buttery then I have the recipe coming right up for you.  You can find out lots more about the Flora family right here , they have lots of baking and recipes to share and you can chat to Tiff the Flora Mum on Facebook too.
The majority of you should be able to get hold of Flora Buttery from the supermarket but if you can't and you would like to do your own margarine/spread test then choose one that you would be happy to eat when making a sandwich – that's the best advice I can give you.  If you can taste it on a sandwich and not in the good way then it's not going to magically transform when you put it into a cake.
Maybe some of you die hard butter fans will join me in a spot a revelatory cake making?
Ruth x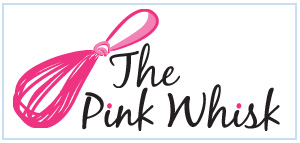 Ruth Clemens, Baker Extraordinaire
Disclosure:  I have been commissioned by Flora to review and develop a recipe.  All views are entirely my own and provide an honest representation of Flora Buttery when used in cake making.