No it's not a mistake, you're here at The Pink Whisk but I'm here to share Holly Bell's fab new book!
Recipes from a Normal Mum by Holly Bell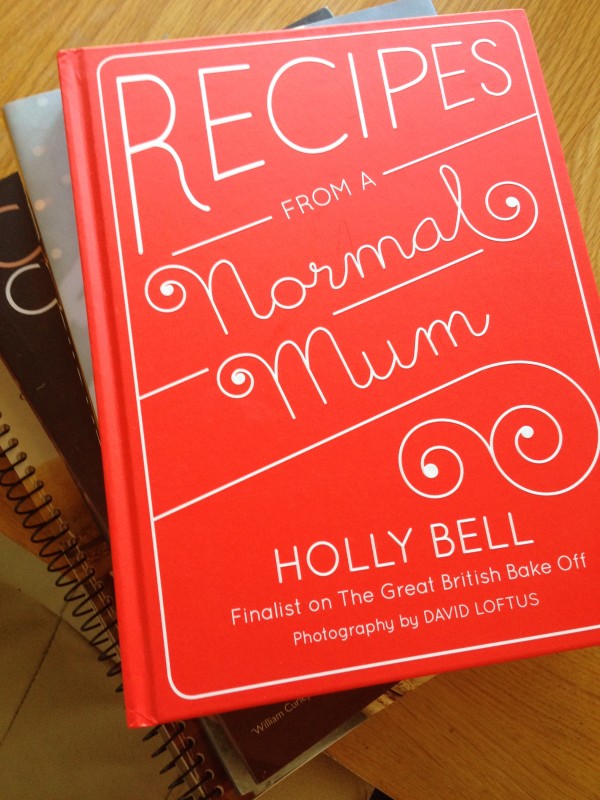 I'm so thrilled to have a book of Holly's on my cookbook shelf.  I'm sure many of you are regular visitors to her blog and watched her avidly on The Great British Bake Off in 2011. Holly has worked exceptionally hard since Bake Off to forge a successful career in baking.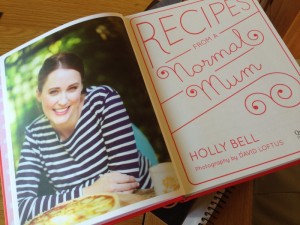 The book is packed full of enticing recipes with pictures of every bake and make.  The ingredients are simple and straightforward to get hold of and the recipes are easy to follow and understand.  There are 8 different chapters each covering a variety of different recipes, cooking and baking, and occasions to bake for so you know you'll find something for everyone, even my youngest has been baking from it.
Each of the recipes come with a little snippet of Holly's life, stories and recipe origins.  I knew we must be alike to be cast in the same 'slot' in the bake off but this was reaffirmed when I learnt of her love of gin (and a lack of household ironing!)  I love getting to know people better through their books and Holly really shines out through hers.
Now Holly trumps me with one very important claim to fame, her award winning Chocolate Tiffin which meant she attained a coveted Blue Peter badge, I am highly envious (and haven't entirely given up the hope of securing mine!)
So with the book review I took the opportunity to ask Holly about some of her kitchen favourites to share with you…
What is your favourite kitchen gadget you'd hate to lose?
Rather unusually my microplane. We're a house of Parmesan and citrus fiends. Until I had a microplane I had slightly war wounded knuckles from using my box grater.
Your favourite ingredient you always like to have in the cupboard?
I always, always have very dark chocolate in the cupboard – at least 70% cocoa solids. It's called 'mummy's cooking chocolate' which is kind of true. Though it is also 'mummy's savour with a cup of coffee chocolate' too.
What is your favourite baking tin?
I have a 20 x 20cm baking tin I bought from Tesco ages ago for traybakes that though cheap and cheerful is very useful. It's the perfect size for a quick lemon drizzle, flapjacks, rocky road and traybake cheesecakes.
What is your favourite time of day to bake?
I love baking in the morning, straight after the school drop off, when my youngest son has a little sleep. It feels very much like my time before the phone starts ringing, before the emails flood in and before I have time to think about how much housework needs doing. I pop Radio 4 on and away I go.
What's your fave choice of music in the kitchen?
I love to cook, bake and tidy to Radio 4, especially Women's Hour. I do listen to lots of music too, especially Arcade Fire and The Stones, but I increasingly prefer the companionship radio brings.
Your favourite recipe to bake for the family?
My second eldest son who is 4 only likes 'plain cakes' or 'chocolate cake' so I tend to either make an almond sponge (this is plain cake you see) or the chocolate cake from my book in the birthday section. It's a very easy cake to make – just a stir it all together job. Everyone loves it and it's baked in 20 minutes. My kind of cake.
Your favourite recipe to bake to impress?
I get real stage fright when it comes to baking to impress, I know that might sound like false modesty but I genuinely lose sleep over baking for school fêtes, weddings and birthdays. I am aware that having been on GBBO sets people's expectations very high. When I want to bake to impress I tend to make either something homely but delicious like a cheese, onion and potato pie with flaky pastry, or go all out and make croissants. People do seem to like a homemade croissant.
Which is your favourite recipe from your book?
My maternal grandmother's delicious Cornish ginger fairing's. My grandmother hated baking, cooking and housework. She preferred to focus on her hair, make up and buying jewellery! She was quite a character. I miss her very much and laughed my socks off when I found a hand written recipe for these biscuits in her house after she had passed away. She didn't make them for my once. I'll have a bone to pick with her when I see her again one day.
Your favourite TV chef?
Hard question! I love Nigella for all her curvy glamour and alabaster skin. I do also have a soft spot for Simon Hopkinson. His love of food is infectious.
And your favourite tipple when baking in the kitchen?
In the day time I am a black decaf coffee girl (I have been cutting down on caffeine a lot recently as have had a lot of sleepless nights from over doing it), but in the evening mine's either a gin and tonic (Tanqueray 10 if there's a choice) or a large glass of French red. And if there are any olives or crisps I'll have a bowl too. Thank you.
You can grab yourself a copy from Amazon, and I do hope you will, but I've also a copy of Recipes from a Normal Mum by Holly Bell to give away to a lucky Pink Whisk reader.  All you have to do is leave a comment on this post telling me your favourite dish to cook or bake at home!
Competition closes at 12 midday on Friday 14th November 2014 and one lucky winner will be chosen at random shortly afterwards.  Only 1 valid entry per person.  Winner will be contacted directly and announced on this post.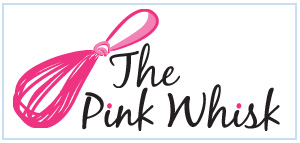 Ruth Clemens, Baker Extraordinaire