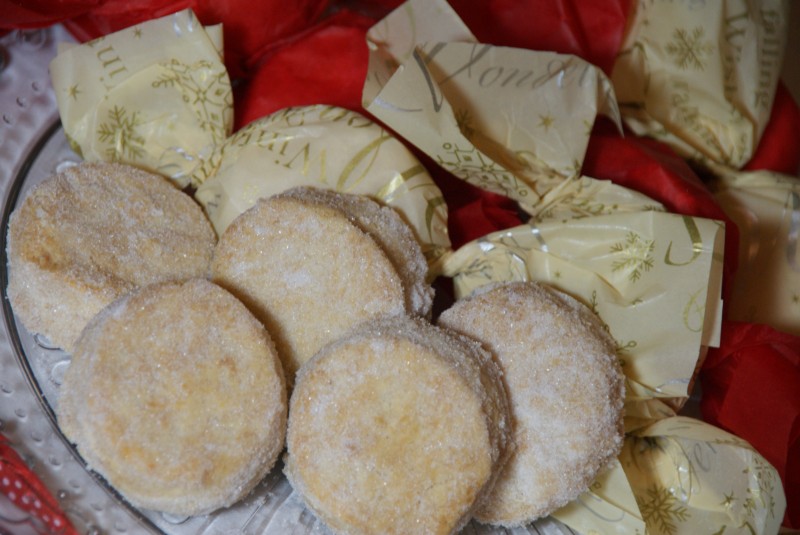 A little something to share with you for Christmas that I'd not come across before.  I was tipped off to these by a good friend Helen who lives and works in Spain – you may have come across her blog The Diary of a Cake Maker.
I was asked to take part in Expedia's World on a Plate Blogger Challenge and this Spanish Christmas recipe is just perfect.
Mantecados are a traditional Spanish Christmas treat – a Crumble Cake.  They are extremely light and flaky, a delicate treat that will melt in your mouth.  They will certainly be a regular Christmas treat in our house from now on.
They are served in waxed paper wrappers – owing to the fact that they will fall apart as you eat them – and I've found a nifty way of making my own with waxed paper and tissue paper too – all the instructions are below.
Ingredients:
250g plain flour
160g lard (or white vegetable fat ie. Trex as a vegetarian alternative)
Pinch of salt
Zest of ¼ lemon
50ml sweet white wine (Moscatel)
Caster sugar to coat
For the wrappers:
Christmas Tissue Paper
Waxed paper (If you're crafty with other projects not just baking you may have come across this in hobby supply stores, if not then it's available on Amazon and eBay)
Makes: 15
Put the plain flour, pinch of salt and lemon zest  in a bowl and stir it round to mix it up.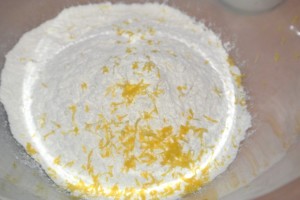 Warm the lard or white vegetable fat until it is liquid.
Make a well in the centre of the flour mixture and add the liquid fat and the sweet wine wine.
Stir it together with a spatula (remembering that the fat will have made the dough hot)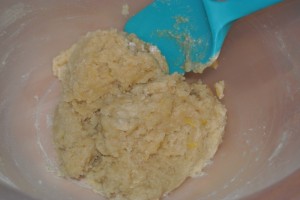 Once it's an even consistency place it in a plastic bag and chill it in the fridge for an hour or two to firm.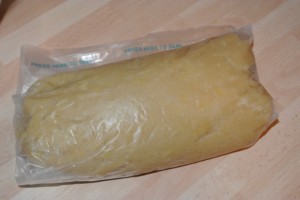 Preheat the oven to 200c (fan)/220c/Gas Mark 8.
Once it's firmed up roll it out on your work surface lightly dusted with flour to a thickness of 1.5 – 2cm thick.
Cut out small rounds (5cm) or different shapes if you prefer and set them onto a lined baking sheet.
Bake them in the oven for 13-14 minutes until golden.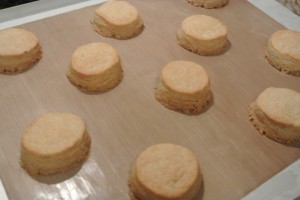 Whilst they bake fill a dish with a little caster sugar.
Once the Mantecados have baked you need to coat them in the caster sugar.  Lift them with a knife and place into the dish of sugar.  Make sure you use a knife to lift them, they are extremely fragile whilst warm and it's easy to crumble them if you try and lift with your fingers (not to mention hot hot hot!)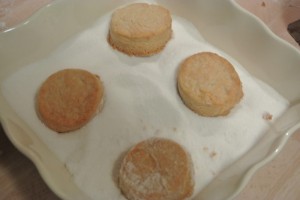 Turn them in the caster sugar and then transfer to a wire rack to cool fully.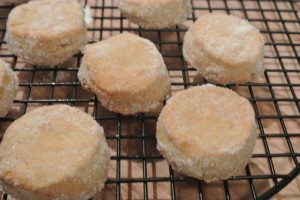 For the waxed paper wrappers simply iron a sheet of Christmas tissue paper between two sheets of waxed paper.  Allow the now wax coated tissue paper to cool and peel off the wax paper from the top and bottom  Cut into rectangles and wrap the Mantecados individually. (The waxing stops the tissue paper from absorbing the fat and marking it in spots)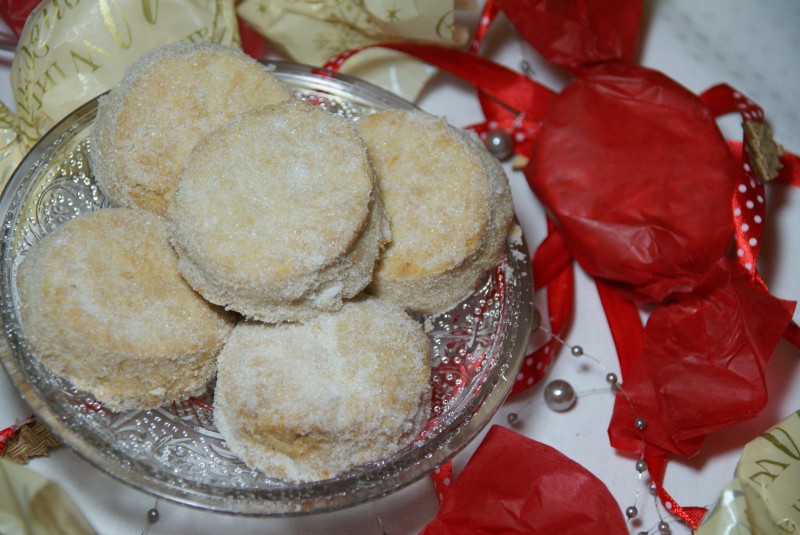 Mantecados
#SponsoredRecipe in association with Expedia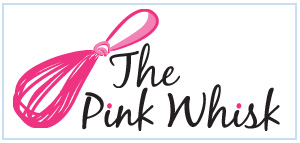 Ruth Clemens, Baker Extraordinaire