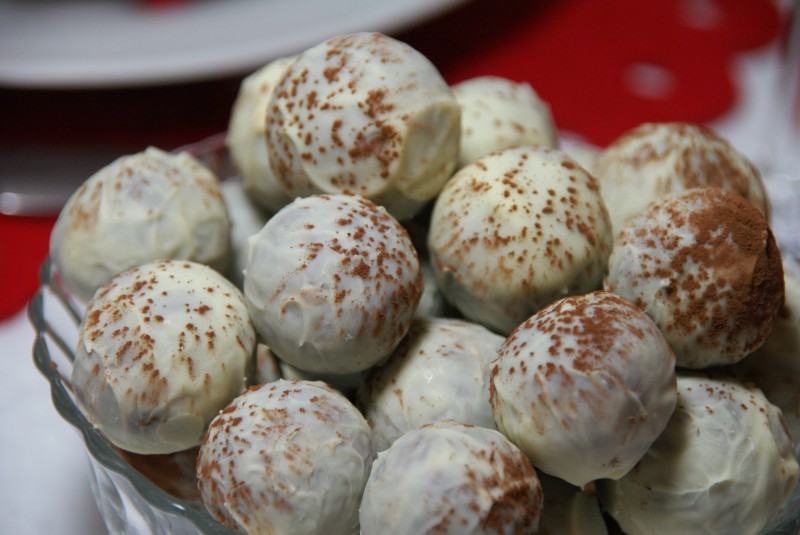 A perfect after dinner treat, deliciously simple to make but dark, rich and packing a coffee punch.  The white chocolate coating adds a lovely creamy touch just like a Cappuccino! Here are my tips for making, shaping and coating the best truffles around.
Ingredients:
300g dark chocolate, chopped
250ml double cream
1 shot of espresso (40ml strong coffee)
250g white chocolate to coat
Dusting of cocoa powder
Makes: Approx 50 truffles (that sounds a lot, but actually if you're giving them as gifts they don't go hugely far – certainly after allowing for quality control!
Start off by making the coffee ganache as the base for the truffles. Chop the dark chocolate and set to one side.
Warm the cream and espresso in a pan gently until just below boiling point.  Take it off the heat and add the chopped chocolate.
Allow to stand for 2 minutes before stirring into a smooth glossy ganache.
Transfer the ganache to a clean bowl, cover and allow to cool until it gets to smooth pipeable consistency.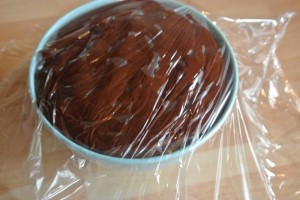 Line a baking tray with non-stick baking paper.
Fill a disposable piping bag with the ganache and snip off the end.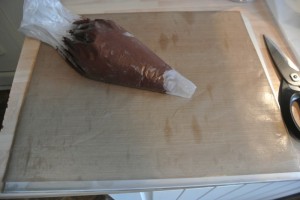 Pipe out even sized amounts of ganache across the sheet until all the ganache has been used.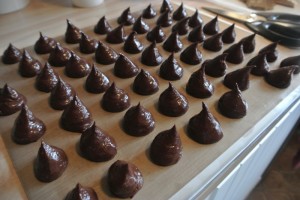 Flatten the peaks on them using a damp fingertip.  Now put them into the fridge to chill for 1 hour.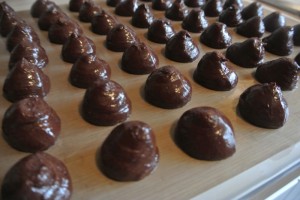 Once they are chilled it's time to roll them into balls.  Line the tray with a clean sheet of baking paper and roll each truffle between the palms of your hands to shape it into a nice smooth round ball.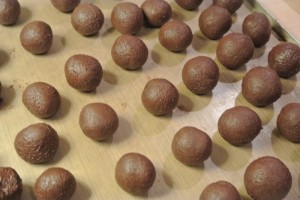 Repeat until all the truffles are nice and round.  You can wear disposable gloves or you will need to wash your hands repeatedly as you roll.
Chill them in the fridge again for 30 minutes to firm up again.
Melt the white chocolate gently in a small bowl.  For the coating you will need disposable gloves, a spoon and a clean tray lined with non-stick paper.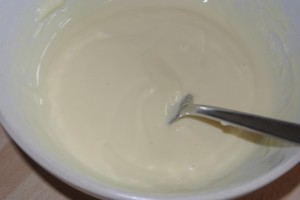 Taking one ganache ball at a time place it in the palm of your hand and add a spoonful of melted white chocolate.  Turn the ganache ball to coat it in the white chocolate and then set it onto the clean lined tray.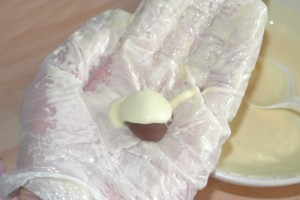 Work your way through until all the ganache balls have been coated.  Depending on how well the truffles were coated you may want to coat each one of them again.
Once the coating chocolate has set simply dust them with a little cocoa powder and serve!
Don't forget to save me one (or two!)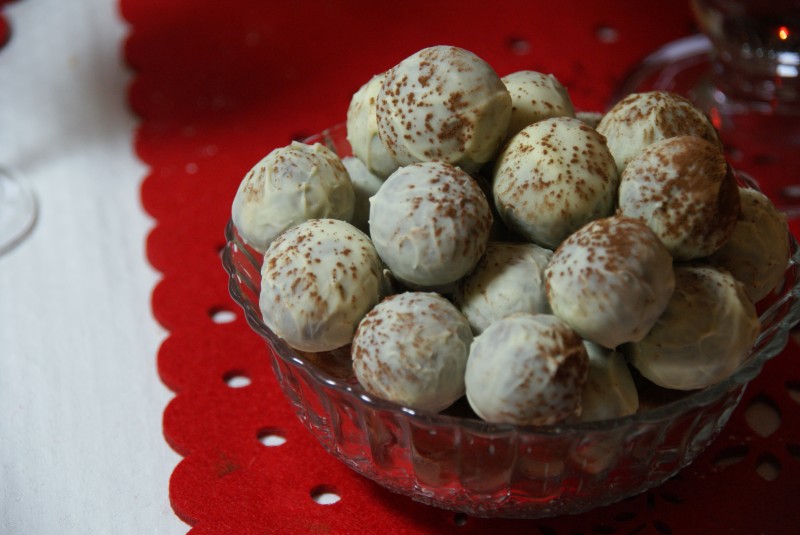 Cappuccino Truffles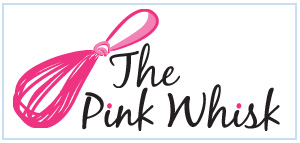 Ruth Clemens, Baker Extraordinaire