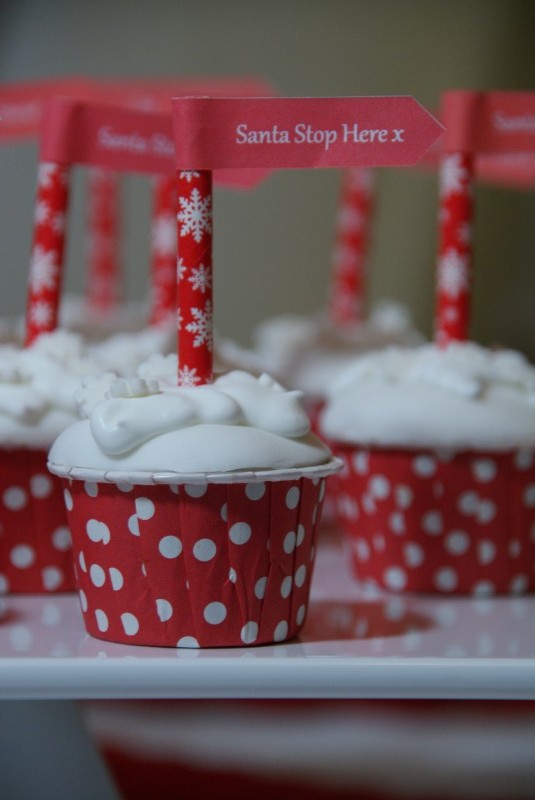 How about these miniature cakes – teeny tiny cakes made in mini baking cups from Iced Jems.  Just like the cupcake sized Christmas cakes then one full batch of 8" Christmas cake mix is going to make a ton, 50+ of these teeny tiny ones so just make a part mixture or mix up your baking with a variety of sizes, unless of course you want to make 50?!
You will need:
Chocolate Christmas Cake Mixture – recipe here
Mini baking cups (Iced Jems)
Cake pop or plastic lolly sticks
Snowflake Straws (Iced Jems)
Flags printout – here
Snowflake and mini pearl sprinkles
Marzipan
Sugarpaste
Royal Icing.
Make up your Christmas cake mixture and set the baking cups onto a baking tray.
Preheat the oven to 130c(fan)/150c/Gas Mark 1.
Fill the cups 2/3rds full and level the mixture with back of a spoon.
Bake them in the oven for 40 minutes or until a skewer when inserted in the middle comes away clean.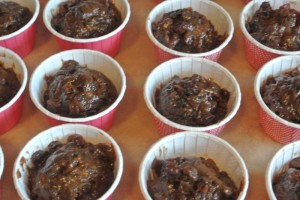 Set them onto a wire rack and allow to cool.
Using a small round cutter cut out a disc of marzipan and sugarpaste to fit the tops of each.
Place them into position, securing the sugarpaste to the marzipan layer with a light brush of clear alcohol (vodka, gin etc).  Smooth the paste with your fingertips and the heel of your hand.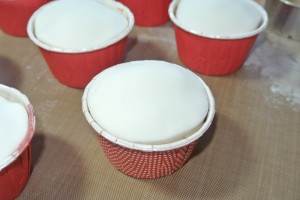 For the signs you will need to print off the flags from here, or feel free to come up with your own!
Cut the snowflake straws down to approx. 5cm.  Cut out the flags and stick them at the tops of the straws.
Cut down the pop sticks so that they are approx. 8cm long.
Insert a pop stick down into the centre of each mini cake and set the straw over the top.
Add your royal icing to a disposable piping bag and pipe a good drift of snow around the base of the straw and finish with a few Christmassy sprinkles!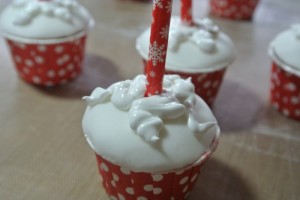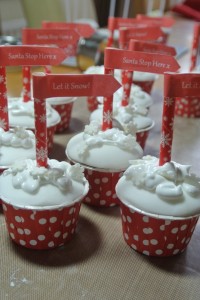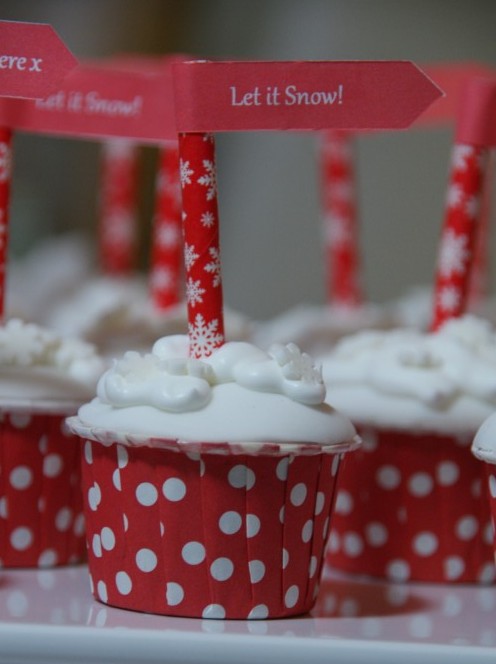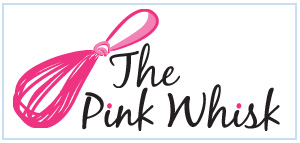 Ruth Clemens, Baker Extraordinaire