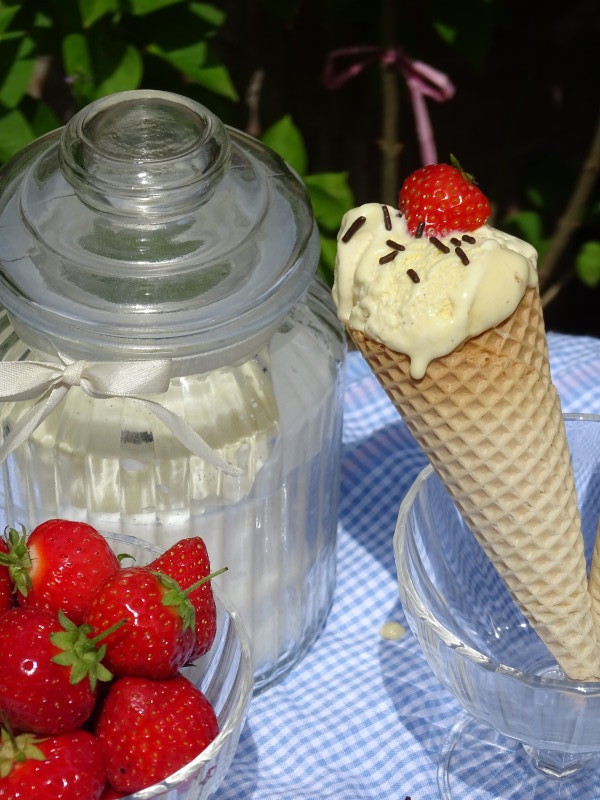 With an alleged heatwave on the way  it's time to share my Brownies and Ice Cream Cones with you.  A waffle icecream cone with chocolate brownie baked inside, topped with a good scoop of vanilla ice cream!  It's also my contribution to Waitrose's #TasteOfSummer campaign.
So before we get to the recipe Waitrose want to know your favourite #TasteOfSummer. – celebrating the wide and wonderful variety of summer flavours, whether it's a bowl of fresh strawberries with ice cream, a sizzling BBQ burger or a cold, refreshing cocktail.  There's some prizes to be won if you tell them yours via Facebook, Twitter or Instagram.  Chances to win an exciting summer food experience, including an exclusive barbecue event with Heston Blumenthal.  You can find out all about it right here – Waitrose #TasteOfSummer.
Ingredients:
12  x waffle ice cream cones
Brownies
150g dark chocolate, broken into pieces
115g butter
115g caster sugar
2 eggs, large – beaten
55g plain flour
1 1/2 tbsps cocoa powder
pinch of salt
Vanilla Ice Cream
Sprinkles and strawberries to decorate.
Makes: 12
Preheat the oven to 160c (fan)/180c/Gas Mark 4.
Wrap the cones with tin foil.  Line a roasting type tin with foil and  1/2 fill with dry rice. This will support the cones as they bake.
Make up the brownie mixture.
Gently melt the chocolate and butter stirring well until it's all combined.
Stir through the sugar.
Add the beaten eggs and mix in.
Finally add the flour, cocoa powder and pinch of salt and give it a final mix.
Spoon the mixture into the waffle cones – filling them about 2/3rds full.  Leave enough space so that they can lie against the edge of the tin without the mixture pouring out, and enough room to add a good scoop of icecream.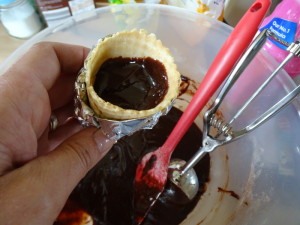 Lay them against the top edge of the tin and push the dry rice around them to support the length.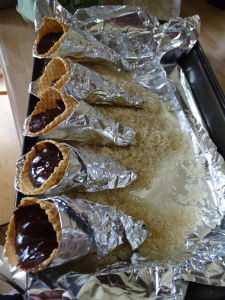 Now bake them in the oven for 25 -30 minutes.  Test the centres with a skewer – they can look done but it takes the heat of the oven a while extra to penetrate the cone and cook the mixture out.  These are still slightly fudgy in the centre so if you prefer them un-fudgy (yes that's not really a word) then bake them slightly longer.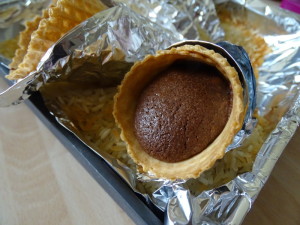 Take them out of the oven, release them from the foil cone wrapper and set onto a wire rack to cool right away.  This stops the cone from sweating in the foil and softening.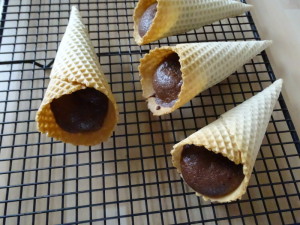 Once cooled top with a good scoop of favourite icecream, sprinkles and a strawberry and share a #TasteOfSummer!
You can make the brownie cones a day in advance.  Store them in a container that isn't airtight (or they will soften).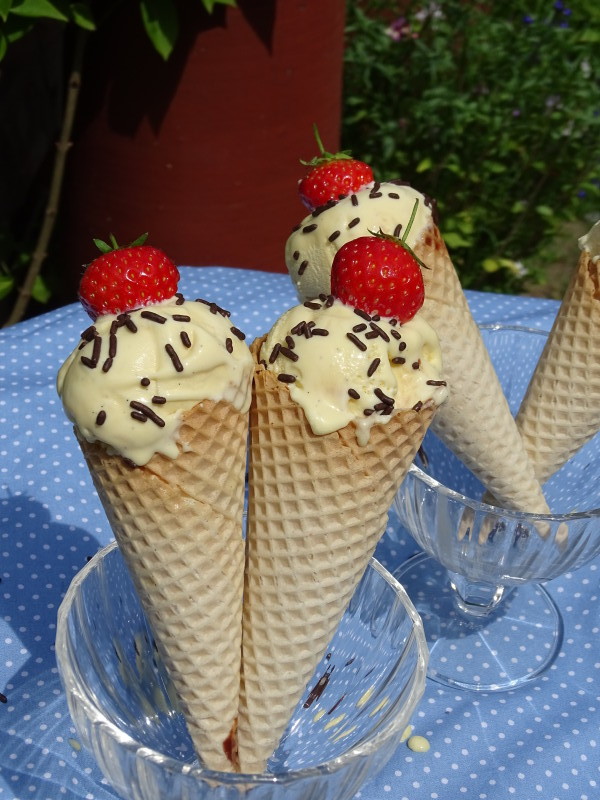 Brownies & Ice Cream Cones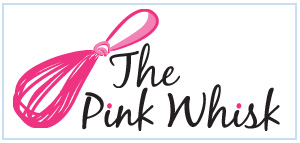 Ruth Clemens, Baker Extraordinaire
#Sponsored Post