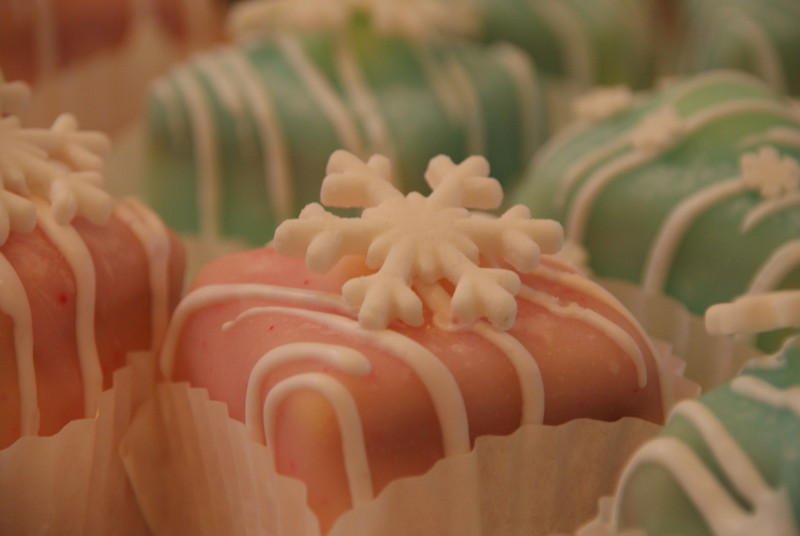 So I'll be honest from the outset, these frosted fancies are a bit of work, they're not quick to do as there's a fair few steps from cake making, coating and covering plus the decoration and there's a fair bit of cleaning to do afterwards!  BUT, they are truly lovely and a real treat for your guests  (plus I know you lot are up to the task) x
They're not miniature fancies like you might buy but a larger version – think cupcake size and they are using a fantastic flavoured icing sugar from Sugar & Crumbs, if you haven't already come across them then do look them up and try some – you'll be amazed, it's brilliant stuff and in all sorts of flavours – key lime, salted caramel, chocolate icing sugars to name but a few.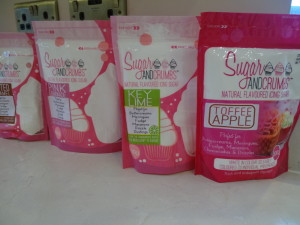 I'm using a Pink Lemonade for my frosted fancies but of course you can just use a regular icing sugar and flavour the buttercream with a little vanilla extract.
Let's get going…
Ingredients:
Cake
250g butter, softened
250g caster sugar
1 tsp vanilla extract
4 eggs, large
250g self-raising flour
1 tsp baking powder
4 tbsps seedless raspberry jam
250g marzipan
Buttercream
250g butter, softened
500g icing Sugar (Sugar & Crumbs flavoured icing sugar or regular icing sugar)
1-2 tsp boiling water
Fondant
1500g white ready to roll icing
8 tbsps water
Gel paste food colouring
To Decorate
100g icing sugar mixed with a few drops of water to make a thick glaze icing
Modelling paste to make snowflakes or snowflake sprinkles
Cupcake cases
Preheat the oven to 140c(fan)/160c/Gas Mark 3 and line an 8″ square baking tin neatly with non-stick baking paper.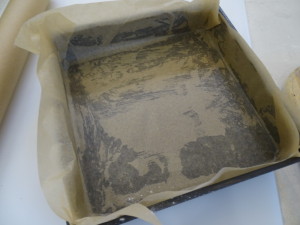 The cake is an all in one mix (which is why the baking powder is in with the self-raising flour) so you just need to put it all in a big bowl and mix it up until even!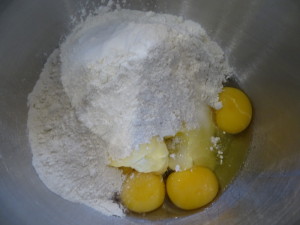 Add it to the prepared tin and roughly level.
Bake it in the oven for 1 hour and 5 minutes until golden and springy to the touch.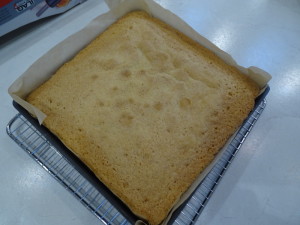 The lower than usual baking temp and the longer bake time means that you should have a nice gentle bake and a pretty level cake.
Allow the cake to cool on a wire rack.
Once completely cooled wrap in clingfilm and chill in the fridge for 1 hour.
Whilst the cake chills mix up the buttercream beating together the butter and icing sugar until light and fluffy, add a teaspoon or two of boiling water until the buttercream is an easily spreadable consistency.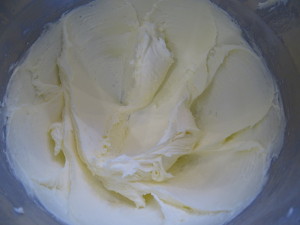 Unwrap the chilled cake and trim off the top crust.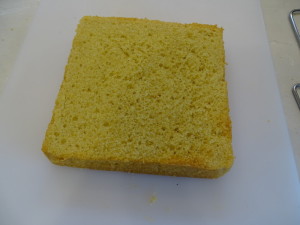 Spread with the seedless raspberry jam.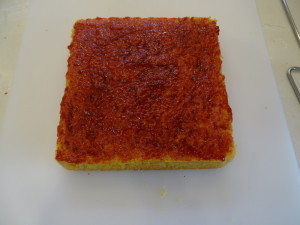 Roll out the marzipan slightly larger than the top of the cake on your worksurface lightly dusted with icing sugar to prevent it from sticking.
Lift the marzipan on to the top of the cake and smooth with your hand.
Trim the marzipan to the size of the cake using scissors.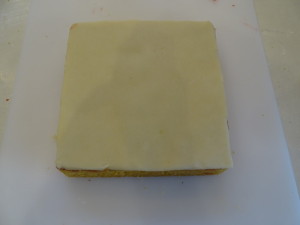 Trim the four sides of the topped cake with a sharp serrated knife.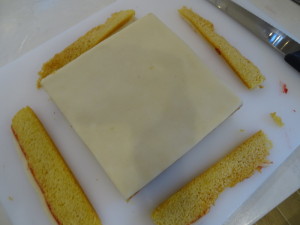 Now cut the cake into 16 equal squares.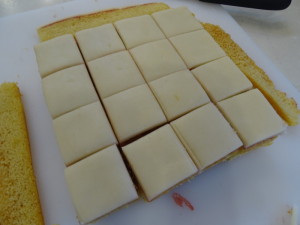 Covering squares of soft and fluffy sponge with buttercream is extremely difficult to do neatly if you try and work individually instead, line up 4 cakes together in a strip and coat 2 opposite sides of all 4 with the buttercream.
Repeat until all 4 sets of 4 cakes have been coated on 2 sides.
Set them onto a chopping board, cooling rack or flat plate and chill in the fridge for 30 minutes to allow the buttercream to firm.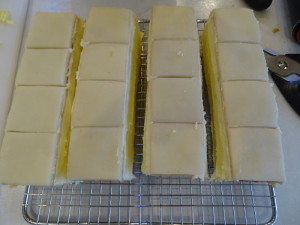 Once the buttercream is firm take a sharp knife and divide the cakes into 4 individuals once again.  Turn them around so that buttercreamed edge faces buttercreamed edge still in a strip of 4.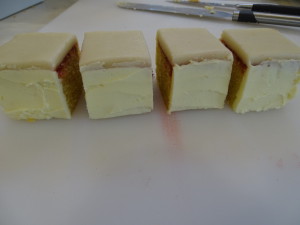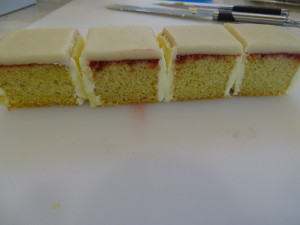 Now coat the last 2 opposite sides.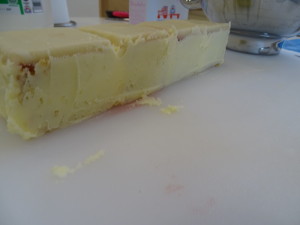 Place the strips back into the fridge for a further 30 minutes to firm again.
Take the chilled cakes from the fridge and split them into individuals once again using a sharp knife, each cake should be coated on all 4 sides.  Neaten up any straggly bits with the sharp knife shaving off the buttercream.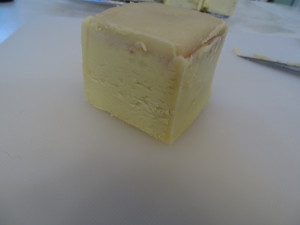 Place the remaining buttercream into a piping bag and pipe small domes of buttercream on to the top of each.  Use a dampened finger tip to smooth any peaks.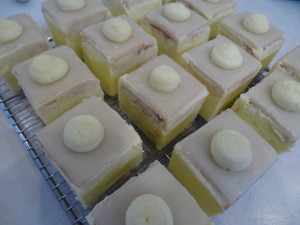 Place them into the fridge to chill whilst you prepare the frosting.
I have tried many ways to coat fiddly fondant fancies and although you can buy a fondant icing sugar I have found it far too thin to coat anything instead I use a ready to roll icing (sugarpaste/fondant).
Work in batches to coat the frosted fancies.  Take half of the ready to roll icing (750g) add to a medium pan breaking it up into smaller chunks and add 2 tbsps water.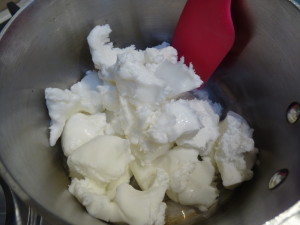 Heat the fondant gently until it melts completely, keep stirring to prevent the fondant from catching and burning.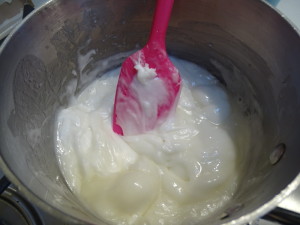 Add a little gel paste colouring and beat in well.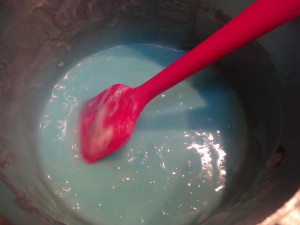 Now here's where it gets a little messy!
Set a cooling rack over a roasting tin or something similar.  Ideally you will need 2 sets of cooling rack and roasting tin combinations but if you don't have them you will just need to wait for the first batch to set before working on the next.
Add 4 cakes to the cooling rack spaced well apart.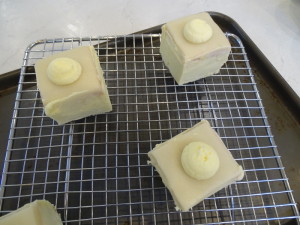 The fondant needs to be a pourable consistency, take the pan from the heat and working quickly before the fondant cools pour it over each cake in turn from the back to the front, aiming to coat the cake in one pass.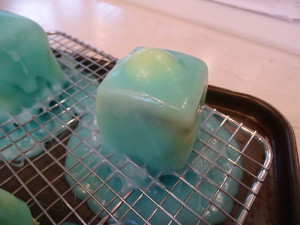 A lot of the fondant will end up in the roasting tin, lift off the cooling rack with the cakes and transfer the excess back to the pan.  It sets quickly so you may need to scrape it up with a spatula.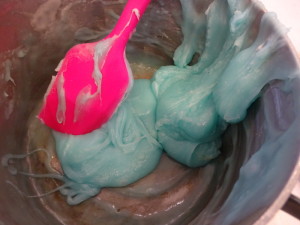 Set another 4 cakes onto a second cooling rack and warm the fondant on the heat until it is a pourable consistency again. Coat the second batch of cakes.
Once the fondant sets take a sharp knife and cut neatly around the base of each cake and lift it with a palette knife setting them on to a plate or working board.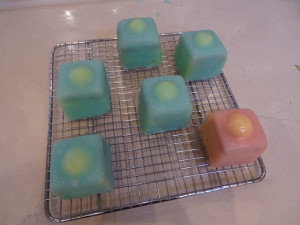 Time to clean up and reset before working on the second half of the cakes
Make up another batch of fondant icing with the remaining half of sugarpaste and 2 tablespoons of water, if you like colouring this batch a different colour or in fact leaving it white!
Coat the remaining 8 cakes, allow to set and then release with the sharp knife.
Sorry cleaning up time again!
Now for the white drizzle stripes.  Mix together 100g icing sugar with a few drops of water to make a thick icing.
Add it to a disposable piping bag, snip off the end and then drizzle over all the frosted fancies.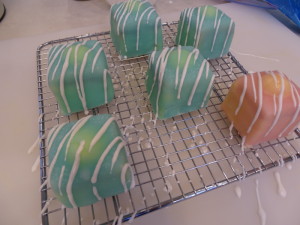 Decorate them with snowflake sprinkles or larger snowflake decorations.  ( I got my mould from Iced Jems)
They're made very simply by dusting the mould well with icing sugar or cornflour.
Push in a ball of modelling paste.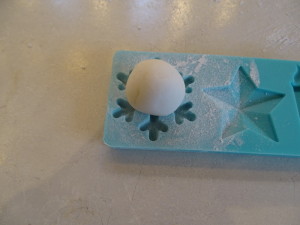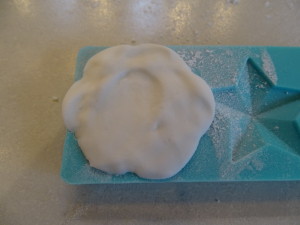 Trim off the excess with a sharp knife.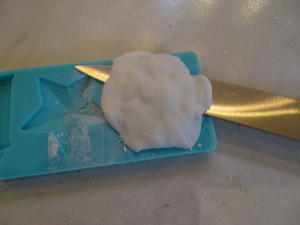 Using your fingertips rub around the outline of the back of the snowflake making sure that the outline is clear without any excess flecks of paste.
Allow to set in the mould before turning out.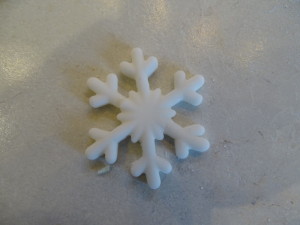 Take 12 cupcakes case and open them out completely, set a frosted fancy into the centre and then fold up the sides, pinching the case together at the corners.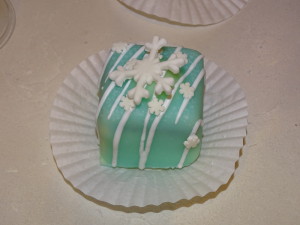 Serve!  PS. don't blame me for the mess in the kitchen 😉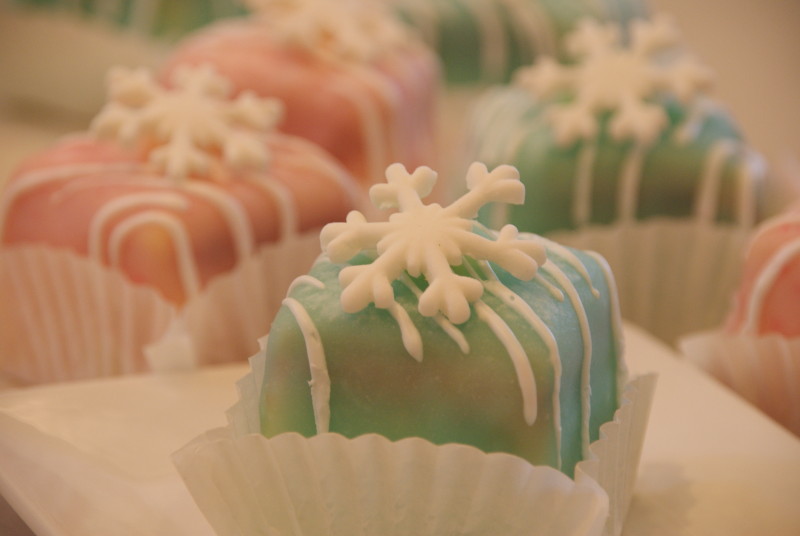 Frosted Fancies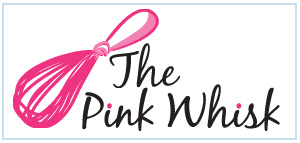 Ruth Clemens, Baker Extraordinaire