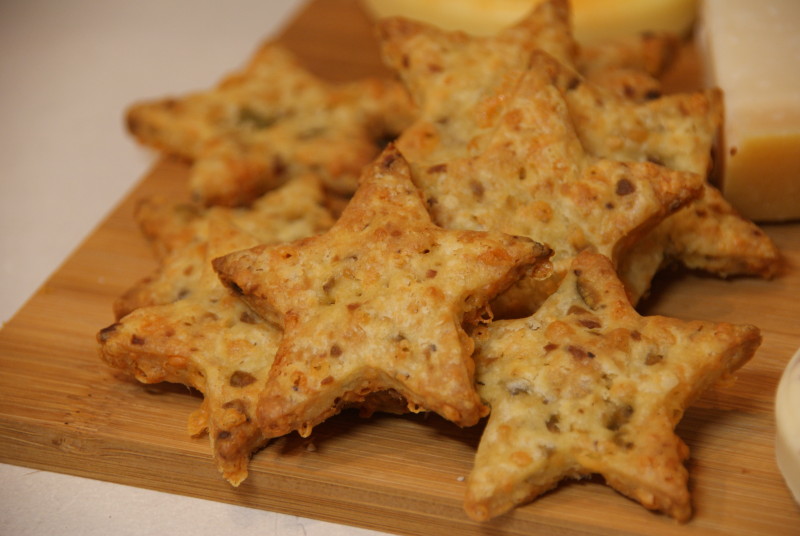 A little something to nibble on?  Send a plateful my way!
Ingredients:
165g plain flour
1/2 tsp salt
85g butter, cold diced
200g mature grated cheddar
190g jar of pitted olives in oil, drained (drained weight 110g)
2 egg yolks, large
Makes: 40 approx.
In a food processor blitz together the flour and salt.
Add the cold diced butter and process until the mixture resembles fine breadcrumbs.
(To make by hand simply rub the butter into the flour using your fingertips.)
Add the grated cheddar and olives and process once again until the olives are blitzed into small pieces.
(By hand the olives need to be chopped before adding)
Add 2 egg yolks and mix to combine to a soft dough, add a drop of water if needed just for the dough to start to come together.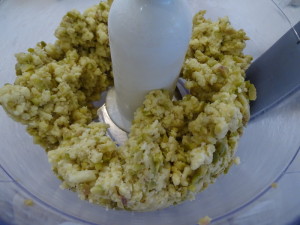 Knead lightly by hand and then roll out the dough, to a thickness of approx 3-4mm, between 2 sheets of non-stick baking paper.
Chill it in the fridge for 1 hour.
Preheat the oven to 200c(fan)/220c/Gas Mark 7 and line a couple of baking trays with non stick paper.
Cut out the chilled dough into biscuits shapes and set onto the prepared trays.
Bake in the oven for 10-12 minutes until golden.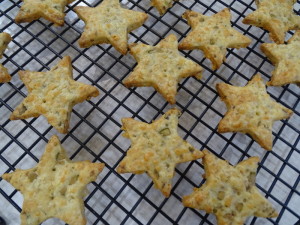 Cool on a wire rack and serve!
Cheddar & Olive Bites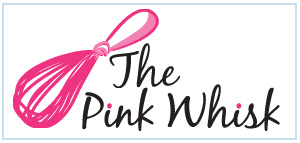 Ruth Clemens, Baker Extraordinaire