Last week I was invited to an event with Robert Welch, celebrating their range of Signature Knives and the sale of the one millionth knife!  #Oneinamillion
Now with the dawn of my new kitchen  I have been working my way through cupboards, clearing out, streamlining and replacing items that are beyond their best.  The contents of our kitchen cupboards hold a huge investment and if you're a keen kitchen critter like me then you soon learn what works and what doesn't.
I've known for a good while the knives need a good sort, for a start they're all stuck in the drawer – a motley collection of largely blunt but just about do the job implements.  But knives, at least decent knives, are a big investment and something I just haven't made my way round to sorting out…until now.
So… largely embarrassed by my knife collection I decided the Robert Welch event was most likely just what I needed.
Robert Welch, I'm sure you've heard of the company designing items across bathroom, dining and kitchen categories a proudly British company established in 1955 by Robert Welch the company is now run by Rupert and Alice Welch.
The signature range of kitchen products launched in 2008 and has gone from strength to strength ever since, and the reason for the event – celebrating the one millionth signature knife! #oneinamillion
The knife making process was impressive and interesting (if you're a kitchen geek like me) and actually highlighted to me why other knives I've bought in the past are… well let's just say a bit rubbish! The Robert Welch signature knives are made from a single piece of forged steel, starting off as a flat sheet, heated to an incredible level and compressed to form bulge from which the bolster is formed.  It then goes through a variety of process to cut the basic knife shape, hardened and tempered for strength, ground to size and a handle is injection moulded around the metal running right the way through the handle so that they will never come apart.  Finally the cutting edge is prepared by machine and finished by hand for the ultimate in cutting precision.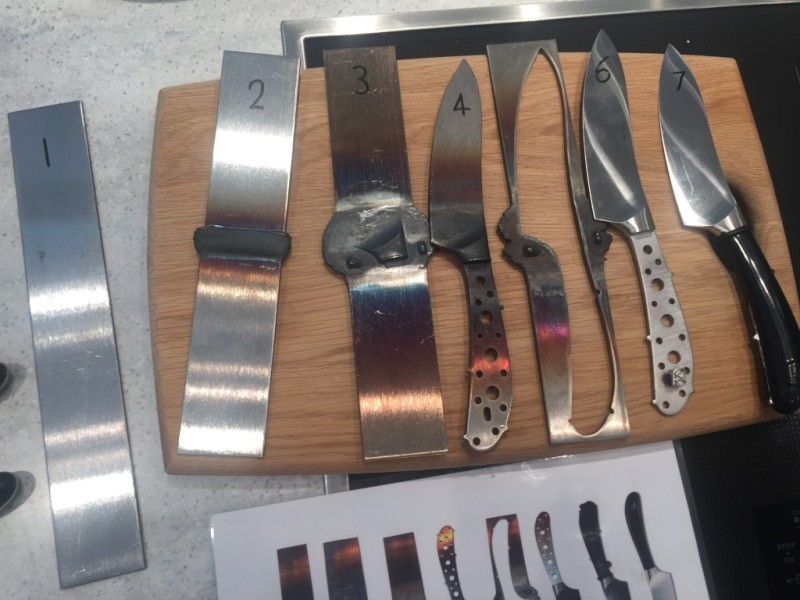 The design process is something they are hugely passionate about and that was clear just from talking to the team.  Aside from the best cutting efficiency the strength, feel, weight and balance of the knife are key points in the design process and with that they offer a lifetime guarantee.
We were treated to a demo from chef Georgina Davies – a fennel, radish and fig noodle salad and then on to making our own versions.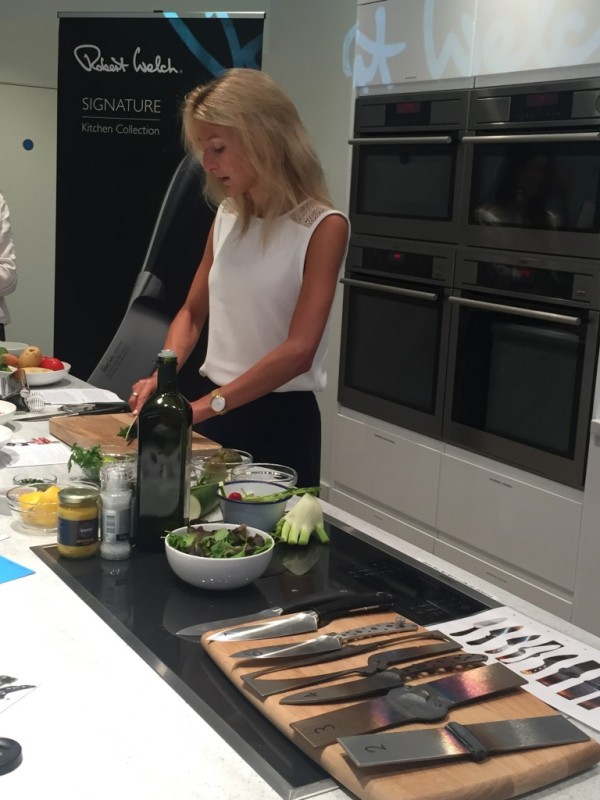 My goodness these knives are super sharp and extremely accurate, I shrivelled a little realising just how bad my knives are home were.
Chopping up ingredients for our own salad these knives made short work of the veggies making chopping a pleasure – no really!  They even caught slightly in the chopping board below they are that sharp fresh out of the box.  Being super careful to keep my fingers well out of the way I chopped my way through the ingredients.  Unfortunately just moving the knife out of the way across the  work surface I have to admit to my shame that I did nick my finger –  I think the only one there who was daft enough to manage this feat!
We learnt some really great tips from the team and Georgina as we tried out a Cooks/Chefs knife, a Santoku knife and smaller kitchen/utility knife – squaring off whatever it is you're chopping so a flat surface sits to the board keeping it steady and how to keep fingers out of the way!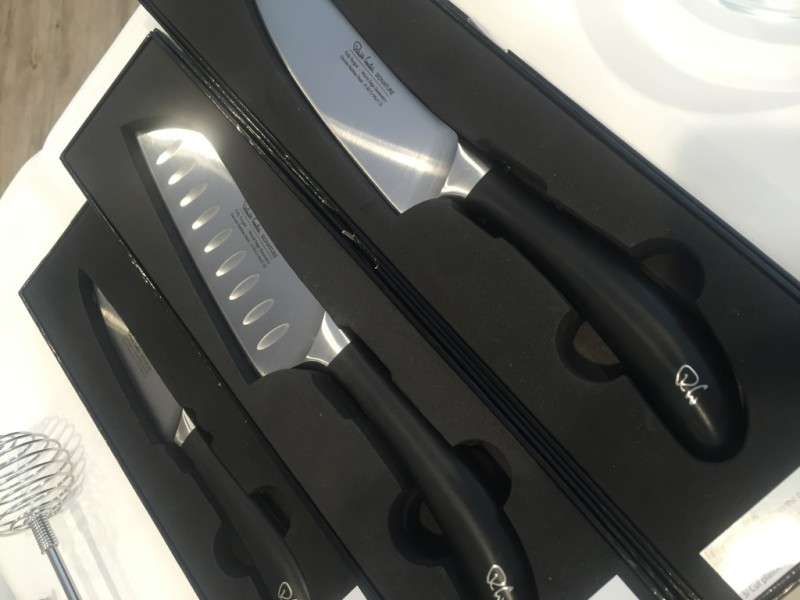 There's a huge variety in the Signature knife collection with something to suit every chopping occasion from Santoku knives with Asian style blades designed to help prevent veggies sticking to the blade whilst chopping, to serrated utility and tomato knives to a whole host of Cooks/Chefs knives. If you want to have a look you can find the whole range on the Robert Welch website just here – there's a couple of slicing knives there too which I'd love to get my hands on – they look just the job for cake slicing!
The team also completely advocate keeping knives sharp and of course there's a knife sharpener to accompany the range if you're buying knives individually and a sharpener that's handily built in to a knife block set, they recommend running a knife through the sharpener each time the knife is used and cleaned – definitely something I will attempt to do in future.
Blunt knives, I also learnt, are also the reason for nuts flying everywhere when you try and chop them – at least knowing that I can save myself some hassle!
I've brought home some knives to test out and I'll be back with a full review once they're truly tried and tested but in the meantime you can win yourself a fabulous knife block set – just head over to https://www.robertwelch.com/winsignature and enter your details to add yourself to the draw.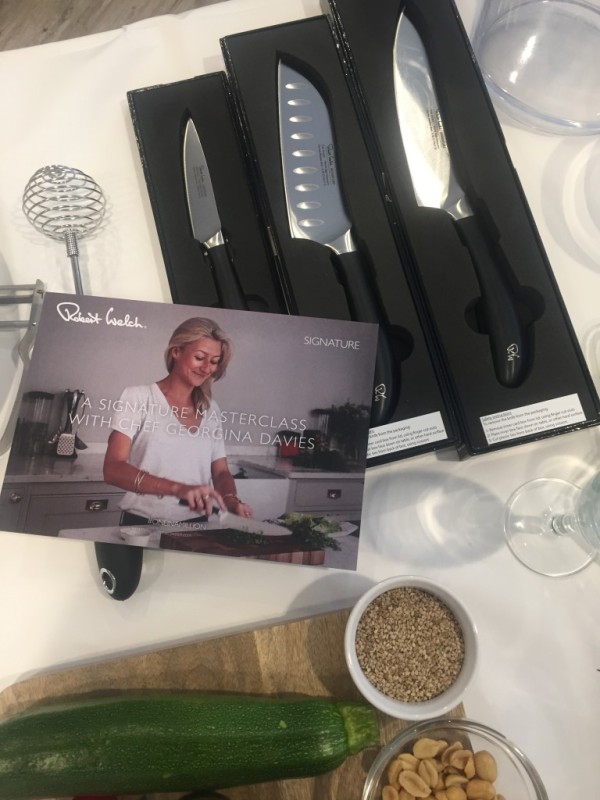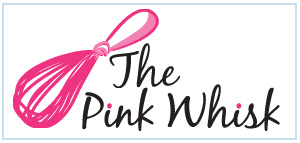 Ruth Clemens, Baker Extraordinaire
#Sponsored Post