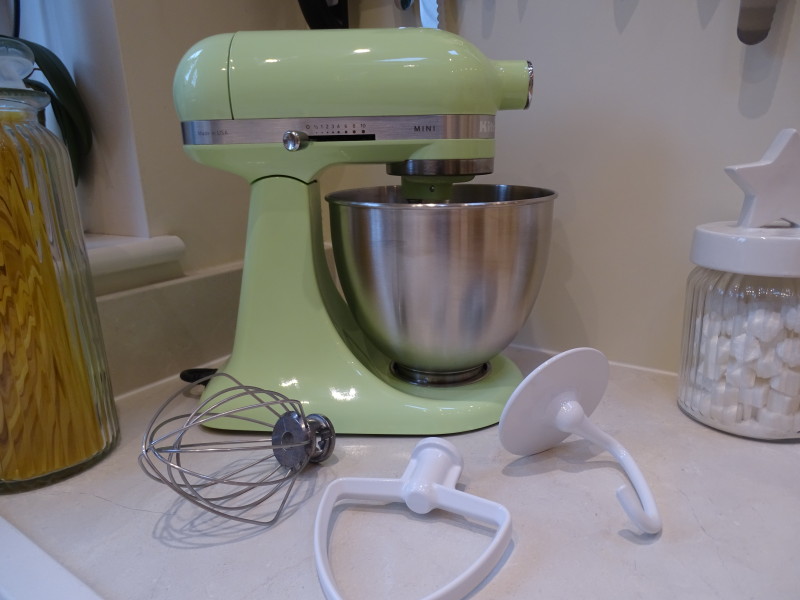 With the exclusive launch of the KitchenAid Mini Stand Mixer at John Lewis in September I was asked if I would review this new mini version for readers of the blog.  As always I'm happy to try out new baking kit and see what works and what doesn't.  But not only do I have the review for you I also have a KitchenAid Mini in Hot Sauce to giveaway to one of you lovely bakers too!
****COMPETITION IS NOW CLOSED – THE WINNER IS K. RIDDELL, EDINBURGH WHO IS NOW THE PROUD OWNER OF A FABULOUS NEW KITCHENAID MINI Thank you to everyone who entered xx****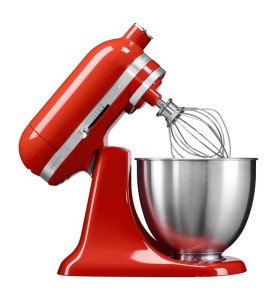 In a nutshell, the Mini is 20% smaller and 25% lighter with the same design as it's big brother and has an RRP of £399.  The Mini fits the regular KitchenAid attachments – spiralizer, food grinder etc, in the same manner as it's larger counterpart.  It's equipped with the same powerful motor too so there's no compromise on function.
The bowl has a 3.3litre capacity – 8 egg whites, 2kg of mashed potatoes or a 1.6kg cake mix (that's roughly the size of a 10" cake).
And of course it comes with a full 5 year warranty.
The model I'm reviewing is in the Honeydew colourway but it's available in other options – Matte Black, Matte Grey and Hot Sauce too.

First impressions from me are that the bowl has no handle and there's no splash guard included.  I soon got used to the no handle situation and I'll be testing the mixer without a splash guard with trepidation!
It is much lighter, noticeably so.  If you've lugged a stand mixer round the kitchen you'll know that these are pretty hefty pieces of kit so the lighter version is a plus.  It means you could put it in and out of cupboard to store if you'd prefer, without putting your back out.  It takes up less worktop space -if you've a small kitchen then this will be a useful attribute.
The mini has the attachments you'd expect included – a flat beater blade, whisk and dough hook. A bowl with handle, splash guard and flex edge beater are optional accessories which would need to be purchased separately.
So to test it out I've spent a couple of weeks with this new Mini version,  I bake a lot (obviously) and I bake in pretty big sizes usually.  I have to admit I was pessimistic that a smaller version, 3.3l versus the 4.8l full size, was going to work in The Pink Whisk Kitchen…so how did I find it?
Cakes – yep all great, mixed up cake batters in no time at all and with good end results, it made a mix for a 3 layer 8" cake with no trouble at all.
The beater blade rubbed butter into flour for the making of pastry with ease, and importantly without any of the mixture jumping out of the bowl all over the worktop.
Yes it really does whisk 8 egg whites and sugar for a family sized pavlova, producing glossy thick meringue ready to do with it what you will.
A regular bread loaf dough is kneaded successfully and without any huge effort, in fact no effort on my part, and the mixer didn't move an inch whilst doing it – none of this walking across the worksurface malarkey.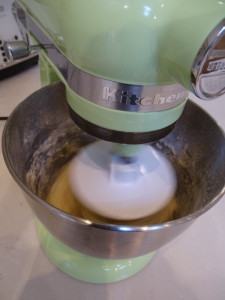 So my last test, and here is where I was sure I would find the Mini's downfall, at least at the scale I sometimes bake.  Beating up a big batch of buttercream – 500g butter and 1 kg icing sugar.   With no splashguard I was prepared for a huge cloud of icing sugar to cover the Mini and the kitchen.
No holds barred here's the video – will I be covered in icing sugar or will the KitchenAid Mini win this one too?
Well okay I have to admit there was no-one more surprised than me!  Not a speck left the bowl, the cleverly designed deep and slim bowl meant that the contents were just beaten together and not flung into the four corners of the kitchen.
So the KitchenAid Mini definitely has a place in my kitchen, lighter and easier to move around when I need it, a bowl that is easier to fit into the dishwasher amongst a plethora of other baking washing up and the fact that it copes with any quantity that I need it to means that the mini is a surefire winner with me, beating it's bigger counterparts into relegation plus it doesn't need that splashguard!  The only downside is that it doesn't cost any less than the bigger version, but ultimately it is housing the same motor and inside workings as a 4.8l standard size version.  It's a pricey investment at £399 but if you're looking for the classic iconic style of a KitchenAid Stand Mixer but want that to take up less space then you won't go far wrong with the Mini.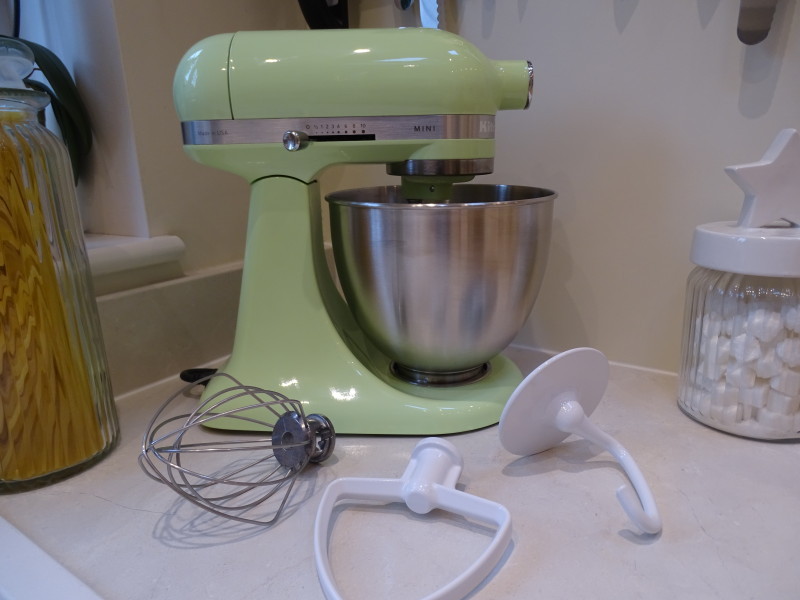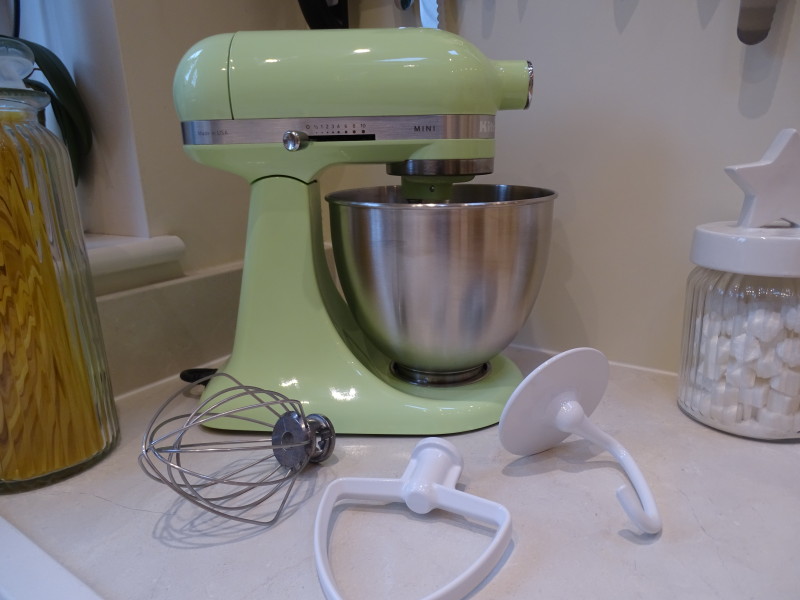 So now to the extra good bit – fancy a KitchenAid Mini Stand Mixer in your kitchen?  I have one in Hot Sauce red to giveaway,  all you need to do to be in with a chance of winning it for yourself is leave a comment on this blog post telling me what #minimoment of baking loveliness would you mix up and bake in yours?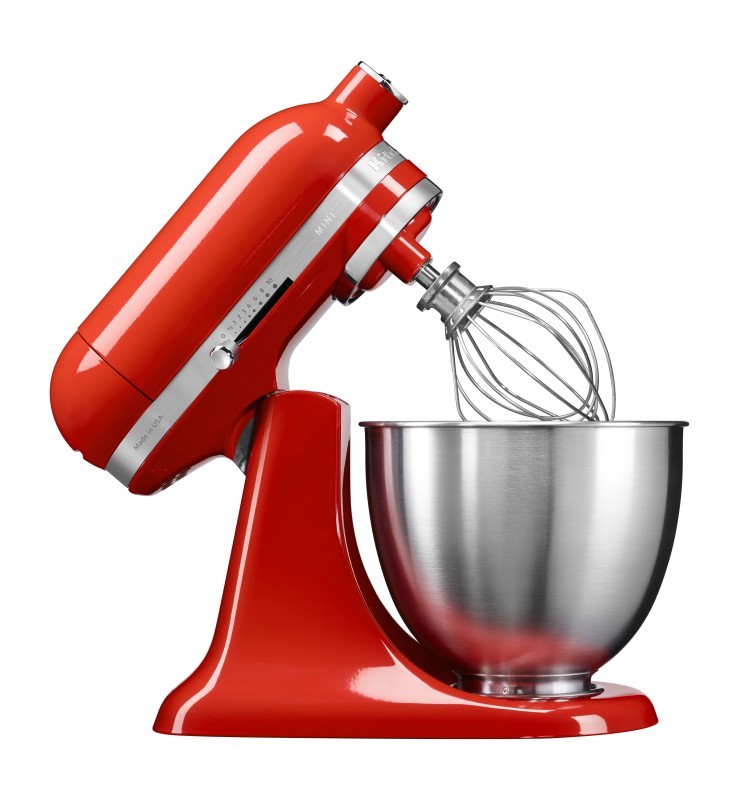 The giveaway closes at midnight on Monday 10th October 2016.  One winner will be chosen at random from all the valid entries received shortly after and contacted directly.  Prize will be sent directly from KitchenAid.  Giveaway open to UK residents only.  Full T&Cs can be found here.
Please remember if you're reading this via email you will need to come to the website and leave your comment on the blog post – click on the pink title in the email and it should take you directly there.  Comments are left by scrolling to the end of the article and leaving your comment in the box by Leave a Reply.
Good Luck!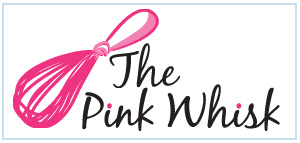 Ruth Clemens, Baker Extraordinaire