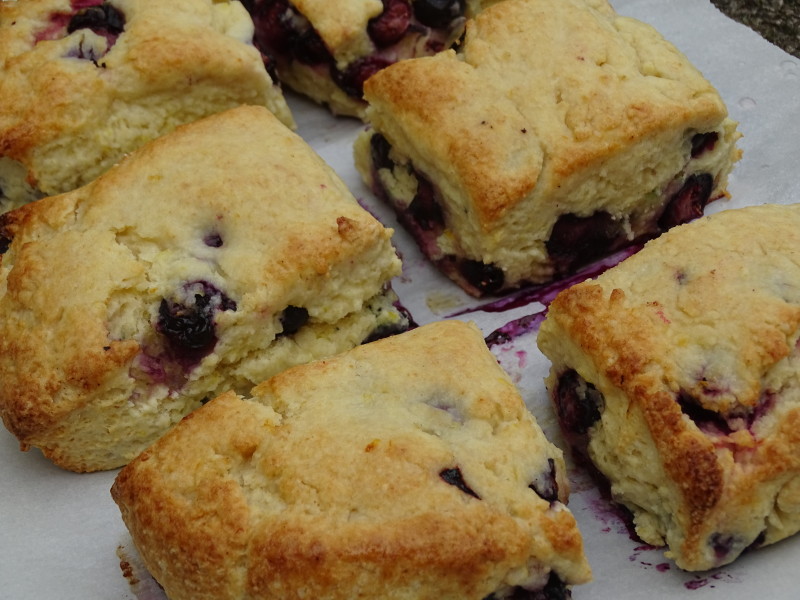 Ingredients:
330g self raising flour
75g butter, cold diced
40g caster sugar
Zest of 1 lemon
120g blueberries, frozen
180ml milk
Juice of 1 lemon
2 heaped tablespoons of icing sugar
Makes:  6 large scone slices
The blueberries in this recipe are best frozen, which stops them completely disintegrating and bleeding too much on baking,  buy them fresh and then simply pop them in the freezer before you get going, you don't need to buy them ready frozen.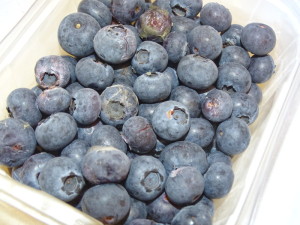 Preheat the oven to 200c (fan)/220c/ Gas Mark 7.
Place the self raising flour in a large bowl.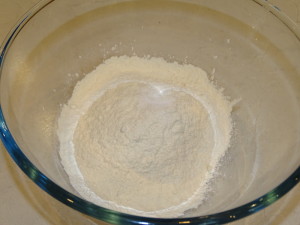 Add the cold diced butter and rub in using your fingertips.  Rub the butter into the flour until the mixture resembles fine breadcrumbs.
Add the lemon zest, caster sugar and frozen blueberries – lightly stir through.
Make a well in the centre and add the milk.  Work the scone dough together using a table knife.  Using a knife instead of your hands helps to stop the dough toughening so its definitely work doing this way.
Work it together with the knife until it is just coming together, then tip it out onto your worksurface, adding a light dust of flour if it's on the sticky side and very lightly knead it together, remembering to be gentle and try and keep the light airy feel of the scone dough.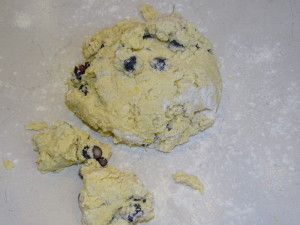 Shape it by hand into a rough rectangle approx. 1" thick.
Cut into 6 (or more if you'd prefer them smaller) using a sharp knife.  Transfer to a lined or well greased baking tray, allowing room between them to allow them to rise and spread.
Bake in the oven for 20 minutes until golden on top.  (remember if you've made them smaller then they'll bake faster so check them from 14/15minutes)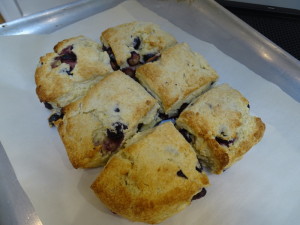 Remove from the oven and allow to cool a little.
Mix together the lemon juice and icing sugar and whilst still warm from the oven paint over the tops of the scones.
Serve!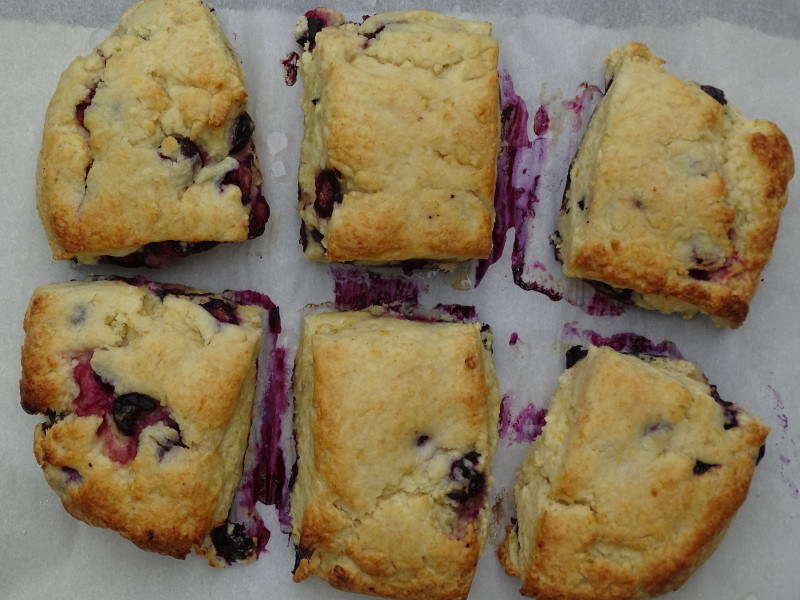 Lemon and Blueberry Scone Slices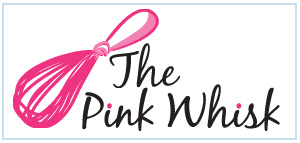 Ruth Clemens, Baker Extraordinaire