Anyone for ice-cream?  Prefer some cake?  – Hooray it's both!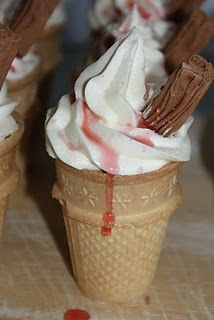 Ice-cream Cone Cakes – perfect for a little one's birthday party.  Who am I kidding??- Perfect whoever you are and whenever you feel like it!  No complicated trickery involved these really are super easy.  What are you waiting for…get on with it!
Ingredients:
12 Ice-cream cones with flat bases
200g Butter
200g Caster Sugar
4 Eggs
200g Self Raising Flour
2 tsp Vanilla Extract
For the icing:
225g Butter
450g Icing Sugar
1 tsp Vanilla Bean Paste
1 tbsp Milk
1 box of mini Chocolate Flakes
Plus a variety of cake sprinkles and ice-cream sauces – whatever takes your fancy!
Preheat the oven to 180c/160c Fan/350F/Gas Mark 4.
Prepare your baking pans, Use a muffin tin, one of the large type variety.  Cut out 12 foil squares you will need them to be about 15cm square each.  Press n one foil square into each hole.  Next place your empty icecream cones onto each foil piece, shape the overhanging foil around the cone to create a support and keep them standing upright.  You don't need to be too neat with this just make sure they feel supported and aren't going to topple over the minute you go to put them in the oven.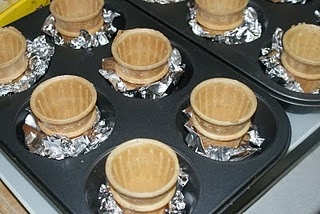 Make your cake mixture by creaming together the butter and sugar.  Once light and fluffy add the vanilla extract and then one egg at a time making sure it is well mixed after each addition.  Any sign of the mixture curdling add a tablespoon of the flour.
Once all the eggs are incorporated mix in the flour.
Fill each cone approx 2/3rds full.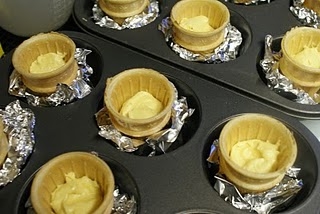 Bob them into the oven for 18-20 minutes until fully cooked and a skewer comes out clean.
Magic – the cones don't burn or go soggy from the mixture and you have beautifully cooked cakes!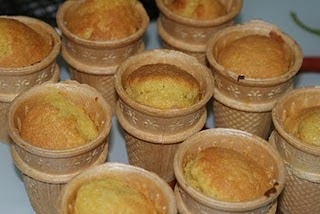 Allow them to cool and then on with the decorating.  Make up the buttercream by beating the butter to ensure it is super soft, then beat in the sifted icing sugar along with a tablespoon of milk and the vanilla bean paste.
Add the butttercream to a piping bag with a star nozzle and pipe the Mr Whippy effect on top of the cakes.  But we're not done yet!
Take a mini flake and push it through the buttercream into the cake.  I found they were just a smidgen to long so I cut a 2cm piece of each to make them the right size.
Unfortunately you will have to eat all these cut off pieces just like I did (there – my secrets out)!
Finally decorate them with sprinkles or ice-cream sauce – whatever you fancy.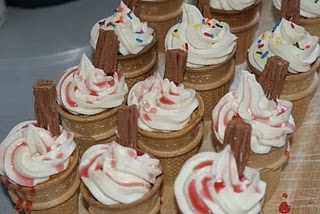 Ice Cream Cone Cakes it's as easy as that!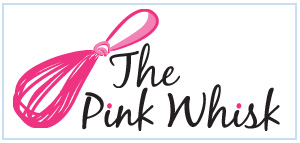 Ruth Clemens, Baker Extrordinaire