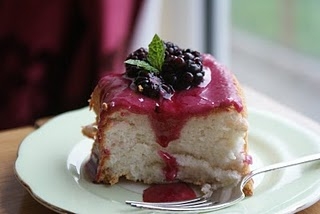 Light, Sweet and Virtually Fat Free – In my house WE LOVE THIS CAKE.  In fact as I write it's all gone!
Ingredients:

9 Egg Whites
120g Plain Flour
250g Caster Sugar
1 1/2 tsp Cream of Tartar
1 1/2 tsp Vanilla Extract
For the glaze:
350g Icing Sugar
250g Blackberries
Sprigs of mint to decorate
Preheat oven to 170c/160c Fan/325F/Gas Mark 3.
You will need a ring/funnel type tin, they're not quite a bundt tin but very nearly!  My pan is 10″ in diameter which seems to be the perfect size.
Grease your pan whichever way you prefer,  I use a spray oil that I get from my  local sugarcraft supplier and it really is brilliant and these days I wouldn't use anything else.  If you come across it treat yourself to some – you'll be amazed!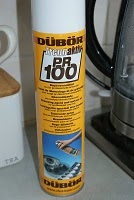 Begin by sifting the flour three times, yes three times – now do as I tell you!  Then sift the sugar separately into another bowl – sift caster sugar I can hear you say?  Now weren't you listening??   Trust me, sift the sugar.Finally measure out 40g of the sugar and add to the flour and sift together one final time.
Separate all nine eggs and place the whites in a large bowl, or your stand mixer if using.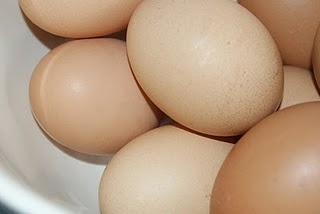 Add the Cream of Tartar and whisk until very stiff.  Add in two tablespoons of the sugar and the Vanilla Extract and whisk again until stiff and shiny.
Gradually add in the rest of the sugar, beating well after each addition.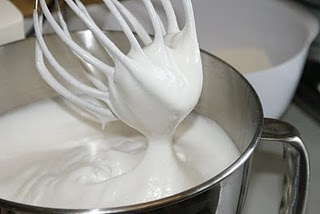 Fold in the Flour and sugar very carefully using a large metal spoon to cut through the egg whites.  Be careful not to overwork the egg whites and knock too much air out but you do need to make sure that you get rid of all large pockets of flour.
Add the mixture to your prepared pan and roughly level.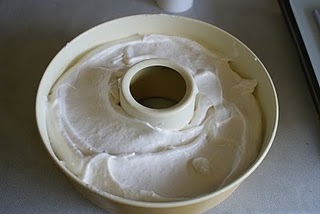 Bake in the centre of the oven for 40 mins.  The top of the cake should feel light and springy when tested.
Remove from the oven.  Turn out straight away onto a cooling rack and allow to cool.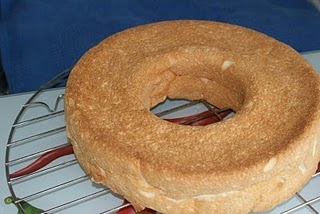 To Make the Blackberry Glaze.
Wash and drain 150g blackberries, blitz using a stick blender and then pass the mixture through a sieve.  This will remove the seeds which you don't want in your glaze.  Stir in 350g sifted icing sugar and 2 tbsp of water and mix well.  This will give you a wonderful vibrant blackberry glaze for the top of your cake.
Carefully pour over the top of the cake allowing it to drizzle seductively down the sides.
Use the remaining blackberries to decorate along with a few baby sprigs of mint.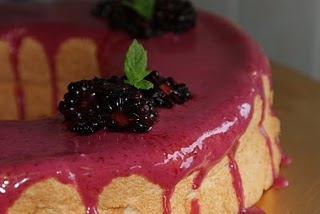 Blackberry Glazed Angel Cake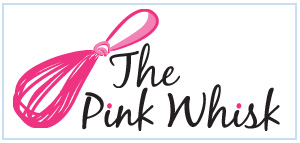 Ruth Clemens, Baker Extraordinaire